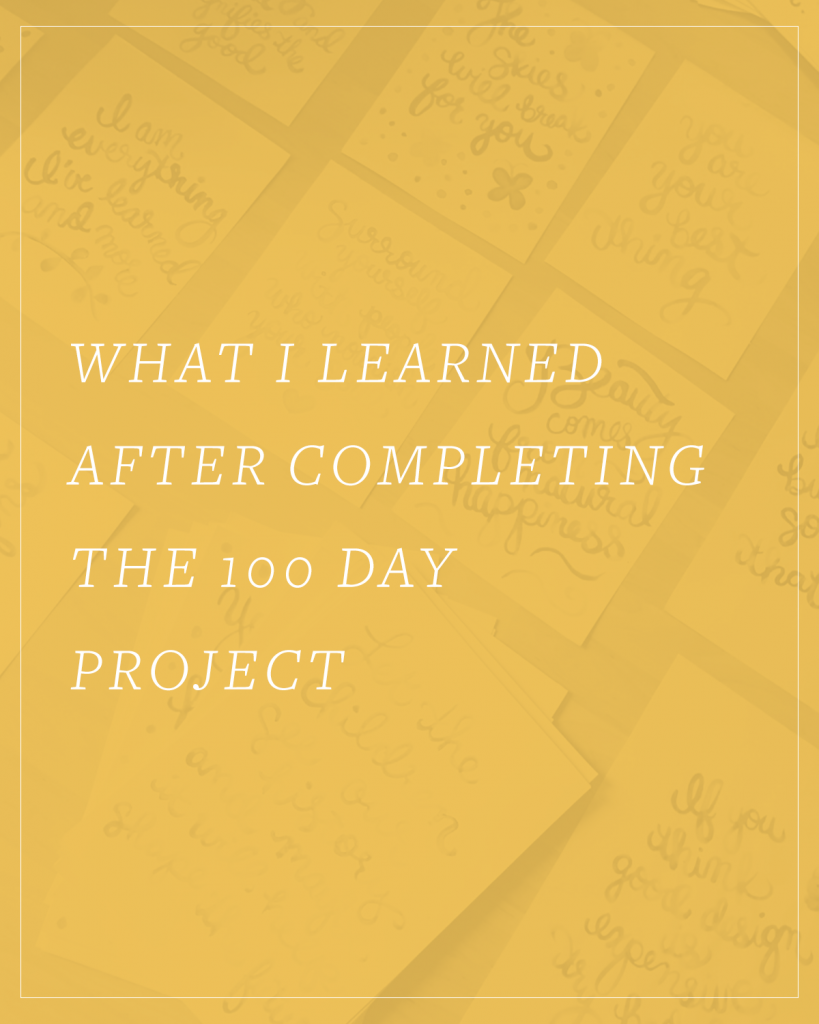 Hey friends! It's been a little over a month that I finished my first (maybe only?) 100 Day project. For those of you who are unaware, The 100 Day Project is a global art project that anyone can participate in. The goal is to create a work of a art every day for one hundred days. I was very much inspired after seeing Allie Lehman complete her 100 Day Project last year but as you know, I have a hard time being consistent with side projects.
I spent the whole year waffling back and forth on doing the project but when it was announced that it was starting on my birthday, I don't think I had much more of a choice in the matter. I think I decided on Allie's Heart + Hustle episode to go forth and make art for one hundred days. Spoiler: I did complete the project but through the process, this would prove to be the hardest thing I've ever done to challenge myself creatively.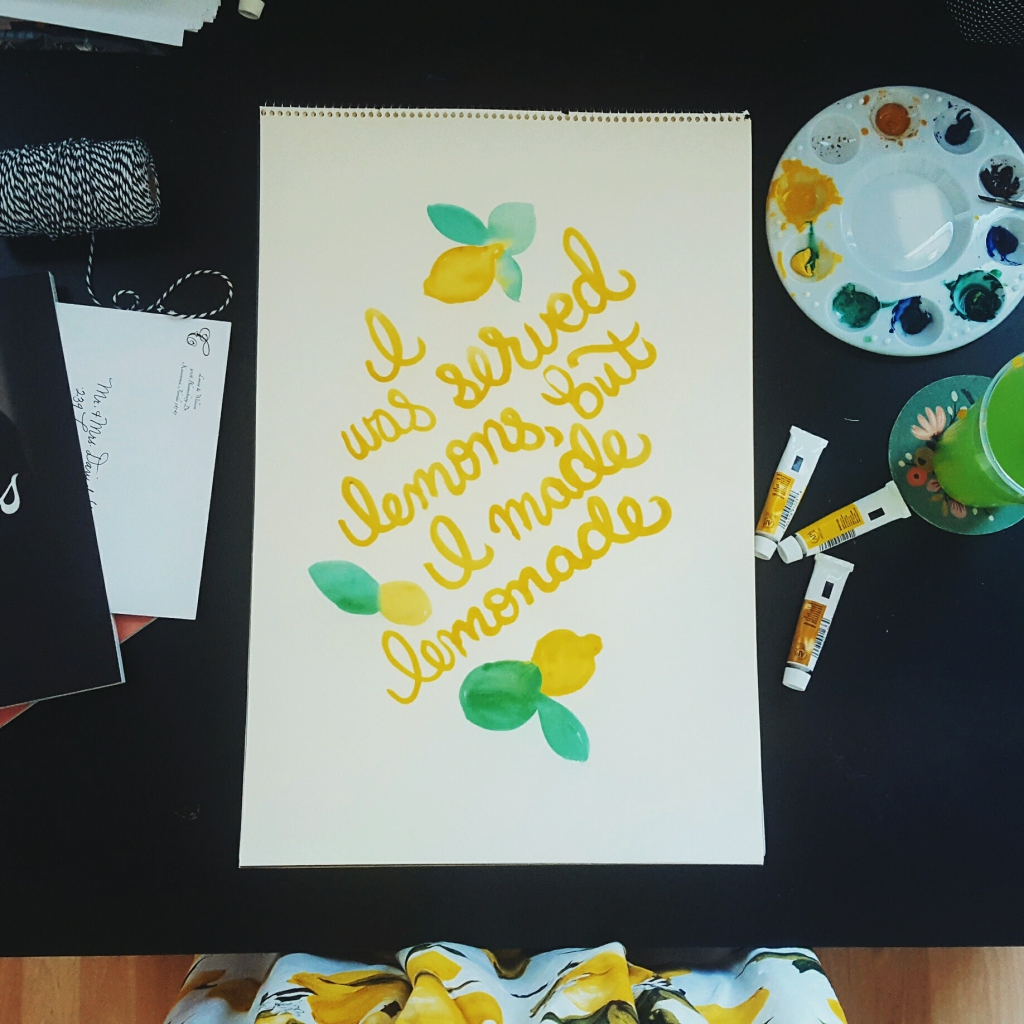 Persistence is Challenging
Hi, I have a problem with sticking to things that aren't a large part of my day job. It's very easy for me to put things on the back burner, especially things that seem to only be for me. When I originally thought of doing this project, I really wanted to do charcoal pieces. I had a short period of time in middle school where we worked with charcoals and I really enjoyed it. It's also something I'm not great at and I really wanted to challenge myself beyond my creative boundaries. Persistence is challenging enough. During the first month, I was more than happy that I decided to do something that was still challenging but not something I would get bored of.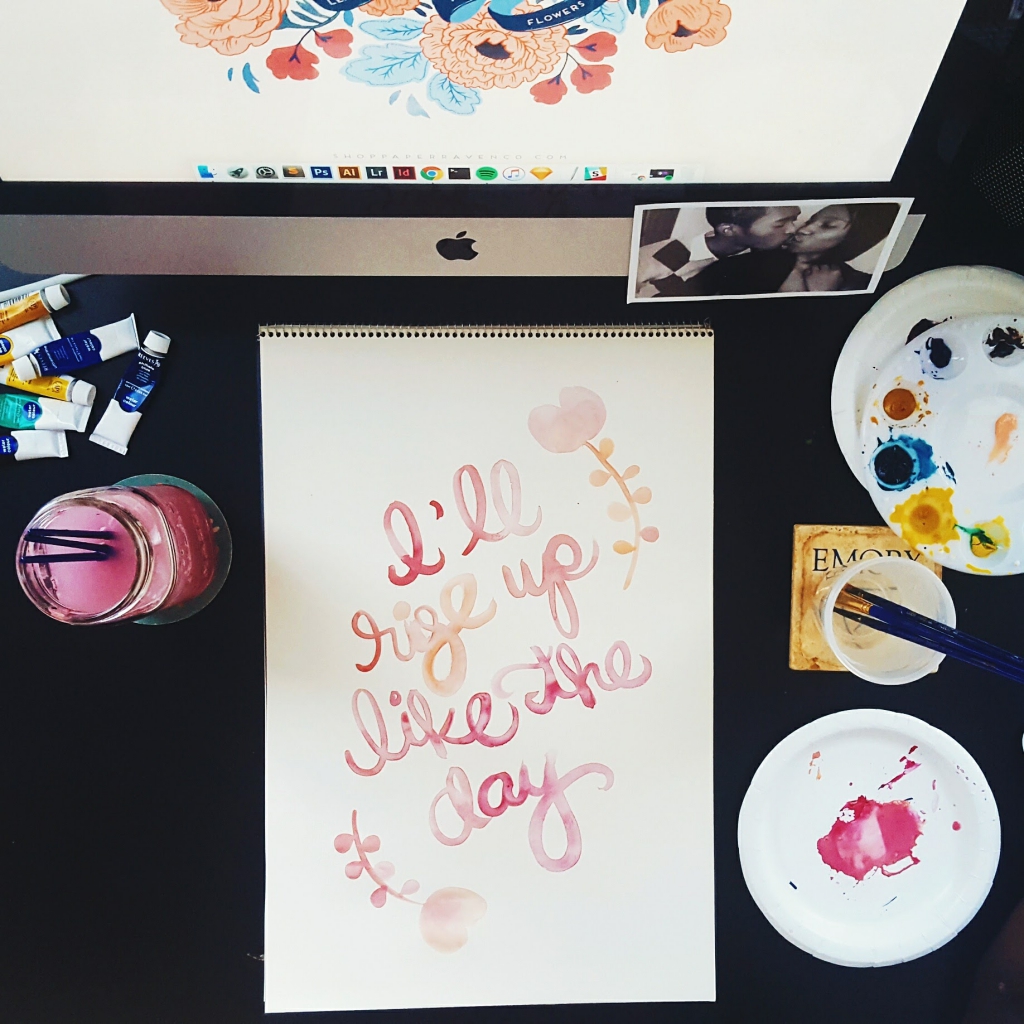 Staying in Your Lane
By acknowledging that persistence was most of the battle, it allowed me to really look at my project for what it was as a creative challenge for myself.
I've never worked extensively with watercolor as a medium prior to this project.
I'm OK with lettering but it's certainly not something I had time to practice everyday.
It's so easy to get into the comparison trap, especially when dealing with such a widespread project. I spent day one obsessing over the hashtag and all of the amazing projects that were being done. I kept thinking why hadn't I have been more original or clever but at the end of the one hundred days, I was actually pretty proud of that I stuck to the original goal. The less I focused on others was the more I enjoyed this project. Of course, I loved supporting the other creatives but in a healthy, noncompetitive way.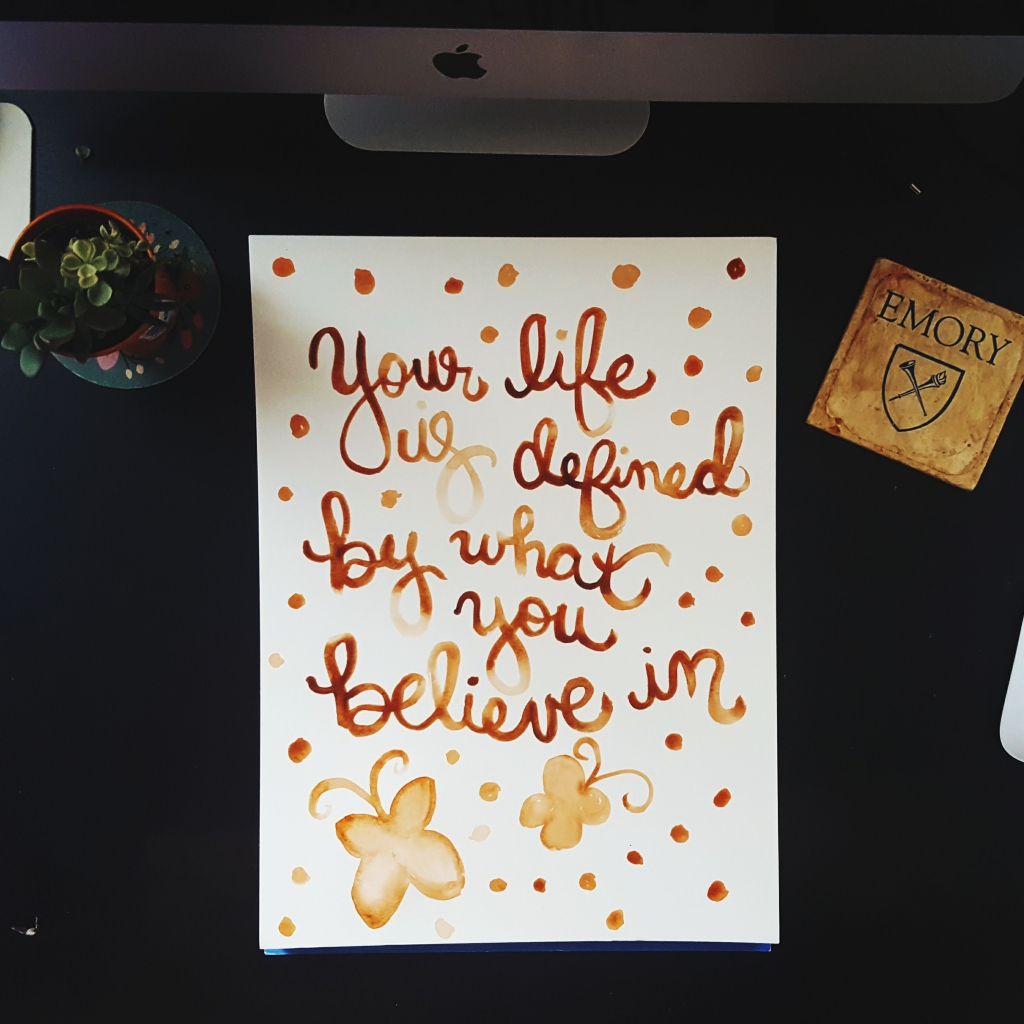 Don't Create Excuses
Did I get to do this every single day? Of course not. By the last thirty days, I was so overrun with recovering from travel and trying to get work done that it was struggle to push through. However, I did learn through the beginning is to not make excuses for myself. It's not easy being consistent but once I saw the value in the project for myself, I really didn't allow myself to get distracted for small things. It was also nice to have a sort of "end of workday" before slipping into relax mode. I have some self discipline which I really have gained through creating fitness goals so applying that mindset to this was easier than I expected it to be.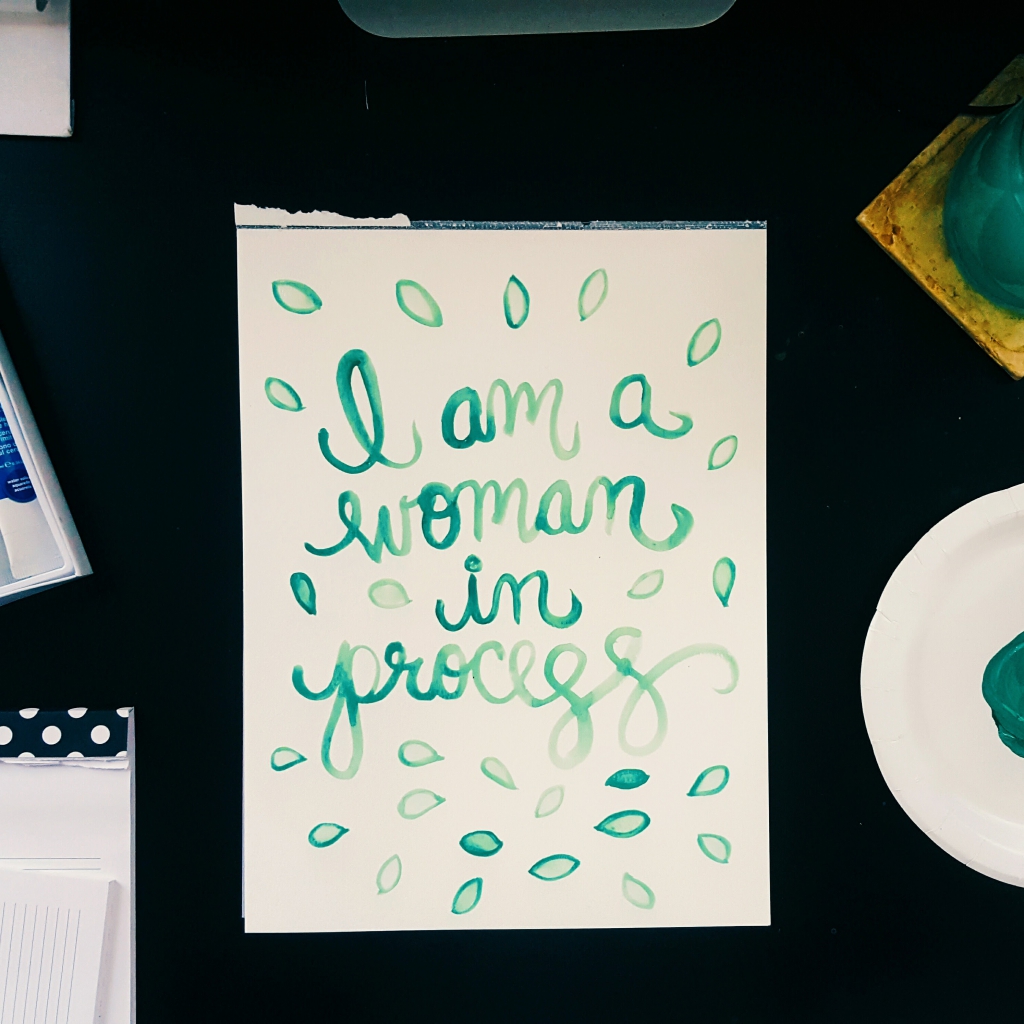 Art is Hard
Art is hard in general. It's not easy devoting myself to creating artwork outside of my work. I'm a designer and by nature, design is art with purpose. I know that's subjective and not all design is meant to be art but my training in graphic design was based on my need to create art outside of a traditional medium. I've always been involved in writing, sketching, and moving into design was a great fit for me. However, creating art every day is hard. It wasn't easy traveling with watercolors. They almost got confiscated at JFK airport. Playing with colors, negative space, technique, brushes were all things that I didn't think I had time for and couldn't have imagined myself loving beforehand.
The point is that art is hard, y'all. Support your artist friends. See their shows. Listen to their music. Comment on their photographs. It's not easy being vulnerable and putting a piece of you out into the world every day. I hated it. I didn't like that people were allowed to critique (not that anyone did) what I was doing. Receiving feedback isn't the easiest for me which is why I enjoy creating and then shoving everything in a drawer. Creating art is an act of resistance and it's true.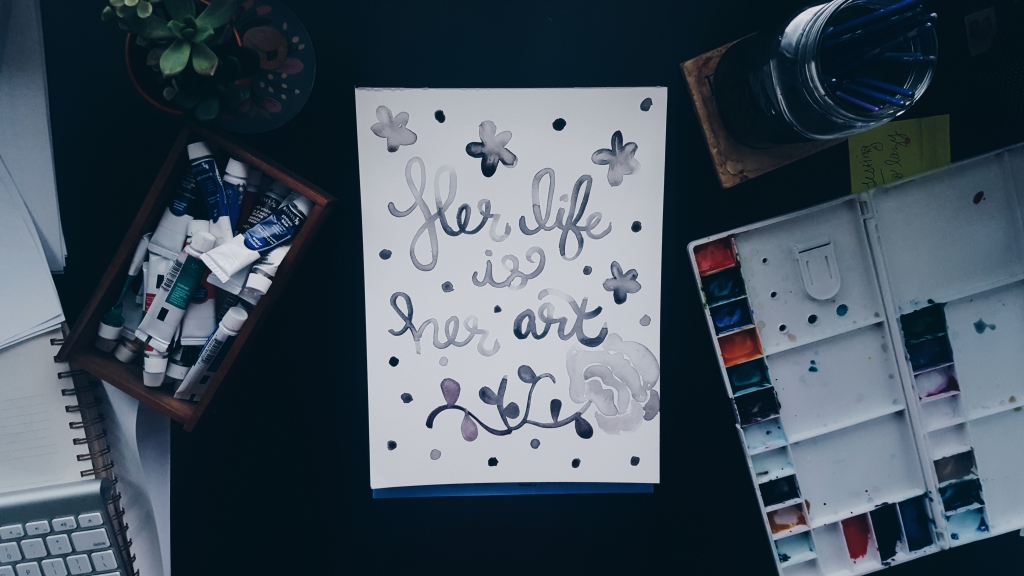 Moving Forward
What's great is that I'm now able to move forward knowing I did something that I've failed to do in the past. I created one hundred piece of original watercolor lettering art. Were they all good? Of course not. Did I enjoy every piece? Obviously not. There are some things that I knew I was in a rush to create or was too tired to focus. The point is, I did something that I challenged myself to do which was my goal. I have shared some originals with friends or people who piece were created specifically for. However, this is the fun thing! I'm selling 50 of the pieces right here on Studio 404 Paper. These things are all different sizes, different papers, and so there's crazy different prices. These are all originals so please know they were painted by my giant Shaq hands and I'd love for them to have a place to live in your spaces!
All month you can get them with free shipping using the code 100DAYS! Otherwise, I am always on Twitter and Instagram doing weird stuff. Every week, you can check in with me at Heart + Hustle Podcast. I will be announcing some other speaking dates soon! Until next time, shop small, shop local, and buy more art.