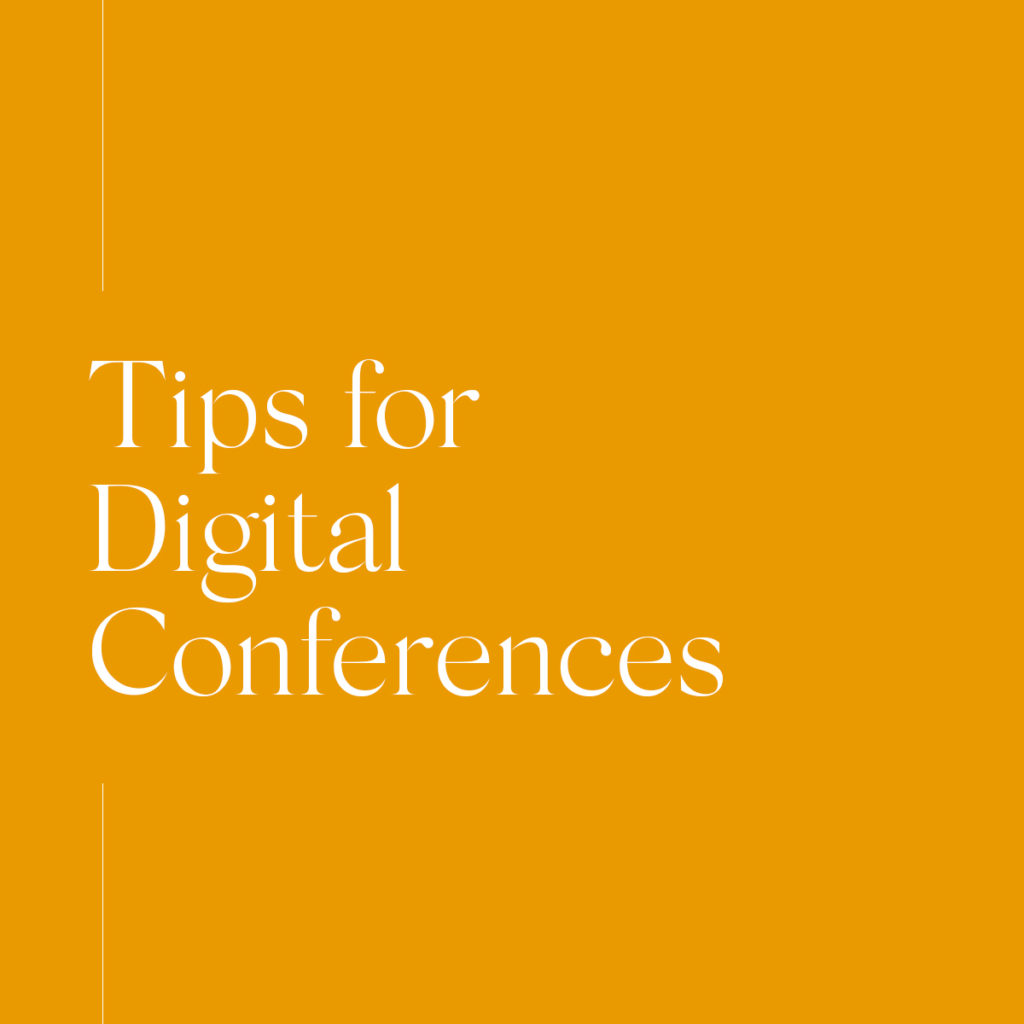 Like many of you, I'd declared 2020 as the year of doing more in-person networking. I was looking forward to returning to public speaking. However, with the limitations on being able to gather in large groups, the need for digital conferences has increased way beyond anything we'd ever anticipated. I think most of us who have worked online have been attending or participating in online events for quite some time. The switch from physical to digital was somewhat welcome to me although we had such a great time at WordCamp Miami 2020 that I was a little disappointed in throwing any plans by the wayside. I'll share one of my favorite stops on the trip, grabbing baked goods at Parlour Vegan Bakery on the way home.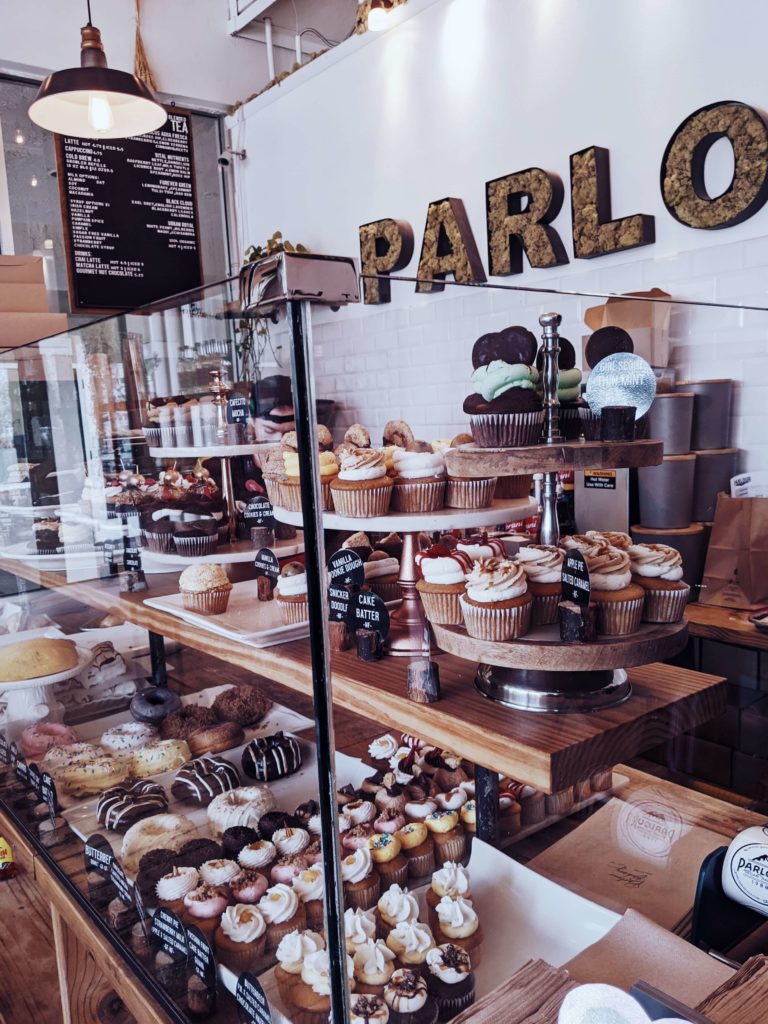 However, the announcement of Cancelled Con 1 happening on my 30th birthday left me feeling a little hopeful for the digital events to come. I've had the privilege of attending a few very different events this year post-pandemic so I'm going to share a few tips on how to get the most as an attendee and how to prepare for a digital event as a speaker.
Attending a Digital Conference
After the official cancellation of Creative South, Andrew Hochradel's announcement of Cancelled Con was extremely welcome. Seeing some of my favorite creatives on my birthday felt like my own personal birthday gift. If you've never been to a design conference before, there's a lot of opportunity for other people in the industry to share their stories but also show off their skills. Obviously it's hard to recreate the things that happen in the hall, meeting up over food and drinks, or the exclusive merch, but there is a lot of value in showing up to a digital event.
Cancelled Con was live-streamed via YouTube. It was two days of amazing conversations, designs, tutorials, and more. I learned so much about different programs that I knew nothing about. It was good to see familiar faces and it was a lighthearted vibe.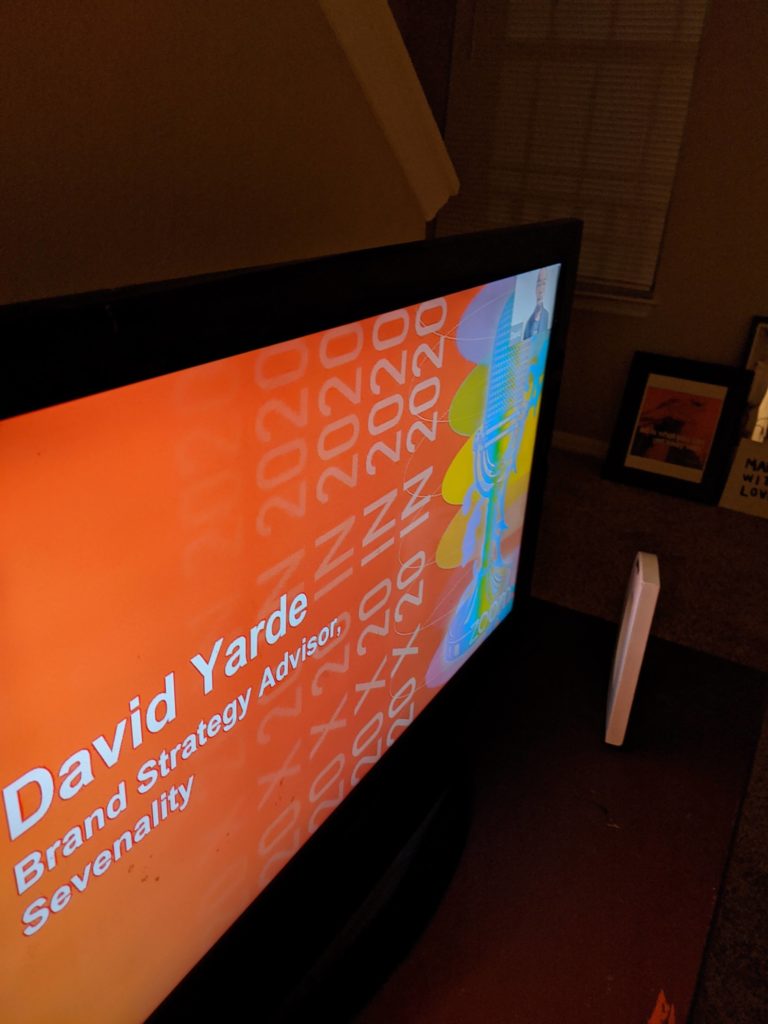 David was a presenter at PechaKucha Orlando v28 which was a physical event that was switched to a digital presentation. He'd practiced and was coached to present in front of an audience so it was disappointing to pivot to an online-only event. However, as someone who was able to watch these speakers share their stories, it was a great evening event to contrast with my daytime event experiences.
I also attended the Lesbians Who Tech (NOT IRL) Pride Summit at the end of June. It is obviously a much larger event but it was such a great experience. The keynotes were great. The workshops were phenomenal. The chats were fantastic. I didn't plan on attending an event in 2020 where I got to hear Arlan Hamilton speak and moderate a panel with the cast of The L Word but it happened. This event was focused, targeted, informative, and powerful and I cannot say enough kind things about it.
From these very different experiences, I came away with a few tips that would be helpful for digital events as an attendee.
Take notes

I will always recommend taking notes for any event. Of course, you'll want to follow along with any live creating that's happening in real-time but it's nice to take notes so you can remember the things you're learning later.

Engage with the presenters

If you're on social media, reach out to the presenters in real-time so they can see any feedback on what they were doing and how it went on their end. Use official hashtags, follow on social, and connect with speakers so they know how things went.

Stay focused

Digital events are great because you can multitask while attending. However, I will say I've gotten the most out of the events when my brain wasn't focused on something else.

Put everything on your calendar

There have been a few digital events that have slipped by me because I didn't have them on the calendar. If you carve out time for it, you're more likely to attend and be engaged. LWT was so detailed, I had any session I wanted to attend on my calendar with reminders so I wouldn't forget.

Don't be spammy

Obviously, if you have an opportunity to network and share your business, do it. However, don't overdo it. I've seen so many people just spam chats of events and it's not cool.

Stay muted

If you're in a video format for any reason that allows you to have a mic on, mute yourself.

Take it easy

Relax! If an event isn't for you, it's ok to leave. There have been some things that definitely didn't align with me or wasn't what I thought it was. It's ok to leave. Not everything is for you and that's ok. If there's a survey, give honest feedback for things but also be fair with any criticism.
Presenting at a Digital Conference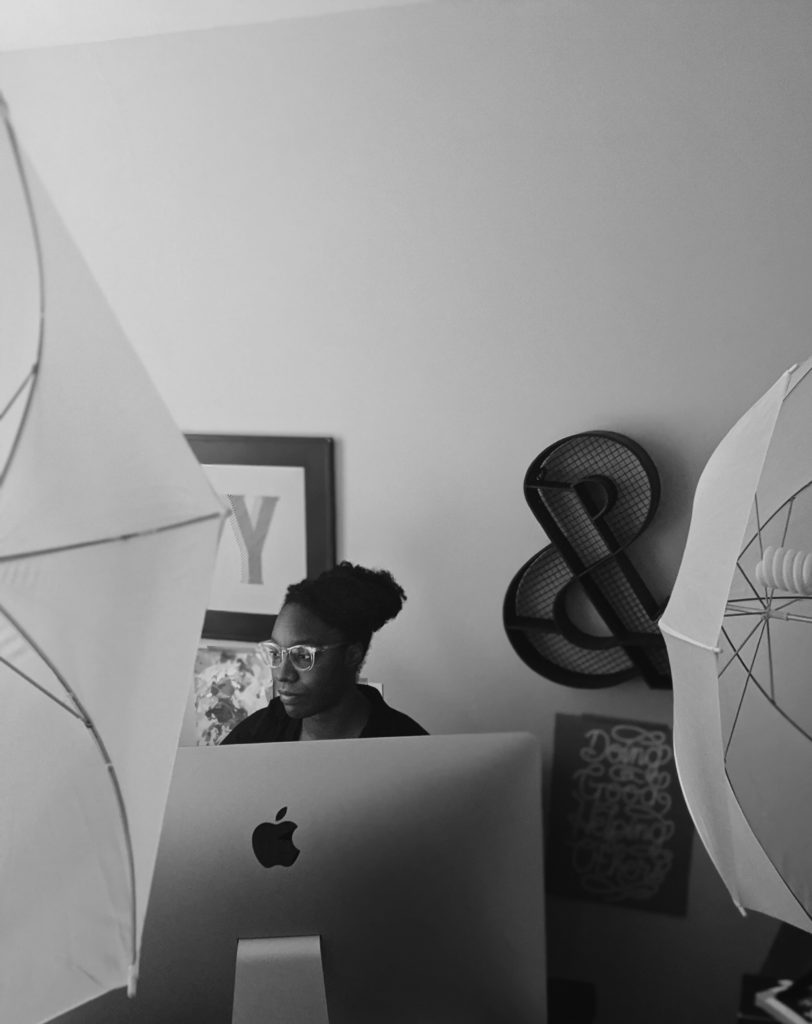 I've been very lucky to present, facilitate workshops, sit on panels, and more at events over the past few years. When Kelly of Spark Orlando reached out to see if I wanted to speak at The Freelancers Conference on podcasting, I couldn't think of a better opportunity to dip my toes back into the presenting arena. This was technically my very first digital event opportunity so although I was nervous, I was excited to talk (way too much) about podcasting.
I wanted to share some ways that I planned for this event. As you can see from above, we may have done a lot for the lights but it was a fantastic opportunity. I had a great time. My workshop attendees were wonderful and patient with me. I also learned a lot through the experience so here are some things to take note of if you're planning on speaking at a digital conference: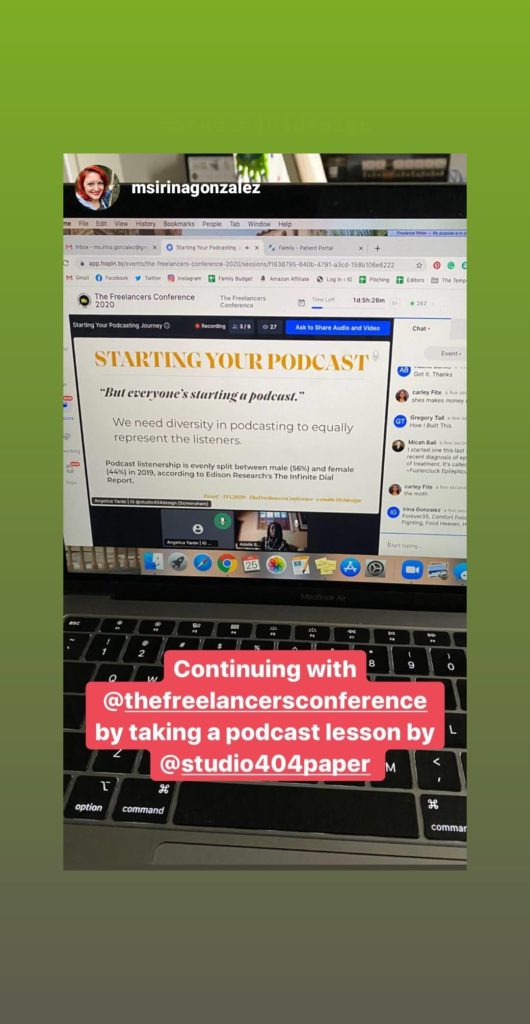 Over-prepare

Luckily, I've learned while during five years of podcasting that anything can happen while you're online and live. There aren't enough backups of slides, presenting areas, and whatever else you need to be prepared. Early on, I realized it would be beneficial to have a second screen so I could see the chat while presenting through the Hopin platform we were using.
All presenters also got to do a test run of the software with the organizers. This was super helpful to get an idea of the platform, what their expectations were, and what to do on the day of.

Treat your speaker guidelines like the law.

I was in my session room fifteen minutes before and it helped me prepare. Luckily, Kelly was in my room as well to help me if anything went awry.
It also helped remind me of what the conference organizers were expecting for me.

Engage with the audience

The audience helps keep a presentation alive, especially when you can't see them. I loved asking for feedback in the chat. They also let me know what they wanted me to cover in terms of Q&A and gave me feedback on any tech issues in real-time.

Relax and enjoy yourself

I was slightly nervous. I'm not a talker despite having a podcast so any long periods of talking are weird for me. I had so much tech on my desk that I didn't keep tea with me and I have regrets. Coughing during a pandemic during your talk isn't the most graceful thing you could do.

Have a follow-up plan

I've always tried to have something special for attendees to offer them at the end of the talk. Yesterday, I launched a 3-week podcasting mini-course that was exclusive for attendees but I'm opening it up below. I had 10% of my room attendees sign up via the special promotion page where I included additional reading links, my slides, a freebie, and a coupon code exclusive for the attendees. Don't leave with a follow-up. I'm still connected with so many people who I've met in my talks at events.
Let me know all of your digital conference tips in the comments below and for any readers, you can sign up for the 3-week Podcasting 101 Mini-Course below.
Sign-up for the Podcasting 101
Mini-Course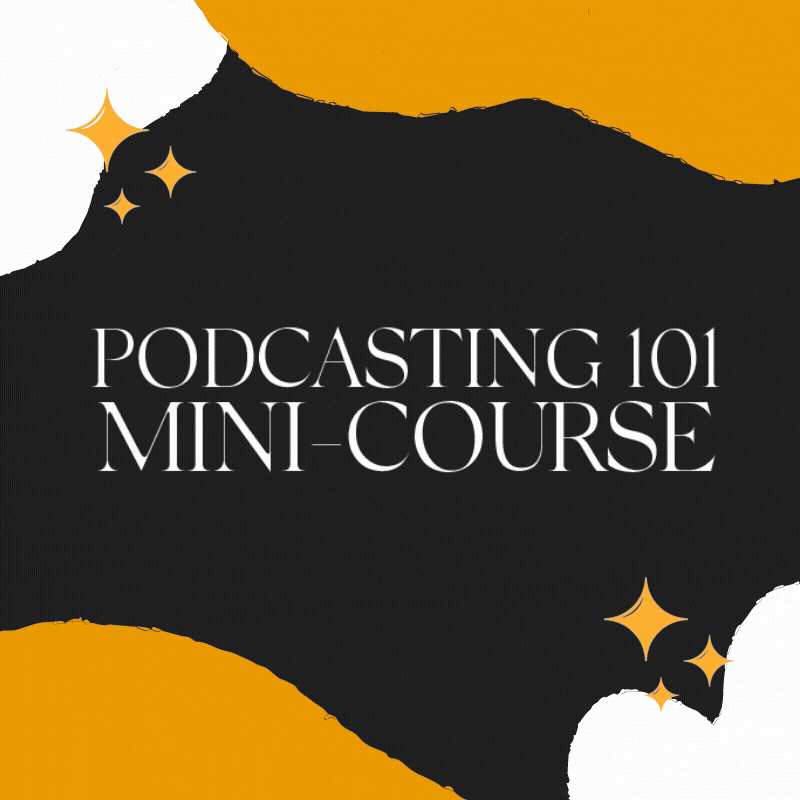 To help keep you on track for launching your podcast, sign-up for the Podcasting 101 Mini-Course, a free inbox-only podcasting mini-course for aspiring podcasters.