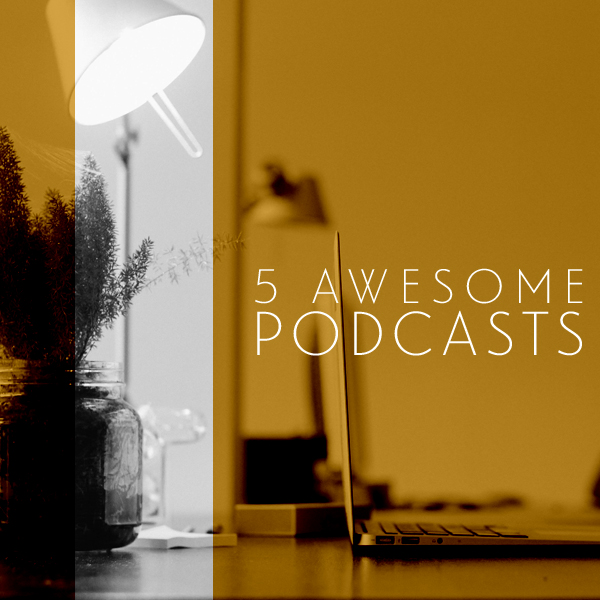 So a few years ago as podcasts were becoming more mainstream, I just couldn't get into them. It was like talk radio. The audio quality was awful. A lot of them utilized iTunes which at the time, I avoided like the plague. However, in the past six months, podcasts are all I listen to. The idea of learning passively (or just laughing) while working has become normal to me.
The podcasts I listen to are usually put together by bloggers, designers, or developers. I am so happy to be able to support these amazing creatives by writing about their podcasts and sharing them here with you.
The BizCraft podcast is all about running a web design business, which I just so happen to do. Hosted by Carl Smith of nGen Works and Gene Crawford of Period Three, the BizCraft podcasts covers all of the business in web design. Fueled by user questions and beer (seriously), Carl and Gene are pretty personable and really offer some great insight on running a creative business. I haven't had the opportunity to listen to too many episodes but it's been a great podcast to listen to thus far. There are so many things happening in the world of web design and running a business is tough. BizCraft is my go-to podcast to help me get my business in order.
I know my podcast list might be boring because of all of the design and business information but it's been so helpful! I'm a huge fan of Dan Mall who is a fantastic designer so when I learned he hosted a podcast with Jason Blumer, I knew I had to tune in. Another podcast about business, the Businessology podcast is has bit more formal but still really good. There have been some fantastic tidbits in this podcast and I can't get into how amazing it is. Just take a listen!
I absolutely love this podcast. From this podcast alone, I've grown to love co-hosts Sarah Paramenter and Josh Long who are doing amazing things in the design industry. They really get into discussing industry happenings and chatting with some of the best designers. I've gotten introduced to a lot of great talent from the UK through the show and learning how the design industry is across the ocean from Sarah's life. It's just really fantastic, usually fun of laughs, and always so well put together.
I've talked about my love for the Joy The Baker podcast before but it's still so much fun! Food bloggers Joy from Joy the Baker and Tracy from Shutterbean chat about everything and anything. The podcast is entertaining because it's just two friends chatting about life and it could easily be me chatting with any of my blog friends. They never fail to make me laugh and it's just a good podcast to take a break from all of the business and design podcasts I intake.
If you want to listen to design news while laughing hysterically, Shop Talk is the podcast for you. I've been following Chris Coyier since I joined Twitter and Paravel's work was enough to sell me on Dave Rupert. Front-end development is a big part of my business, and I enjoy listening to the ins-and-outs and best practices of the community. I've already learned so much about the people who make big decisions, what's going on with the W3C, and how other agencies and freelancers work. Mostly, what I've learned from Shop Talk is to just build websites and there is always #hotdrama in the design industry. It's a great podcasts for designers and developers, no matter what your skill level is.
If you're looking for more podcast recommendations, Liz posted a great roundup last week.
Credits: Death To The Stock Photo


What are your favorite podcasts? I'm always looking for new podcasts to listen to so share them in the links below!