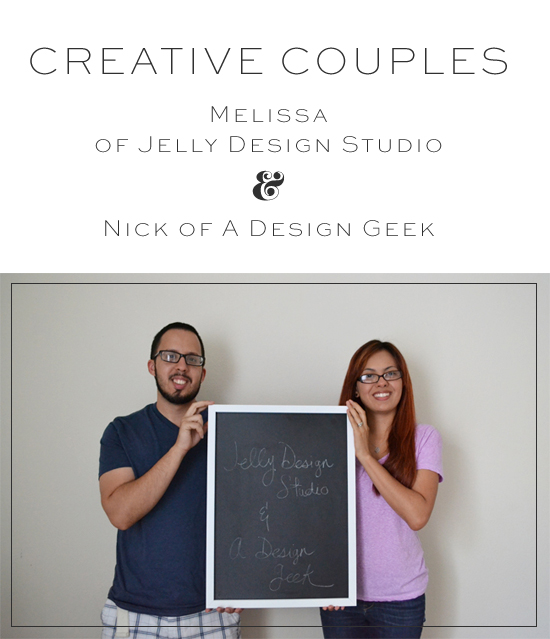 Ok friends, I know I totally dropped the ball on announcing the contest giveaway winner, which I will do — tomorrow! Let's not focus on my incompetence  because today I am excited to start a new feature Creative Couples, where I will feature other couples in the industry. If you didn't know, I co-own a branding strategy agency (fancy term for we work with small businesses providing design and consulting services to establish new brand practices) with my husband. We've been collaborating on projects together since the very beginning of our relationship so it made sense for us to work creatively together. Of course, as any SO team, it means a lot of challenges but a lot of opportunities to share creative visions.
I wanted to start this feature years ago to discover other creative couples out and about on the web just to share their perspective on what it's like to be in a long-term relationship with a creative. I'm ecstatic to have Melissa of Jelly Design Studio and Nick of A Design Geek as my first couple. I will give you a short back story so I can get to the good part! Melissa, who is also a designer and owner of an amazing blog template shop, reached out to me via Twitter after the launch of Sunshine Bloggers a few months ago because she lives in the same town as we do!  After that meeting, I learned that her husband Nick is also a designer and can be often seen selling minimalist prints around local comic conventions. After another meeting passed, I could say 100% that I absolutely adore them. Nick has a great sense of humor, might be obsessed with Iron Man, and has a great eye for creating simplicity. Melissa loves Tangled, has an amazing work ethic, and enjoys connecting with other creatives in the industry. I asked them a few questions, which they totally agreed to. I want to say thank you to them for being amazing and allowing me to showcase their awesomeness. I hope you guys enjoy them as much as I do.  (P.S. – I'm not even sorry about how long this blog post is)
What makes you a creative couple?
Melissa: We both work with design – but my main line of work is web design. I design and develop custom blogs and websites for bloggers and small business owners. I love my line of work because I get to meet so many creative and talented people from around the world.
Nick: As designers in our own respective fields, the joy of designing is what brings us together. As a designing couple we our are own first critics. I design minimalism work of art from of genres of entertainment. My new found passion is selling at the Comic Con shows where I get to interact and see the appreciation towards my artwork from potential customers.
Do you think being creatives makes it easier to understand each other?
Melissa: As different as our creative styles are I think it helps us understand each other…
Nick: …but at the same time our different forms of medium cause minor clashes to arise.
What is one trait you admire in your significant other?
Melissa: I love how he takes action when he has an idea, which is how his side of the company started. When he gets an idea in his head he goes for it and gives it a try. He used to only sell vinyl license plate tags – then one day he just decided to start drawing once again and his line of minimalist art posters came to life. 🙂
Nick: She is one of the best multi-taskers I know. She handles so much of her business plus book keeping, packing orders, and website updates for my business. I am always grateful for having a partner as great as she is.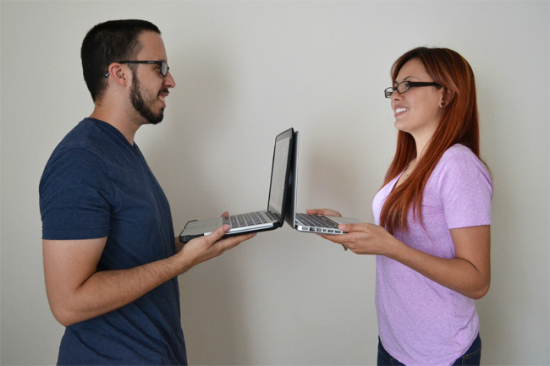 "…the joy of designing is what brings us together." – Nick of A Design Geek
How does your environment affect your ability to create?
Melissa: If I am in the same environment for too long it tends to get put me in a terrible design rut. I need to see different things and have changes around me. When I feel that rut approaching me I try to get out of the house to experience new surroundings, watch a movie to see the colors and elements used in it, read a book to use my imagination, or just find a different creative outlet that will allow me to see things in a new way.
Nick: I am not a sitting still person. So when a design is not going well, I stop and come back to it at a later date. What has given me great motivation is selling at the shows. The environment of all the cosplayers and dedication from all the vendors has made me rethink my goals, and reach for higher one.
What is your biggest motivation?
Melissa: My husband. I know it sounds a little cheesy but he definitely knows how to push me when I feel that I can't create anything. He always believes me even when I am filled with doubt.
Nick: Making my wife proud and use the same motivation that I use to push her to push myself.
What is your dream project?
Melissa: My ultimate dream project would be to work on a digital magazine. I love e-magazines such as Rue and Matchbook and just find it to be such a creative space where you can try out different layouts, color palettes, and combining various elements all within the same space.
Nick: It would be great to one day take on New York or San Diego Comic Con. These are the biggest and prestige's shows in the U.S. and I would love to take on the project of selling at them.
What advice would you give to other creatives in relationships?
Melissa: Be honest. As a couple sometimes it's easy to be biased about anything we design. He loves my work, I love his work. But occasionally when we find flaws or have some feedback it might be a little hard to come out with it but it's definitely important. Feel free to give constructive feedback (just be polite about it) because sometimes we get stuck in a rut and keep designing the same things. Giving honest feedback is good way to create a challenge and help each other get out of any design rut. That's what always helps us step outside of our box and try something new – whether it's a poster design that he is working on or a new blog that I am developing.
Nick: A good foundation is the best place to start. Be there for each other when others doubt your reach as a great foundation will really help you stay motivated in achieving your goals.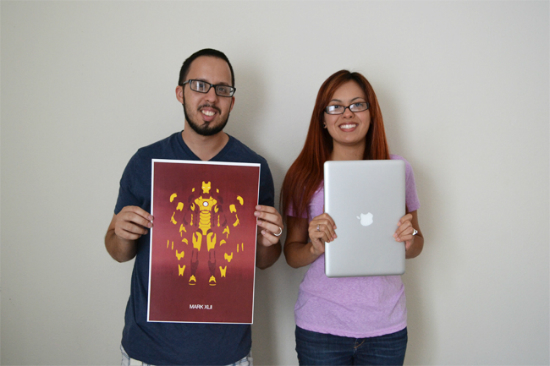 Thank you again to Melissa & Nick for taking adorable pictures and being my first creative couple! Are you in a relationship with a creative and what your stories shared here? Feel free to drop me a line. Be sure to connect with Melissa and Nick!
Melissa – Jelly Design Studio | Blog – Blush & Jelly | Instagram | Twitter
Nick – A Design Geek | Instagram | Twitter