Last month we talked about booking clients and today I wanted to follow up with how to manage those projects once you have them. One of the hardest things for most student freelancers to do is project management. If you're never been in a position to properly manage projects, it'll be mostly learning form experience.
I've gotten two wonderful ladies to talk about managing projects. The first one is Kia Perry of Girly + Inspired. I've been following Kia's blog and seeing her work for quite a while. She is very open about her client process and sharing what she's working on. I'm really excited to see what Kia has to share with us, especially since she's working on Creative Girls ATL, an upcoming group focused on branding  workshops and social events in Atlanta.
The second lady is the wonderful Candace of Studio Meroe. With a focus in the fashion, beauty, and home decor, Candace's specific niche made her a perfect person to get in touch with. Most of the designers I've featured here don't have a niche so it's great to hear from someone who has a specific target market. Candace does amazing work and I'm so glad to have her here.
---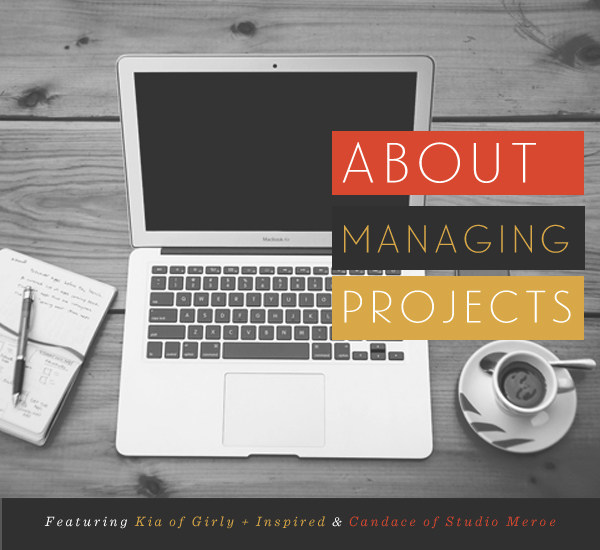 What is your client onboarding process like?
Kia: Lately, I've been doing mostly logo designs so once a potential client inquires about my services I send them a little packet with the break-down of the logo design package, price, and details about the design process. Once they've had time to look over the information and they still want to move forward, I send them an invoice for the deposit, a Project Agreement, and a rough timeline. Once I've received everything and the timeline is approved by the client, we get the party started!
Now, this is definitely an evolving thing for me. I'm still learning what works and what doesn't the more I deal with clients. I'm participating in an online workshop with Amanda Genther called Heart Your Clients where I'm learning how to make a fun, easy, and unique experience for my clients. So this on-boarding process may have some revisions within the next couple months.
What tools do you use that are imperative to your project management?
Candace: Right now I'm using Todoist, which is a free project management web application and Iphone app. They also just  released an amazing Gmail extension that replaces google tasks (think google tasks on steroids). It allows you to organize your To-Do lists by project. I have my list organized under the following labels: This Week, Projects, Meroe Blog, Meroe Shop, Admin, & Someday. That way I can prioritize my week, keep an eye on current + future projects , as well as continue to effectively run my blog, shop, and daily administrative tasks. The 'Someday' project is just a place where I can continue to dream and jot down random ideas that come to mind. I also have a Julia Kostreva planner & and notebook for days where I'm not near my computer.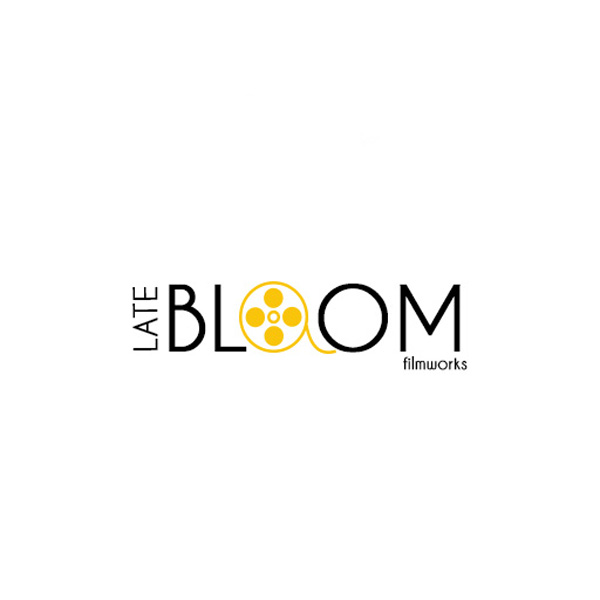 How do you handle client correspondence during projects?
Kia: Right now, I mostly correspond with clients via email and telephone. I've tried using Podio, a project management platform, but my clients didn't take to that very well. In the near future I plan on adding Google Hangouts to make the process more personal.
Do you ever work on multiple projects at once?
Candace: I find that if I work on more than 3 projects at once I'm pretty frazzled. When you frequently work on branding for clients you have to switch your entire mindset to sort of live in this world that you've created for them. So when you're jumping back and forth between projects it's like taking off a pair of shades and putting on new ones—you have to see everything through their lenses and it can take a bit of time to get your mind back into their aesthetic. I find it's best if I try to work for long periods of time on one project or split projects by day. That way I can maintain maximum focus.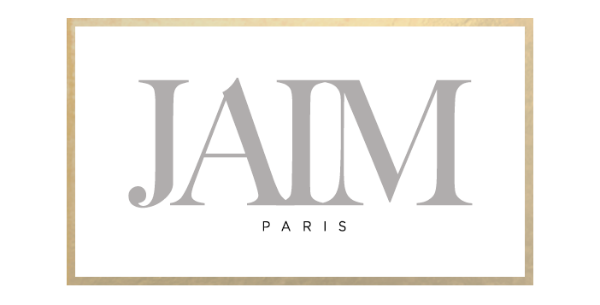 How do you keep your projects on time for deadlines?
Kia: In the beginning of the project, I create a timeline that is approved by the client. Each week represents a step in my design process, which is usually enough time for me to complete each step. Sometimes during the Revision phase of the process a project can run over, but for the most part I either finish early or right on time. My process is a collaborative effort between the client and I so it's really about staying on top of the client and making sure they complete their tasks on time. If not, the deadline is pushed back and it will take longer for them to get their shiny new logo, but of course I try my best to not let that happen!
How do you handle unplanned interruptions in your projects?
Candace: I'll be honest, I hate unplanned interruptions, but—such is life—they're bound to happen! I've learned to build interruptions and extra time into my day. My days are rarely 100% jam-packed. I try to operate at 90% capacity, because there's a good possibility I'll need that extra 10% for a project  or errand I may have underestimated. When things go smoothly I  have some extra time for passion projects or an extra long lunch with friends.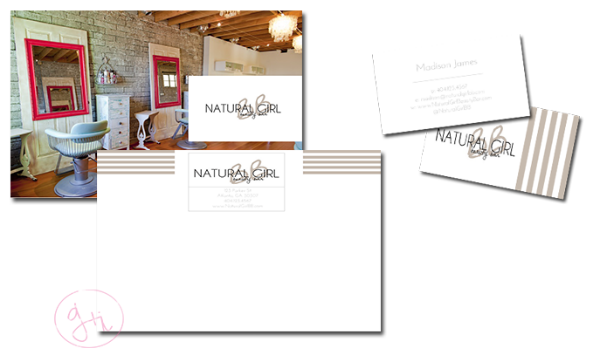 What can clients do to help the project management process go smoothly?
Kia: When the client fills out that Questionnaire in the beginning it is uber important for them to fill it out THOROUGHLY because if they don't it will make it harder for me to nail the design, and every designer's goal, I feel, is to hit that nail on the head the first time. I like my clients to literally put down any and everything they ever thought about or that comes to mind for their design. Also, if the client is cooperative in completing tasks and turning in information on time, that always helps things run smoothly and stay on track!
Do you refer projects to other designers when you're booked?
Candace: If the project seems like something I'd love to do, I'm upfront with the client and let them know what my current lead times are. I've had clients wait 3 months just to work with me. I used to be absolutely terrified to respond with bad news, but it's best to be honest—rushing projects is never good for anyone. If the client can't wait, I'm happy to refer them to other designer friends. I know a bit of html/css, and if time permits I do custom installs and code work, but if I'm booked I refer clients to developers as well (sidenote: I'm actually looking for more developers to add to my network).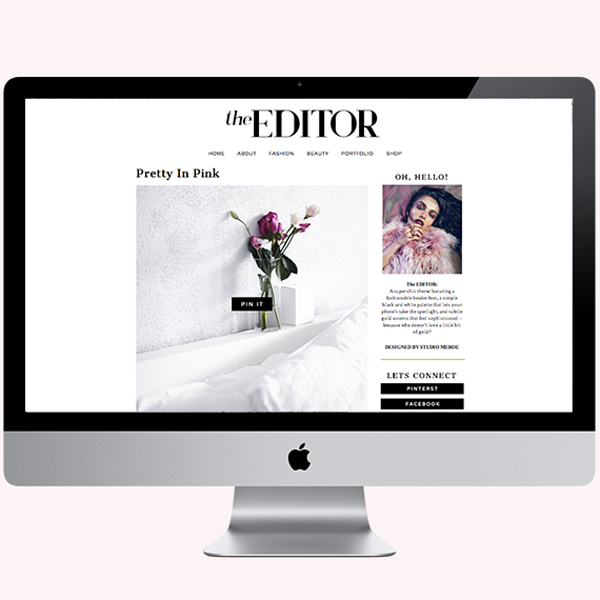 What advice would you give to freelancers to help streamline their project management process?
Kia: Stay organized! If your clients are open to using project management platforms such as Basecamp or Podio, I suggest giving that a try because it lays everything out for you to see on one screen and puts everything in one place for it be easily accessible for both you and the client. If not, then make sure you're creating a designated folders/labels in your mailbox and on your desktop for individual projects so client and project information is readily available.
What advice would you give to freelancers to help streamline their project management process?
Candace:
I guess the best advice I have is to 'Work Smart'. Being effective is all about organization and cutting down on things that are hogging up your time and disrupting your workflow. A few tips that adhere to the 'Work Smart' philosophy:
Create a weekly schedule based on all the different freelance hats you have to wear and set specific tasks for each day of the week. Need an example? Check out mine here.
Set your Gmail to 'Priority Inbox' and star emails you need to respond to later or keep at the top of the pile.
Check & respond to emails at specific times, not every 20 minutes. Try 10:30am & 3:30pm. Email is the #1 distraction and workflow killer.
Block out big chunks of your day to focus on 1 task at a time. For me, 3-4 hours is good for each task.
Creative genius can't happen if your brain is foggy. Take small breaks and don't feel guilty about it! Your brain does not work properly or creatively when you're feeling burnt out. Respect the creative mind and let it rest!
Outsource anything that makes you feel like you don't have enough time in a day, even housework. Paying $80 for 4 hours of house cleaning so that you can complete $200-$300 worth of design work is just smart, not lazy. It's money well spent if you're making a profit.
Thank you so much to Kia and Candace for giving such amazing advice and sharing so many great resources!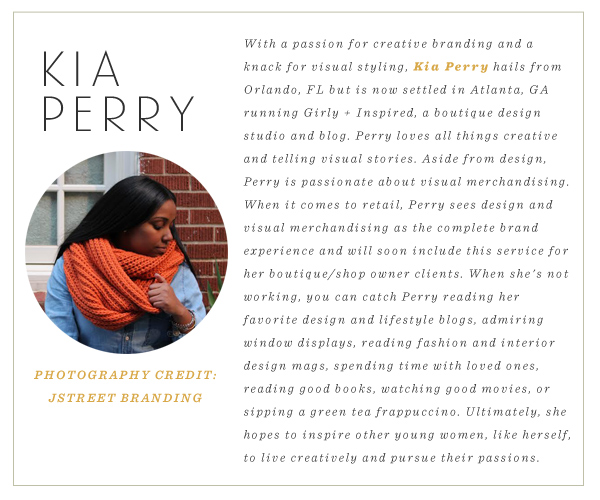 Connect with Kia: Portfolio | Blog | Facebook | Google+ | Instagram | Pinterest | Twitter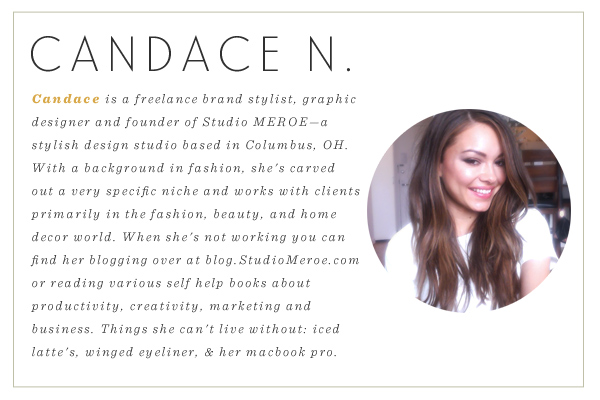 Connect with Candace: Portfolio | Blog | Facebook | Instagram | LinkedIn | Pinterest | Twitter