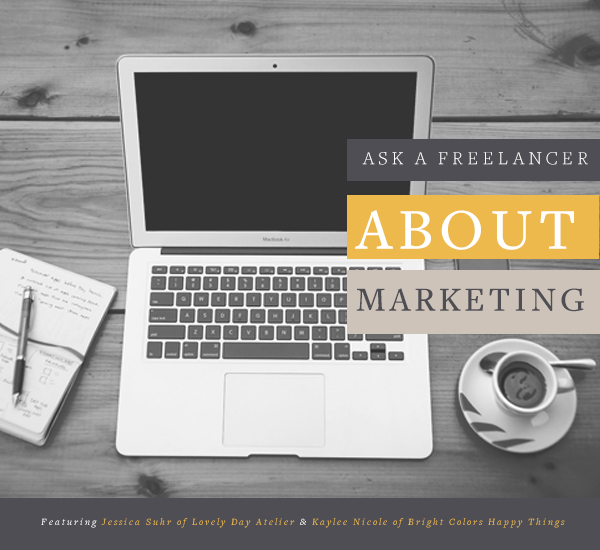 So excited to start this Ask A Freelancer series back up for the end of the year. I've got some great ladies lined up for the next few months with some topics that I really find helpful.
Today I have the amazing Jessica Suhr of Lovely Day Atelier and Kaylee Nicole of Bright Colors Happy Things here to chat about marketing as a freelancer. I met both of these ladies through Nesha's Shelancers Club which has been a Godsend in need help, asking questions, and being motivated as a lady-boss. These ladies are full of great information so let's get started.
What has been an effective marketing strategy for you?
Kaylee: Effective marketing is such a difficult concept to understand. I am constantly changing the way I market to see what works best. With how fast marketing is constantly changing and evolving, things don't stay the same for long. What I've found to be the most effective is constantly and consistently interacting with your audience. It doesn't sound super fancy nor is it anything near what you pictured a marketing director might be doing, but that's the best way to grow your audience organically – interact often. Don't try to be phony either. People can sense when you're saying things just because it sounds good. They know when you're not being authentic. If you post and interact often, but are not authentic about it, it can be worse than not posting at all.
What have you learned about marketing yourself as a freelancer?
Jessica: Marketing is difficult, multi-faceted, and – second only to doing great work – it's the most important part of the freelancing puzzle. I've found that I need to work on marketing everyday to keep my backlog of work full and to stay relevant and prominent to potential clients. And for me, building relationships is the most important part of the puzzle.
Marketing for a service-based business is very different than a product-based business and I've found that developing relationships with people via Facebook groups, Instagram, and even the old IRL networking groups is key to getting the word out about your skillsets and services. You never know if that random lady you're chatting with has a friend that needs exactly what you provide. And you might be able to refer her to your friend that needs exactly what she provides.
What's your official "title" and how does it fit what you do?
Kaylee: My official "title" is marketing strategist and virtual assistant. It fits what I do almost to a 'T.' I help small business owners, freelancers, and bloggers break down and understand the big, scary concept of marketing. I also assist these passionate people in getting these tasks done by encouraging them to outsource their work to someone who knows more about it – which happens to be me.
What is your favorite social media outlet for marketing?
Jessica: Instagram is my favorite for following others, but for me Pinterest definitely brings the most traffic. I recently started using Buffer to schedule pins and that has helped me be more regular with sharing my content and other people's content to continue to grow my followers. And I'm toying with the idea of promoting some pins on Pinterest in the future.
Also, networking via Facebook groups has been instrumental in turning up leads and making it easier to warm up a lead before I ever reach out to them directly.
So, Facebook groups and Pinterest are my two favorites, if I'm allowed to pick two. 🙂
Have you booked a project directly from your marketing efforts?
Kaylee: I've booked several projects from my marketing efforts. It may sound like I am declaring anything that I do marketing, but participating in small, focused Facebook groups can be the best thing you've ever done for your business. I've heard many people say that Facebook is dead and that the future is in Instagram or Twitter or even Periscope and while building a following on Facebook may not be ideal or even easy, I have built such a large following from participating in Groups that are focused in my industry. These groups are exactly where I can find my potential clients.
What has not worked for you in terms of marketing your business?
Jessica: Every marketing effort works to some degree, even if that's just increasing visibility and not leading to instantaneous conversions. For example, some of the local networking groups I've checked out didn't really have any ideal clients for me or didn't lead to ongoing relationships but I've had some useful conversations. I will say that I've joined some Facebook groups for business people that I was really excited about, but ended up just being places for people to complain. I quickly left those groups because who needs any more negativity in their life!?
Please share any of your favorite marketing resources:
Kaylee: My favorite marketing resources are Buffer, Canva, and any stock photography website – mostly Death to the Stock Photo, PicJumbo, and Unsplash. I've also used Hootsuite, which works just as well as Buffer; I like their interface and layout more.
Jessica: I'm loving Latergram.me to schedule Instagram posts directly from my computer and Buffer to schedule Pinterest posts. And of course there are a ton of fantastic bloggers out there writing about marketing. A few of my favorites, Elle & Co., Nesha Designs, Amanda Genther, and the Nectar Collective.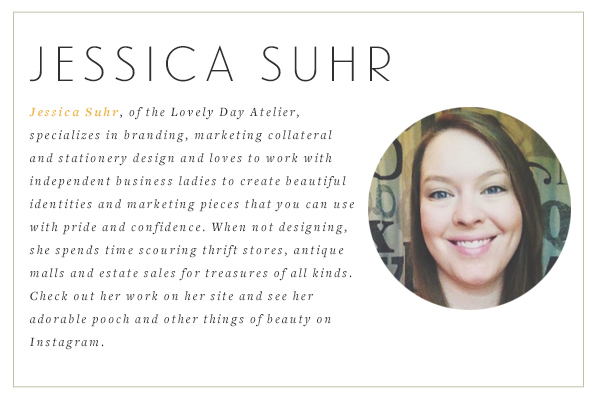 Connect with Jessica: Site | Facebook | Instagram | Pinterest | Twitter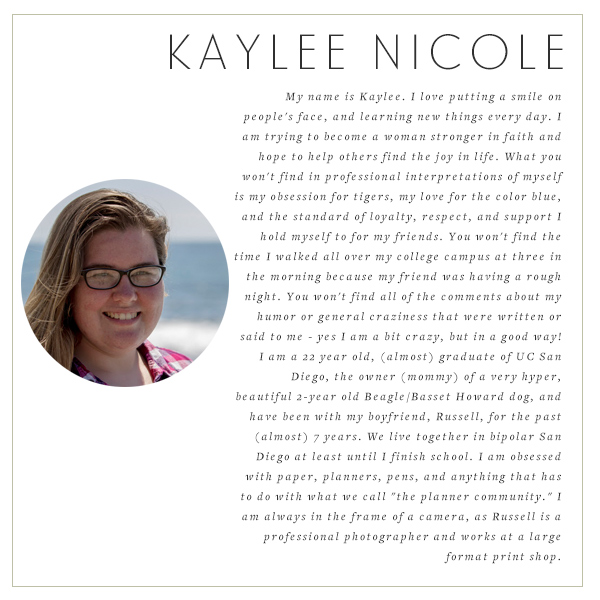 You won't find anything about the things I do on my own to better myself and work towards becoming a better more skilled worker. You won't find anything about my hate for math classes or my love for personal development challenges. You won't find any testimonials from friends, past clients, or past employers thanking me for staying late, arriving early, or going above and beyond to help in any way that I can. You won't find anything about my belief in there always being hope – no matter what the situation. You would have to meet me to be able to find all of that. Reach out to me kaylee@brightcolorshappythings.com to be able to experience all of the imperfection that is me. I leave you with one of my favorite quotes, "Happiness can be found, even in the darkest of times, if one only remembers to turn off the light." Albus Dumbledore
Connect with Kaylee: Site | Facebook | Google+ | Instagram | Periscope: @brighthappyplnr | Pinterest | Twitter  | YouTube