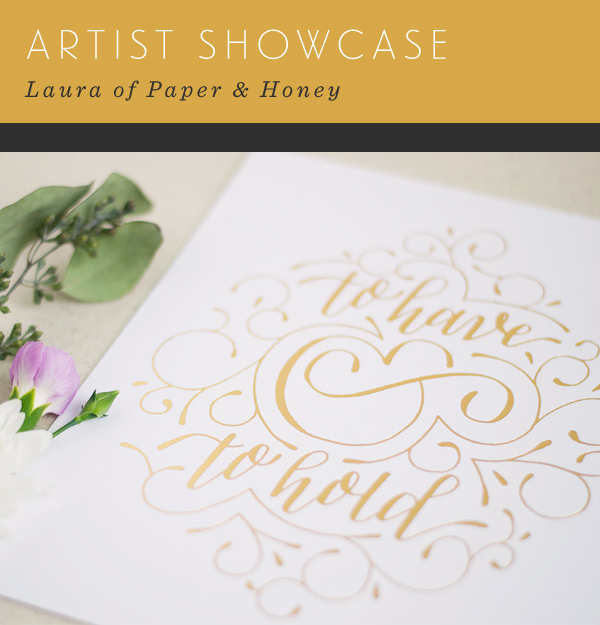 I've definitely wanted to do more of these Artist Showcase articles because it gives an in-depth look at creatives of all fields. Laura of Paper & Honey is an amazing wedding stationer, lettering artist  and calligrapher based in Brighton, Michigan. She recently re-launched her website with a fantastic design by Love-Inspired. Her beautiful wedding stationery suites and chalkboard lettering has been featured on various blogs and for good reason. Laura has a refreshing lettering style which is unique and I can usually spot her work among many others. If you can't recognize her lettering, I'm sure you'll be able to recognize her from her gorgeous red hair. Thank you so much Laura for sharing your story here!
When did you become interested in calligraphy/lettering?
I've loved lettering since before I knew it was an actual art — I was a bubble letters kind of girl growing up. In college I became aware of the incredible work of artists like Jessica Hische, Louise Fili, Darren Booth, Erik Marinovich, the list goes on. I never included lettering in my schoolwork, though… and now that I think about it, I'm not sure why. I think I held handlettering on this pedestal — an art that was beautiful and so detailed that I might as well not even try.
My first exposure to actually trying calligraphy was when I took one of the first classes that the mega-talented Molly Jacques offered. It was held at a local floral studio and once I found out it was happening, I bought a ticket immediately. I even brought my mom! Holding a calligraphy pen was the most foreign thing in the world but I felt like I picked it up pretty quickly. Later that day I went home and kept practicing throughout a Lord of the Rings drinking game my fiancé (now husband) and I played with a bunch of our friends. "Gandalf" has never looked so pretty. And I've been practicing and developing ever since!
What is your favorite collection in your stationery line?
I think it's a tie between my Dreamers and World Travellers suites. I love how feminine and whimsical Dreamers is as well as the touch of watercolor — I especially like the subtle texture it gives within the invitation handlettering. There's also something really special about having something 100% lettered and customized just for you.
As for the World Travellers suite, I had a ton of fun incorporating small details that make up the bigger theme of travel. Lots of interacting patterns, subtle compass elements with tiny airplanes, and customizable stamps that indicate the final destination (like kangaroos for Australia!). My favorite piece is the save the date atlas, where we change the airplane's route to show where you've come from and where you're going.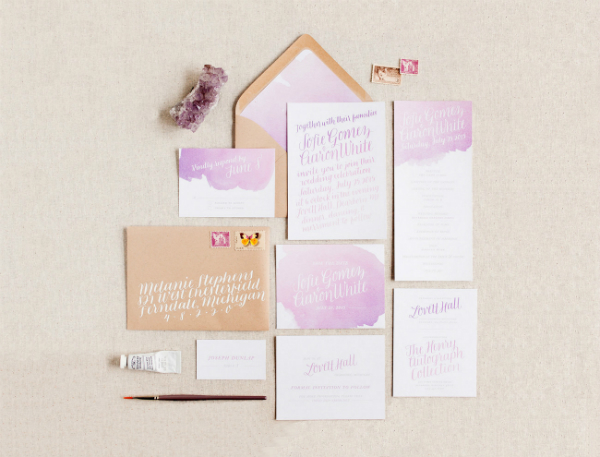 Which calligraphers/lettering artists inspire you the most?
.Molly Jacques is a huge one. I may be biased because a ton of what I know I learned from her, but her skill is undeniable. Her style has such a balanced sense of masculine and feminine, and her overall use of composition and attention to detail is just stunning. She's also insanely helpful and an overall fantastic, kind-hearted person. I just love her.
Jenny of Moira Ink Calligraphy has a beautiful and delicate style that I can only dream about — her flourishes are absolutely to die for. I also really appreciate Neil Tasker's traditional copperplate approach and dramatic line weights.
In terms of handlettering, I would be doing a huge disservice if I didn't mention Emily McDowell. Not only is her style fun and unique, but she incorporates life's subtle truths into her work and it's absolutely hilarious — my favorite is her "things from the back of the fridge" tea towel. "Half of a small puckered lime," "farmer's market impulse buy from 3 weeks ago," "tree individually wrapped heels of bread." So accurate! Both her style and content is approached in such an original and refreshing way.
What has been your favorite project in your career thus far?
Although it's not the best work I've ever done, my favorite project so far has been the pair of giant chalkboards I lettered for an outdoor wedding this past summer. One was a bar menu showcasing the signature drink and the other, a seating chart. It was such a challenge working with chalk for the first time, and I've never created anything even close to that physical scale! It was one of the first times I worked with other creative professionals in our local wedding industry, with styling and planning by Viva La Diva Events, beautiful draped florals by Passionflower, and the entire event captured by Jill DeVries. The most special part was dropping the chalkboards off at the venue, seeing how perfectly they fit, and thinking, "I GOT this. I did this thing, and it turned out really well, and I can do this again. I can really do this and make it work. I'm only going to get better from here." It was really one of the first times that I felt confident in and proud of my skill. And seeing the photos afterwards was just so exciting and so, so rewarding.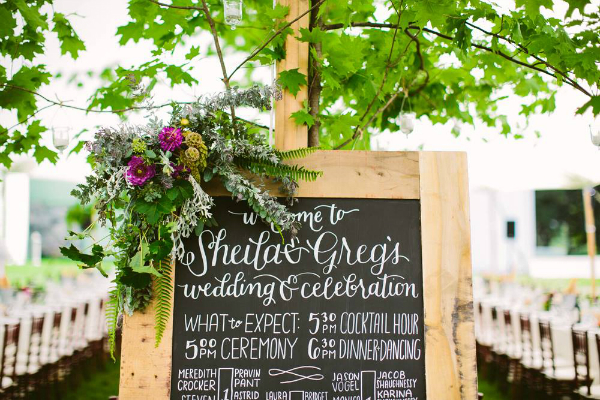 How would you differentiate your calligraphy from others?
This has definitely been my biggest challenge. When you're learning something for the first time, you're looking at what other artists have done and trying to imitate it. "That looks beautiful — I just need to do something similar, and mine will look beautiful, too." When I began calligraphy you could totally tell that I had learned from Molly Jacques. Letters had similar structure and were flourished in the same manner. Luckily, my work could never actually pass as Molly's — I was so new and my skill so undeveloped! It was just a jumping off point to learn the basics, and from there, I began to develop my own style. It's so important to never stop practicing. Draw all kinds of letters. Look at the shapes that come naturally to you and work on honing those specific letterforms. Hone specific letterforms that DON'T come naturally to you. Don't stop experimenting. Make ugly things, make pretty things, and learn what it is exactly that make them that way. Buy more sketchbooks than you'd think you'd need and practice until they're all filled.
What advice would you give other creatives who are thinking about opening their own shop/business?
"Comparison is the thief of joy." When looking at other creatives in your industry, especially successful creatives, remember that it took a LOT of hard work for them to get to where they're at. They didn't wake up, decide to start their own business, and know how to do everything from the get-go. A lot of times you only see the positives to their business, leaving you wondering why you seem to be the only one hitting so many walls. I have to remind myself this all the time and it still hasn't sunk in. Never stop telling yourself that it's okay — you'll get there. It may be eventually, but you will get there.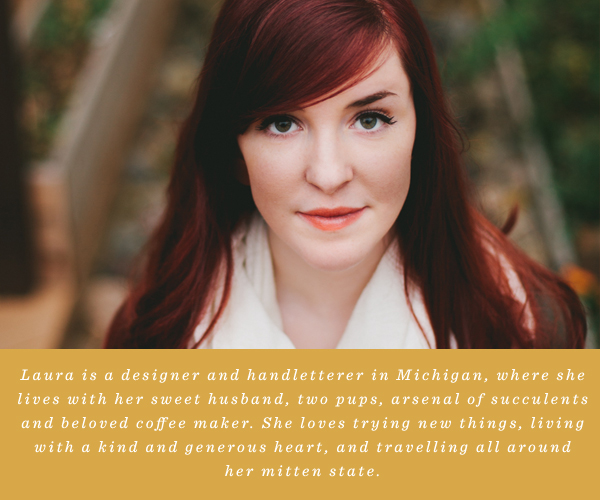 Be sure to connect with Laura!
Site | Blog | Instagram | Pinterest | Twitter | Etsy