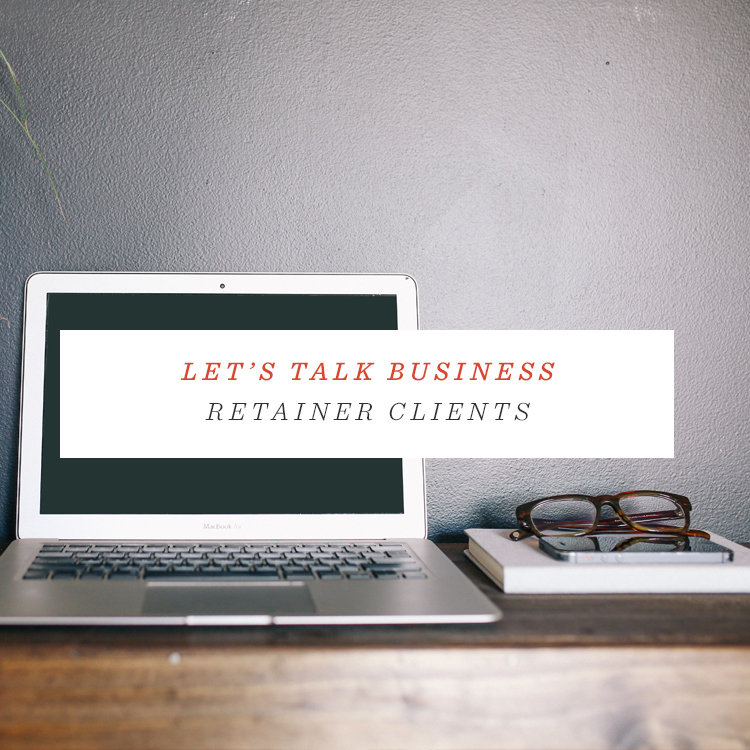 One of the reasons why I've been so busy is that I've been dedicating a lot of time to my retainer clients. Even before going full-time, I worked with retainer clients primarily because the projects are smaller and it's easier to keep track of when you're working a 9-5 versus working on a project to project basis. Today I want to share some of my thoughts on retainer clients, what they are, and why you should probably consider offering retainer contracts.
What are retainers?
A retainer is a pre-paid amount for services. Retainers are great for maintenance work or small projects that your client may require on a frequent basis. My retainer clients usually require SEO/website maintenance, recurring print design work, and social media management. If I were to charge for these services on a single-line invoice, it could become costly and time-consuming. With a retainer fee in place, I can guarantee my clients a certain amount of time dedicated to them monthly and it's less expensive than if they requested these projects one by one.
Benefits of Retainer Clients
As a creative entrepreneur, projects aren't always promised to me. While I do love the process of getting a new project inquiry and starting from scratch, it can be difficult juggling multiple projects. A full-stack project for me starts from identity design to web development and can include anywhere from three to five phases. These projects can take anywhere from 3-6 months and it's hard to take on multiple projects during that time. With retainer clients, I'm able to manage a bit more while still leaving room for any new projects.
I also like working with clients on multiple occasions. Having great client relationships really makes the work fun. It also allows me more room for creative freedom. I've been working with my retainer clients for years so they're very trusting of my abilities. My ideas are respected and it's easier to move projects from start to finish. With new clients, there can be a lot of feedback and things can spiral out of control if not managed correctly. I don't have these worries when I get an e-mail to put together a quick brochure or postcard for a retainer client.
When to Suggest a Retainer
If you're doing maintenance work or recurring work often for a client, suggesting a retainer is probably best for you. I like to offer retainers on a 3 month, 6 month, and 12 month basis. If you're just getting started, try to suggest it for one month as a trial and go from there. It's much easier for the client and it guarantees them your time. How often have you gotten a small maintenance request during the middle of a big project and had to turn it down? In my contracts, I list of the amount time I can dedicate towards certain projects so it's clear what can be done under the retainer. It's imperative to have a contract for a retainer proposal as you would with any other project. Be sure to include very clear definitions of what can be done under the retainer so there's no confusion. Retainers are a great way to make your life easy while protecting your time and your clients. If you're not taking advantage of them, you should give them a try.
Are you using retainers for your clients?