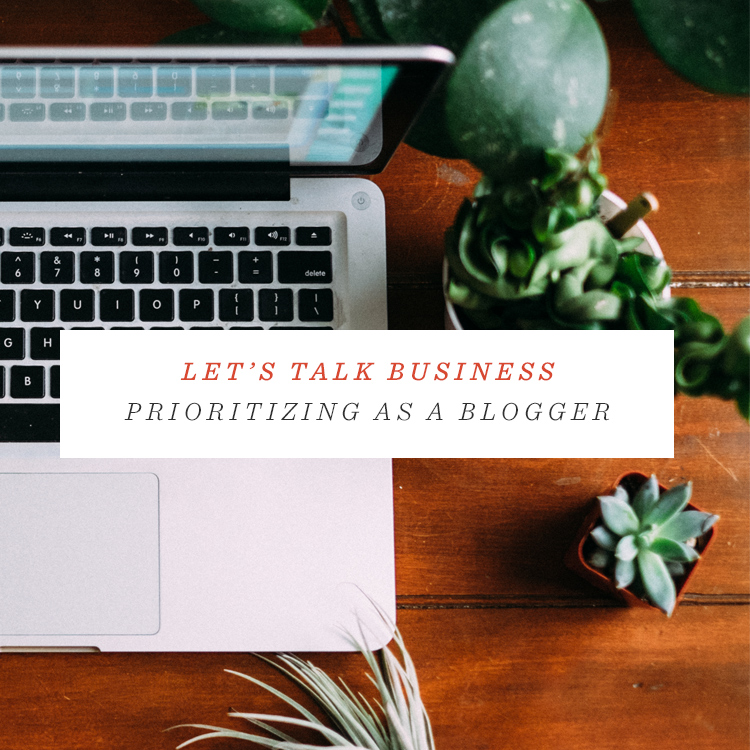 I thought I'd kick off coming back to the blog by starting a new blog series, Let's Talk Business. I needed some way to start discussing things I'm learning/encountering during this process of running a business full-time. So in this series, I'll be covering everything from the bad decisions I've made, the good ones, the things I think work best for me, and everything in between.
Today's topic on prioritization is definitely a result of the abrupt blog break I recently took. I'd like to say that after a week, I'm completely caught up and organized but the truth is, I'm still catching up. Blogging has been very important to me, especially in the past year as an outlet to meet some amazing people. However, when you own a business and things get busy, you really have to take a look at the things you're dedicating your time to. I was actively blogging five times a week, up until January which has dwindled down to about three to four times a week. I'm going to share a few tips on what I'm doing to resurrect my blog while making sure my clients and projects are priority.
When Your Business Isn't Your Blog
While I do blog about my business, I'm currently not making any income from this blog. This blog is the key referrer to my Etsy shop but due to my branding and creative strategy firm being priority, my Etsy shop has also take a back seat. If your blog isn't a key factor in your business's referrals or your income source, consider letting your blog take a bit of a back seat. If you love making connections and sharing thoughts like I do, it won't be easy, but it comes to a point where your business becomes your priority.
Analyze and Prioritize Your Blog's Content
Once you get to a point where you know you'll dedicate less time to your blog, take some time to see what you can cut. Take a small amount of time to look over your blog's analytics and see what isn't helpful. If you don't really enjoy a blog series or a regular feature, consider axing it. Re-prioritize your content to what fits your blog's message. You'd be surprised at the things you're not really interested in blogging about when your time is limited.
Automate
Taking a few hours on the weekend to automate as much of your blog's content can be a life saver. It's sort of a common theme in blog management posts but it really helps you stay on top of things. Playing catch up with your blog is pretty irritating. Staying on top of your newsletters and blog posts makes a world of a difference for the busy business owner.
Quality Over Quantity
At the end of the day, it's still important to focus on the quality of your blog's content. If you only have one great post a week, it still trumps five semi-good ones. I've really been unhappy with some of my content for some time.  Having less time to really focus in on what I'm putting out has been so beneficial. My blogging schedule is full of a better content while still keeping this blog's brand in focus. Just think of the quality of your posts and blogging relationships and keep that as priority.
Community is Key
If you don't have time any more to comment on blogs as often, try to reach out to your favorite bloggers via social media or e-mail just to say you're still listening. Lately, I haven't really been able to spend time reading and commenting but I am still reading as much as possible. Blogging is a lot of work so keep your community engaged in small ways as often as you can. Also, don't be afraid to reach out and ask for a guest post or two to keep your involvement levels down. Your blog community is important so don't let it die out!
Do you have any tips on blog prioritization?