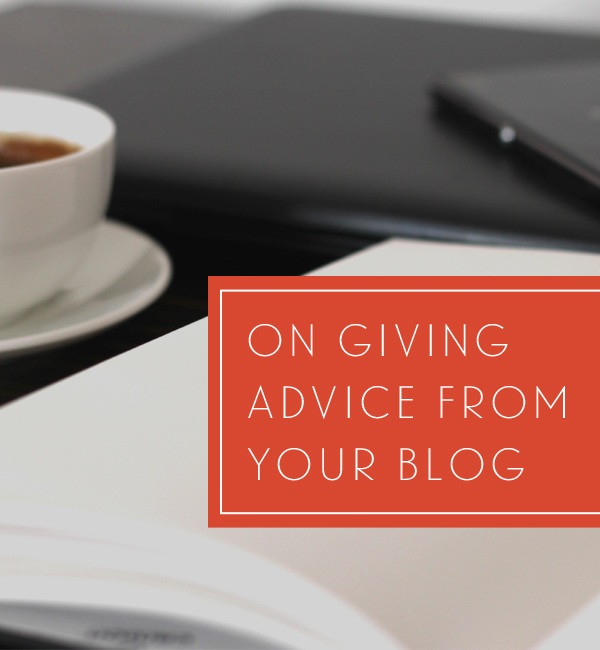 If you decide to start a blog and go through with the publishing process, more than likely, you learned something new. You take all of those experience you've learned about blogging and you want to share that! You want to share what you like about other blogs versus what you don't like. You want to help people by guiding them to the greener grass of betterthanthou blog land.
Most bloggers have best intentions when starting a blogging tips column. The truth is, there is a lot of thought process that needs to go in prior to starting a blogging tips column. There are quite a few things every blogger should consider while giving any type of advice from their blog. I'm putting together a few things to consider prior to or while giving advice from your blog—specifically about blogging itself.
You Are Liable
First and foremost, regardless of how trivial we would like to think our blogs are, someone is taking away an idea or thought from what you share. You could simply be sharing your OOTD. From this post alone, you've probably "endorsed" four to five different brands without thinking about it. From your outfit alone, a reader could gather that you like The Gap because there's no other way you'd share a photo on your blog wearing Gap jeans. It's totally illogical but you are liable for the things on your blog.
I make this example because you are liable for the advice you share on your blog. Whether you know it or not, your blogging advice could be linked in hundreds of places (forums, Facebook groups) and you'll never know it. You are responsible for the things you share so be aware if the validity of your advice prior to sharing it.
Opinion VS. Facts
Prior to sharing advice, think about whether  this is your opinion on what best practices are on blogs versus the facts of best practices. While blogging isn't new, it's ever evolving. There really aren't any rules on what makes a great blog minus having good content that applies to your target market. All of the factors that make a great food blog is not applicable to what makes a great fashion blog. It also doesn't matter if you follow all of the "blogging rules" or not, whether one decides to read your blog depends on a person's personal preference. You can have an amazing blog and people won't read it because of what your name is. It's just that simple.
Prior to writing blog advice, just respect that some things that you might prefer, may just be your opinion. It's ok to share your opinions on what running a great blog is. It may be extremely helpful to like-minded people in your industry and you shouldn't be discouraged to share.
Talk About Your Experiences
If you want to stand out on sharing advice of any kind, talk about your personal experiences and how the advice applies to you. I should write an entire blog post about the importance of backing up your blog's database. From 2006-2008, I probably lost the entire contents of my blog once or twice from the lack of a proper database backup. I learned a lesson and sharing my experience might help others understand where I'm coming from.
I could write a blog post on how to sell $1,000,000 worth of stationery, but I have never done that. Who would care about what I have to say on how to do something I've never done? Try starting with things you've done right and things you've done wrong because they can be most helpful.
Fact-Check
This is imperative because I've read a few blogging advice posts in the past month that have shared incorrect information. Once again, you are liable for what you say so just be 100% sure what you're sharing is correct. Just because you prefer something doesn't make it industry standard.  Take the time to research your topics prior to sharing them. You might be surprised if you learn something new.
This got pretty lengthy so I think I'll break it up into a two-part series! I have some great topics that I'll be sharing in the next post about taking criticism and the word expert so stay tuned!
What are your thoughts on blogging advice? Do you take blogging advice from other bloggers? What are your criteria for actually following advice from other bloggers? I want to hear your thoughts because I feel like this topic is super important!