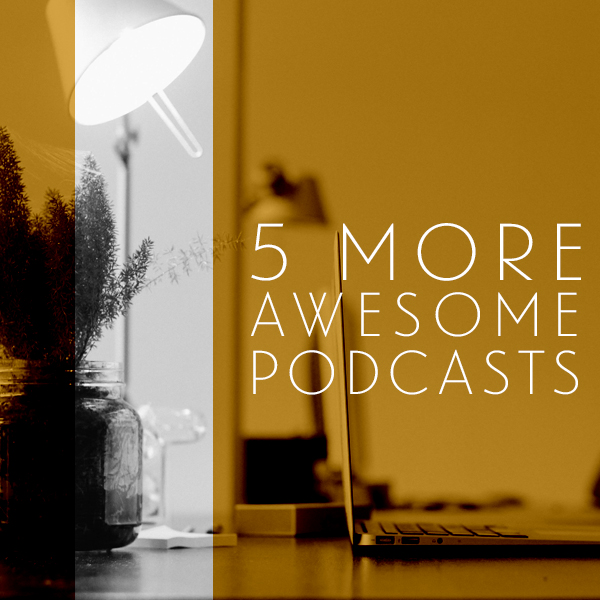 In January, I put together a list of five podcasts that I really love. After being indulged and getting some great recommendations, I've decided to share some more great podcasts that I really like. Podcasts really get me through my day because I enjoy learning while being active. I still listen to music, but sometimes, I just like to find some new tips for business and lifehacking. Enough chatting, here are some of my new favorites.
Wes McDowell, owner of The Deep End design studio, has a fantastic graphic design podcast with four other lovely hosts. My last list included a lot of business and web design/development podcasts. What I like about The Deeply Graphic DesignCast is that it's just about design. Of course there is some business talk but there's no development talk and it's just designers talking about what they love to do. I really like the format. It's easy to listen to and the hosts are all so personable.
A very new podcast by Dan Nisbet and Jessica Rosengard, the Graphic Designer Podcast is extremely helpful and detailed. Dan and Jessica talk about the business of design, what they have to deal with, and some interviews with other great industry leaders. They are both very knowledgeable and I like that they offer a lot of advice any designer can apply to their business. Hearing what other designers deal with and what they've learned is my favorite way to learn or validate what I've been doing in my business.
As a self-taught designer/developer, the How to Hold A Pencil podcast gives me so much joy. Rueben Inger interviews some amazing self-taught people in the industry. They talk about everything from where they have been, how they got to where they are, what they are doing now, and what do they have planned in the future. The episodes are only about a half hour so they're extremely short and to the point. There are plenty of learning resources discussed in this podcast, so if you're interested in furthering your education online, you should subscribe.
I've been reading Jess Lively's blog for about three or four years now so I was completely smitten when she announced she was having a podcast. She's already interviewed some of my favorite bloggers, including Erin Loecher of Design for Mankind. I'm so happy for Jess to be doing something else that she loves. She's so inspirational and it's such a good podcast. So if you love listening to people doing amazing things, you have to check out The Lively Show.
Of course, it wouldn't be a podcast list without the Web Agency Podcast. We own an agency and it helps learning brand new things! This podcast, hosted by Ben and Mat Newton, offers lots of great business advice. This helps not only agency owners but freelancers as well. Working with the web is tough sometimes and having people who understand what you're going through is fantastic. I definitely recommend it for anyone who is doing any web work.
Credits: Death To The Stock Photo
What are your favorite podcasts? List them below!