There is so much to learn about parenting when you have a mobile seven month-old. (YIKES!) She's constantly getting into everything and she's quickly trying to take her first steps which is terrifying to think of. One of the best things that I enjoy about being a parent is for now, I can integrate my love for design into my daughter's daily life. There are so many things that I love and my baby wish list grows daily. I decided to come up with a fun baby registry (hardly any of these things are practical) for the mama who wants her little girl or guy to have some design tastes in their life.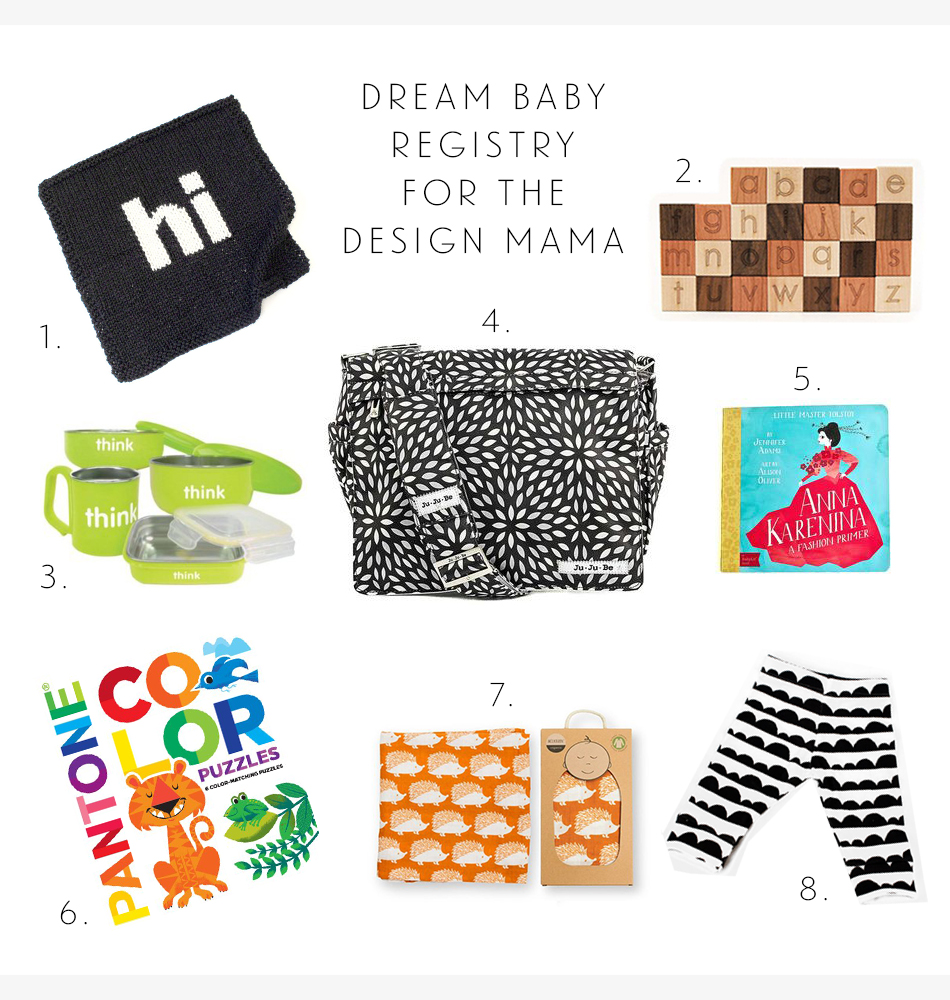 1. This Hi Baby Helvetica Blanket was on my registry for obvious reasons. It's so beautiful and makes a great addition to the nursery.
2.) Finding blocks with good type can be hard to do. These wooden blocks are the perfect size for a busy toddler and look great as well.
3.) Thinkbaby is such a great brand and this four-piece feeding set is BPA-free and design conscious.
4.) The Ju-Ju-Be is the must-have diaper bag for any mama who loves storage. The platinum petals Better Be is the bag of my dreams!
5.) I am the mom who buys books filled with beautiful illustrations. This board book of Anna Karenina is a favorite!
6.) I got this Pantone Color Puzzles book at Creative South this year and Tad Carpenter signed it for Baby A. It's gorgeous and includes an activity as well which is a win-win for any mom.
7.) I found Milk Barn through my friend's baby registry and I've become obsessed with their brand. This orange hedgehog muslin swaddle blanket is high on my must-have list. I use swaddle blankets for pretty much anything but swaddling so the cuter the better in my opinion.
8.) Is there anything better than adorable baby leggings? This pair is one of my favorite and it helps that they're organic as well.
Design mamas, what are some of your favorite finds?