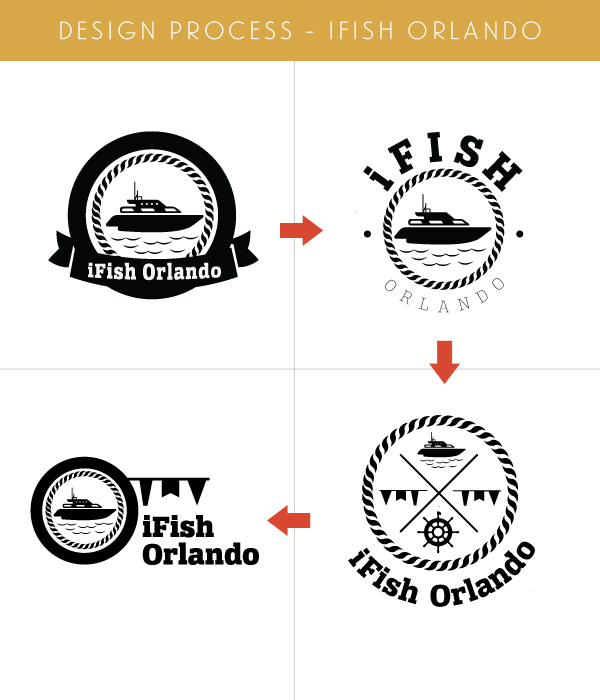 Although I design often, usually it's smaller things like newsletter banners and images for Facebook campaigns so when I get a hold of a branding project, I get excited. I don't think I've ever gotten a chance to share some of the things that happen within my branding process so this might be a first. You may or may not recall my bright and nautical moodboard. Since the project is going full steam and we've narrowed down a final logo choice, I've decided to share some of the options that got us to the final choice. Although the final choice isn't pictured above, and it's not my favorite, I really am happy to see how we got there. We'll be launching a full print campaign as well as a fun responsive site within the next few weeks for iFish Orlando. Tourism is big here in central Florida for obvious reasons so this all-inclusive charter and fishing service is one of the very few of its kind in the area. I'm excited to be working with a multi-dimensional entrepreneur to get this underway.
I also wanted to share this after having a great conversation with fellow local designer, Hyemi, last week about designing and processes. During our conversation, I came to realize that my target market been the small business owner. We worked with a few startups, a few non-profits, and a few established businesses. Most of our clients as usually years older than we are and we've worked with an equal number of men and women. The services we provide coupled with strategies we implement, our projects are usually multi-faceted and require a lot of systems to keep them afloat which mean my design process is usually a lot different than a lot of the designers I interact with.
While I'd love to have my client pin images and create moodboards, I'm faced with the reality of creating concepts for our conversations which can be a bit more engaging. In the first few client facing meetings, I often learn a lot about the entrepreneurs we interact with. When your business is your life, your present, your past, and your future, you're a lot more reluctant to hand over the responsibility of creating an identity to a couple of kids who have no educational credentials. Sitting in front of the mother whose business has been her life for 15 years, you start to learn about her ambitions, what she admire, what her goals are, and why she wants you to create something from what she's built.
So while I get frustrated at times not being able to work with more people like myself, I've learned so much about business and what I do makes people inspire to believe in their business. A logo may just be a logo to many of us; but to someone who has waited their whole life to claim to something, looking at the first few options from a couple of kids who believe in their business can be the start of something amazing. I love what I do and I love my processes. I love working with people who believe in building something amazing because that's what we do.
What's your process? Have you ever thought about what you have to give to your clients?