Happy Tuesday! I am so so excited about today's new series — Ask A Freelancer. After being able to connect with so many fabulous freelancers and have great discussions, I decided to start an advice column so to speak about freelancing and some of the common problems we all face. Today's feature is on raising rates after chatting with Kory a few months back on Twitter. We all come to a time in our lives where our prices need to be raised, whether it's to continue to compete in the market to to incorporate a new service, our prices should never be the same as they were when we first started.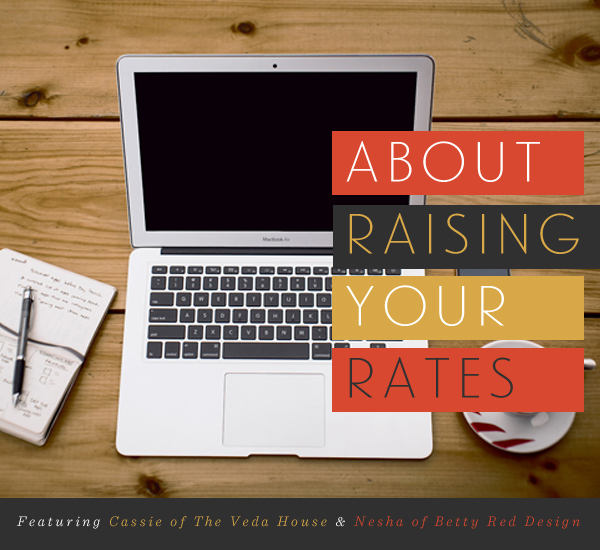 Upon digging up my husband's old site via the web archive, we got a look at what we charged six years ago and probably laughed way too hard. When you're starting out, you want to get work. You're willing to do whatever it takes to fill up your portfolio and show off your skills. However as time goes on you start to realize that the math maybe doesn't add up and when you get a hold of any pricing guide in your industry, for designers — specifically this one, you probably want to crawl up into a hole and cry. Your prices may be way too low and with the twelve hours you spent on your last project, you decide that your rates must come up. The next question is, how do you this? I reached out to the fabulous Cassie of The Veda House and the business savvy Nesha of Betty Red Design to get their take on raising your rates and making it work!
When should a designer decide to raise their rates?
Cassie: I'm not sure there is a clear cut time frame as to when a designer should raise their rates. For me it came with years under my belt and the gut feeling that I was doing the right thing. If you feel like you're cheating at "the game", you probably are. When I left design school (4 years ago) my rates were pretty darn low. I kept my rates low because gaining the experience was my number 1 priority. I kept my rates pretty low for almost 2 years until I made a slight increase. I increased my rates because I had gained some experience and that experience made me feel like I had more valuable skills and knowledge to offer my clients. About 6 months ago, I raised my rates a little more. I would say that my rates are currently at the level of a mid-level designer and there is still room to grow. My biggest advice is to grow your rates as you grow your experience.
Have you ever experienced difficulty with changing your rates?
Nesha: Yes, I think every freelancer finds this difficult. It can feel like you're cheating your clients (even though you're not) and it can make you feel scared every time you give someone a quote- scared that they'll think you're charging waaay too much. As designers, we tend to under value our services a lot which can result in us never raising our rates and earning what we deserve.
How do you retain clients when your rates have been raised?
Cassie: This is a tough one. It's more about conditioning your brain to understand what's going on. As you grow your rates, your not only growing your business but your shifting into a NEW pool of clients. The clients that were paying you "just out of school" designer fees most likely won't make that shift with you. As you and your rates grow, you'll gain more sophisticated clients. I'm finally in a place where about 25% of the incoming inquiries actually stick and are ok with what I'm proposing. The cool thing about this is that I'm working with clients who are 100% on board with what I am offering, trust me and sincerely value my work. It takes time to recondition your brain after each increase.
How should a designer approach clients who say their rates are too expensive?
Nesha: If a client thinks you're charging too much then they probably aren't the right client for you. Whether you choose to drop the price for them is totally up to you! I know that many designers don't say this, but there are times when you need to drop the price. However, If they are your only potential client and you can't afford to lose them then it probably is best you drop your price. Or, if they are a big name in your niche and would boost your businesses credibility then it may be worth considering a lower price.
My biggest advice is to grow your rates as you grow your experience – Cassie of The Veda House
What's the best way to market yourself to clients with bigger budgets?
Cassie: From my experience, the best way to market yourself to clients with bigger budgets is to only work with clients who value you. If you take low paying jobs (buy you know you are worth more), you're only going to attract like minded clients. Dream big and sometimes that may mean pitching your ideas to those ideal clients.
If a client thinks you're charging too much then they probably aren't the right client for you.  – Nesha of Betty Red Design
What helps you "know your worth?"
Nesha: Before changing my rates I personally evaluate how much experience I have, how developed my skills are, my life situation, what "big name" clients I've worked with and most importantly whether my target market will pay any more than what I'm already charging. It's less about your worth and more about what you're worth to your target market.
BIG BIG Thank you to both Veda and Nesha for taking a risk with me and getting this column started. I am so excited for the next feature. Please feel free to reach out to me if there are any topics you're interested in or if you'd like to answer some questions. Please be sure to check out Veda and Nesha's blogs which are full of amazing inspiring posts for everyone to enjoy.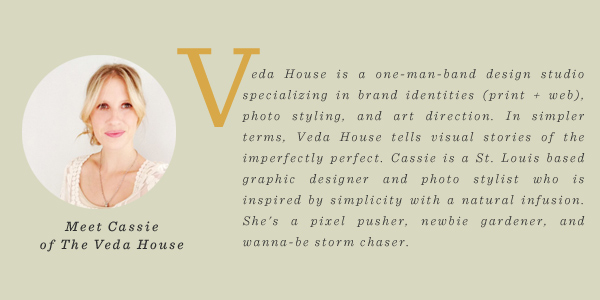 Be sure to follow Cassie – Blog | Portfolio | Twitter | Pinterest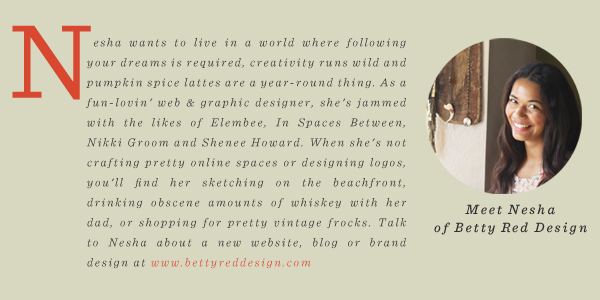 Be sure to follow Nesha – Blog | Portfolio | Twitter | Pinterest