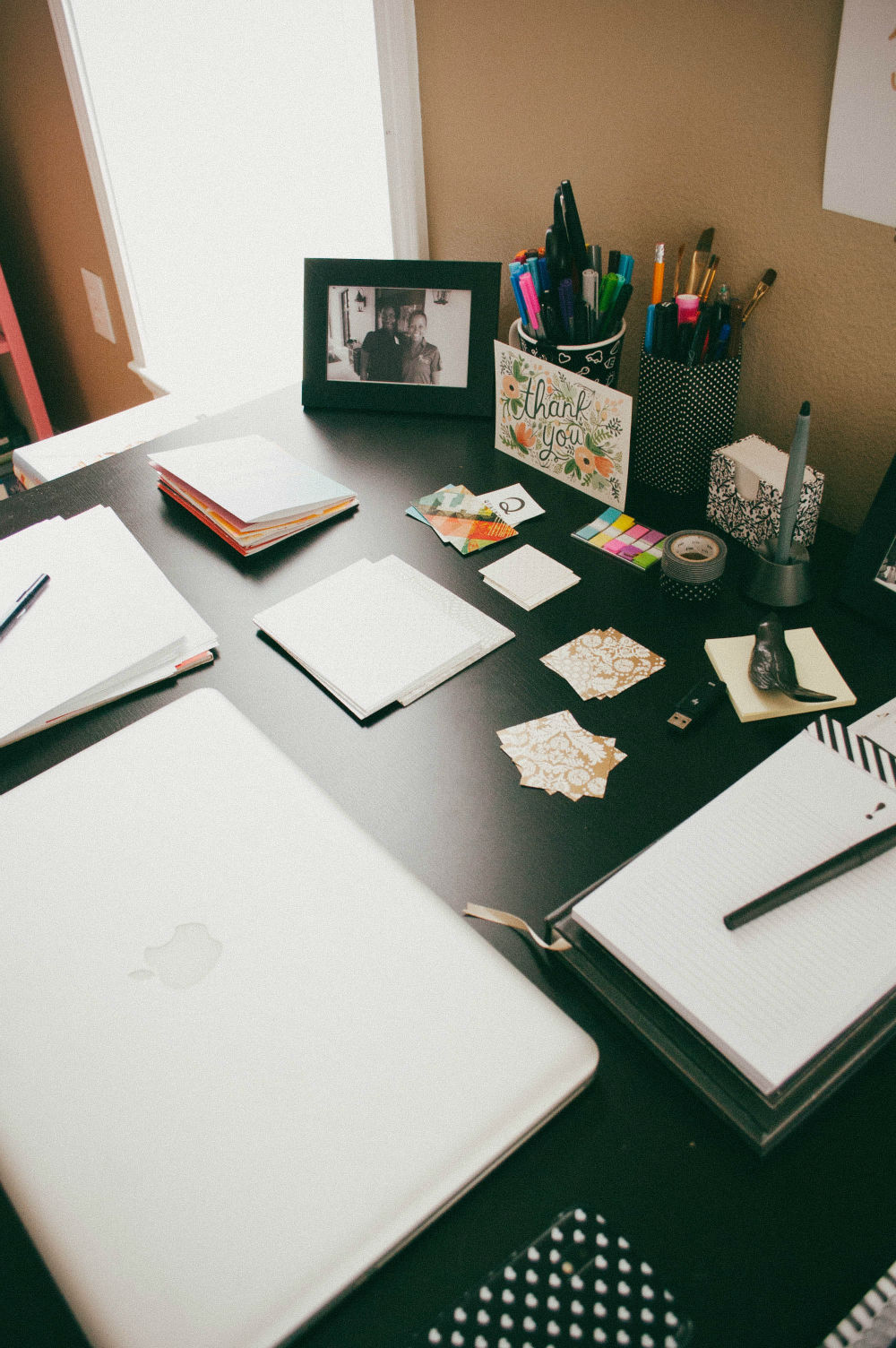 I realized that I have never ever discussed my transition from working a full-time job and working part-time at home to working full-time in my home office. It's been over a year now so I have some thoughts on what has worked for me thus far. Mostly every day, I get up and make my way into this office where I spend time designing, organizing, maintaining, meeting, and planning. Working from home isn't always easy and it's not for everyone. I'm going to share some tips on what works for me and how I've survived this past year, even while I was pregnant!
Having A Designated Space
When we moved into this condo almost three years ago, it was very important for the both of us to have separate office spaces. We always worked on Sevenality projects after our "9-to-5" jobs and we learned that having an actual office space was so helpful. My office is actually a pretty good sized sun room where everything lives for Studio 404 Paper and Sevenality. It was important for me to have a space where I could store everything and have a pretty good sized desk. Nothing happens in my office except for work. I rarely eat at my desk. It works best for me to designate this space specifically for work so that I'm mentally prepared to give it my all when I sit down at my desk. Here are some things that might help you find your sweet space:
Separate a space from your common living areas. Having a space that is your own helps motivate you to get in the game! It also keeps guests out and allows everyone to know when you're in work mode.
 Know your needs. Prior to even opening Studio 404 Paper, I knew I needed a large desk to hold multiple screens and space for hand lettering. If I had to close things and move things around just to get crafty, I would become irritated by my space. This was often a problem at my 9-5 jobs, being stuck in a very small space with lots of paper work.
Make it yours. I love having a personalized space to work in. I have never ever decorated a desk, cubicle, etc and any job because it didn't feel like my space. This is my space where I can have pictures of friends, prints I love, and the furniture that works for me. Add in a personal touch to help yourself stay motivated!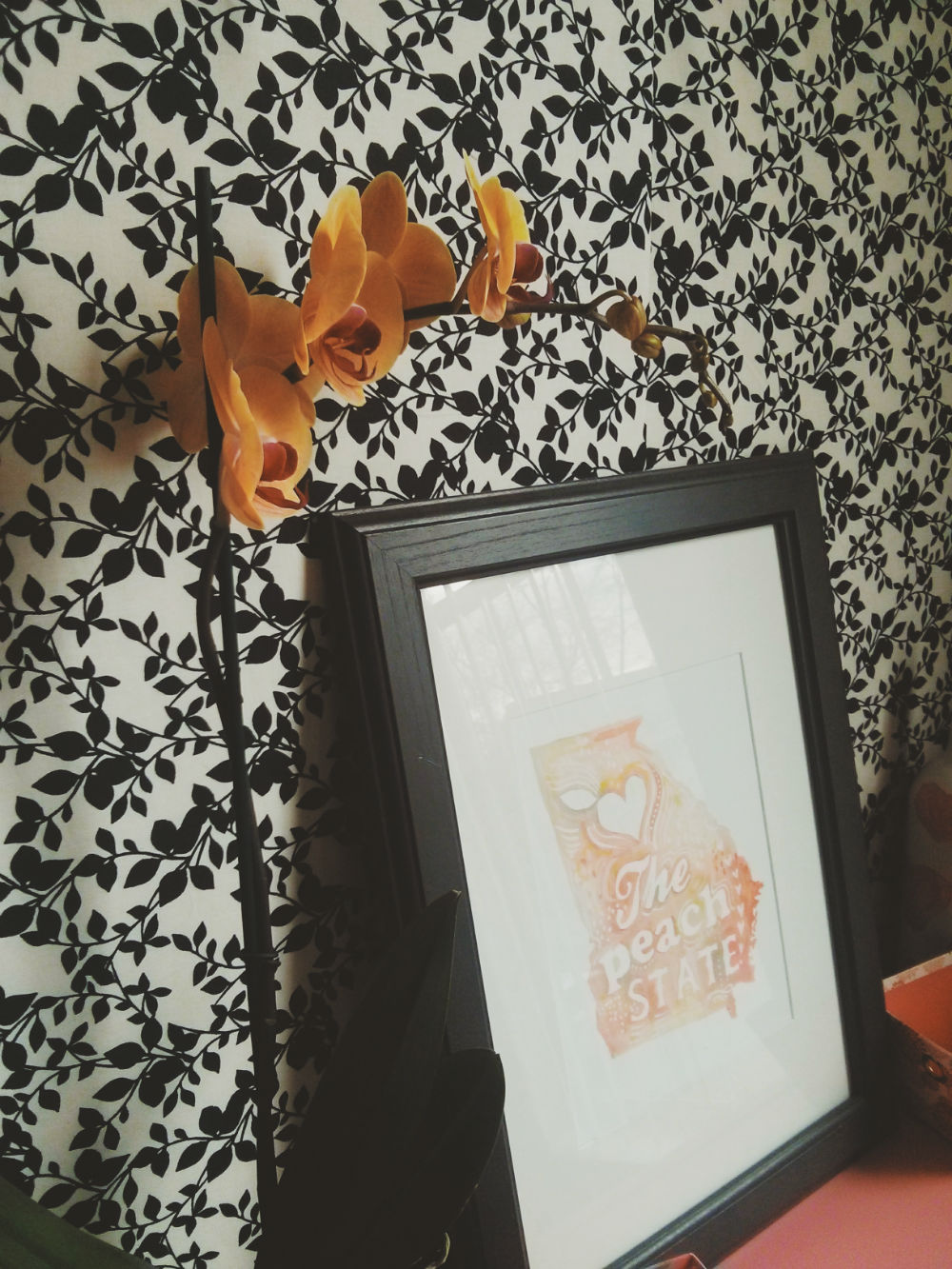 Learn to Prioritize
If you haven't already, prioritization is key in working for yourself. There are so many ways to get distracted at home. You have social media pinging, you friends are texting, the TV is right there, and who wouldn't want a midday nap? You have to learn to prioritize your work over your distractions. When I switched from listening to music to podcasts while working, I really increased my productivity. Hearing inspiring entrepreneurs talk about their businesses or listening to other creatives inspired me to do my very best. This helped me fight the temptation to catch up on my favorite shows and ignore that client project.
Organize your work by priority. If this is something you've struggled with in the past, working from home is a great way to perfect this skill. Without the distractions of office noise, it's easy for you to sit down and write up a to-do list in order of importance.
Stay focused. It's easy to be distracted at home as well! You're in walking distance of your refrigerator which is bad enough. Find something that gets you in work mode.
To-do lists. This is what helps me stay afloat. Once I have a new task, I automatically write it down. I know apps like TeuxDeux work for people and help them stay on top of things. I work best with pen and paper and if I forget a notebook, I list things down in my Evernote notebooks. To-do lists were so helpful in dealing with my pregnancy brain! I would forget where my cell phone was all of the time but never forgot a task that came from a meeting.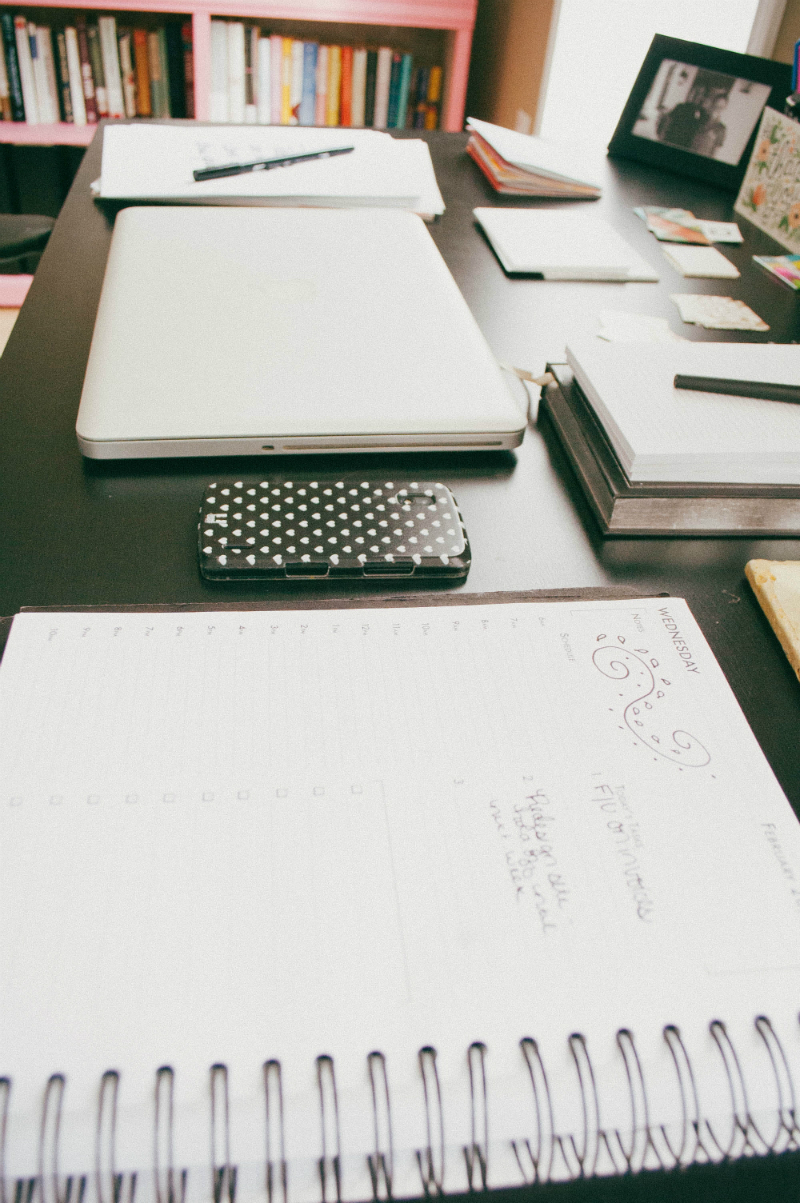 Stay Healthy
I think as an industry, tech has become very aware of lifestyle and health choices. I have an occupation that generally requires me to sit for long hours at a time. If I wanted to, I could be doing this completely alone for 8-12 hours a day. I became very aware of my needs while I was pregnant. I am notoriously terrible at eating while working. I would never take lunch at my day jobs just because I felt like it was a waste of time. Now I am much better at taking an hour of my day to sit down, eat, and reset.
Take a break or a few! It's important to get up from your computer and take a break. I am also very bad at this so I've started to take Surya Namaskara (Sun Salutation) every hour. This gives me an opportunity to stretch while walking away from my computer. To make sure I committed to this, I got rid of my area rug in the living room and leave out a yoga mat.
Make healthy eating choices. One benefit of being at home is the ability heave healthier lunches. I admit, with having a newborn, it wasn't easy but now that we're settled into a routine, it's much easier for me to cook lunch. Try to take some time to eat some brain food. It will definitely help you get through the afternoon slump.
Keep up with your fitness. It's easy to fall out of your fitness routine when you're no longer travelling to an office. If you need to, find a gym that's close to home. Try taking a morning or early afternoon class. Make sure your workouts continue to be a priority for you. It's much easier to stay focused when you're feeling great.
I realized I have so much to cover so I'll have to break this post up!
What has helped you work from home?