I haven't written one of these posts since April so bear with me. I think I have a lot to be happy about this week so let me share them with you.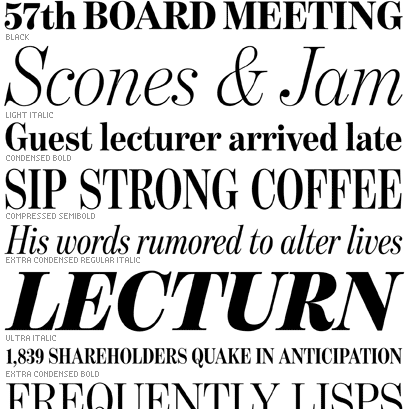 Benton Modern Display is a gorgeous font designed by Dyana Weissman and Richard Lipton. I cannot wait to own it. It's just a typographic orgasm waiting to happen.
Natalie Jost released a free pattern earlier this week entitled Motherhood. It's gorgeous. I'm not a mother but it's a pretty nice pattern to say the least.
Fefe Dobson is set to release her third studio album, Joy, this September. I am excited! It's been over four years since Sunday Love's misfortunate un-release. I am very annoyed that Jordin Sparks is covering "Don't Let It Go To Your Head" since her version sounds like crap, but whatever. I don't like Jordin Sparks anyway. LOL
Wired Thinking is slowly coming along. The demand is high right now so David's been working on full-time. We're still in need of a few more editors, but we're making our way. It's going to be phenomenal when it launches.
Afternoon rains are wonderful. It's becoming really hot in the days and the only relief I get is afternoon thunderstorms. Thunderstorms have their bad sides, but I can't complain when they're cooling me down. I'm still getting accustomed to this Florida heat.
I've been taking time to get back into writing. It's working out pretty well. I guess that's why I don't mind blogging so frequently. It gives me practice and gets me back into habit. They do say the only way to get better at writing is to write, write, and write some more. I hope it pays off for me.
These are just a quick few things that have made my week a little brighter. What's been wonderful for you this week?