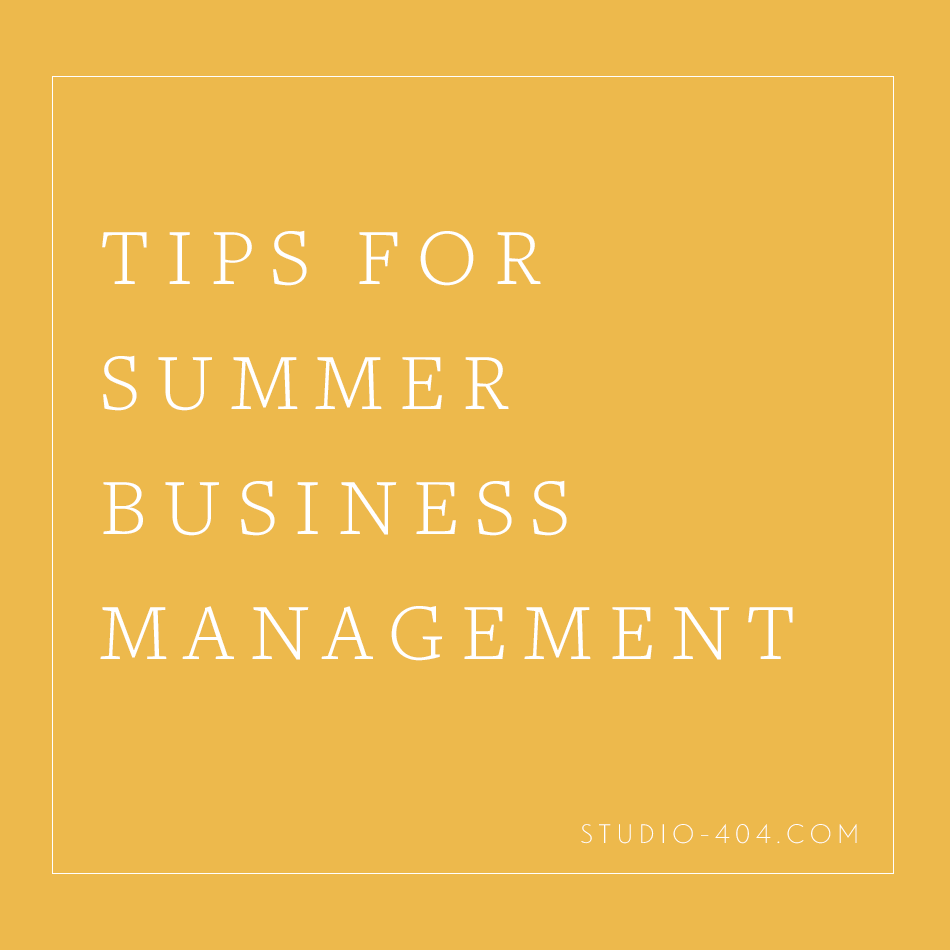 Hello hello! It's 87 degrees at 11:30 am  which is a good indicator that we've been in summer now for the almost a month. There are so many things that I need to update you here on but I figured it'd be better to actually share some things that you can do while you wait :P. Summer has become an increasingly busy time for our business which has defined my every day tasks. If you throw in a crawling 6 month-old, it almost seems impossible that any work gets done.
However, for most in this industry, summer is a slower season. On the slower seasons, it's important to take advantage of time you have available to get your business in tip-top shape so you can breeze through the busy months without any extra headaches or hiccups. Here are some "summer" or "slow season" business tips!
Set a Maintenance Schedule
If you're in charge of all of the "non-creative" things in your creative business, you might find it's hard to put aside time to work on these things. In most husband-and-wife teams, one of person solely focuses on business management while the other works on creative but unfortunately, that's not the case for our business. We both work on creative and I am in charge of the day-to-day operations.  When I'm working on project-based work with tight deadlines, my sole focus tends to be on getting the client-side work done and less on the ever growing stack of receipts on my desk.
When things are slow, it's important to take time to create a functioning maintenance schedule so things don't get out of control. (See: my desk) There are several different items you can get in order for your business so you won't have to worry about them in the middle of busier times:
Accounting: Create a recurring "accounting" meeting on your schedule so you can get accounting related items done! If you outsource your accounting, take this time to gather all of your expense-related collateral and organize it for your accountant. If you are the accountant, put everything together, work on expenses and billable items, and run your reports! Most accounting software comes with the option to set automatic dates to have reports ran. You can schedule this to coordinate with your accounting time. If you're like me, this is always a hassle but getting in the habit of setting a certain time aside actually works.
Set up a supply order template. All businesses use some sort of supplies, whether software, hardware, or physical items, to get things done. Take this slow time to put together a list of everything you use, when you bought them, where you bought them, the price, and how often you expect to re-order. Creating a spreadsheet just for these items saves you so much time!
With Studio 404 Paper, I often order things like lettering pens, paper, and shipping supplies often. Having a spreadsheet lets me know where I source items from in case I find a cheaper vendor or allows me to set reminders to re-order without having to wait until I'm out of ink or paper. Not sure how long your Macbook may stay around? Putting it on this list, allows you to put money aside when you know the life cycle of your laptop is nearing its end without waiting until you can no longer turn it on.
Get Organized
Remember all of that time you spent looking for a certain file? Now's the time to avoid that! In the middle of high-deadline projects, there's often little time for organization. Now is the time to get your butt in gear. I love this article from Shauna of Nubby Twiglet on organizing blog files which totally works for your business as well. Here are some things that can help you get organized which in turn can help automate some of the processes you use in your business.
Get things together. If you are organized, it'll be pretty easy to put any wayward files together. If you haven't, collect any "final" project files and separate them from your drafts. You won't believe how easy it is to send the wrong file to a printer for a re-print. Having a "final" folder helps separate the good, bad, and ugly. Put client files together and make sure you separate admin and creative files.
Backup to the cloud. Once you're all ready to go, make sure you have an online backup and a physical backup. It takes so long to back things up which is usually why I need a "backup" day to do so. Print files are usually very data heavy. Take some time to just upload everything onto backup drives so that if something unexpected happens, you have two or three copies.
Automation is Key
When there is a process in place for everything, you'd be surprised at how much time you save "doing the work." Creating automation processes for your business is how you will survive. If you haven't started before, now is the time to do so.
Templates for everything! The great thing about having a creative business, is that you can create templates for everything which help you start any project. Create a blank template for contracts, quotes, logo files, presentation files, print files, or presets for editing photos, etc. You can have a base file for almost everything.
Create your processes. If you aren't using a project management software, you should start doing so. Have you thought about a CRM? This is the time to try one out! When you're low on work, creating new processes for your projects is a breeze. Create a template for projects from start to finish, have a checklist, and get ready to go when all of those clients are lining up to work with you in the fall.
Connect!
The best thing about summer or slow seasons is having time to connect with others. You have time to really think about who you want to work with in the future, what has worked for your business, and to create an effective networking strategy that will set the pace for your busy months.
Send a note. Writing hand-written thank you or follow up notes to previous clients, vendors, and contractors really shows that you care. You're really developing the relationships you have while letting them know to think of you in the future. You'd be surprised at how easy it is to remind someone of a successful project which jump starts them into thinking of the next one.
Try a new networking event. You have the time to spare so why not get out there and meet some new people. I know networking is usually a chore for introverts, especially when social anxiety is involved. You can take time to research smaller groups. Creative meetups are a great way to get in touch with people in your industry while not having to worry about be throwing in the lion's den with others you may have nothing in common with. You'd be surprised at how many people you can meet through a small business meetup without having to feel overexerted by the social setting.
Do you have any summer/slow month business tips? Share them below!