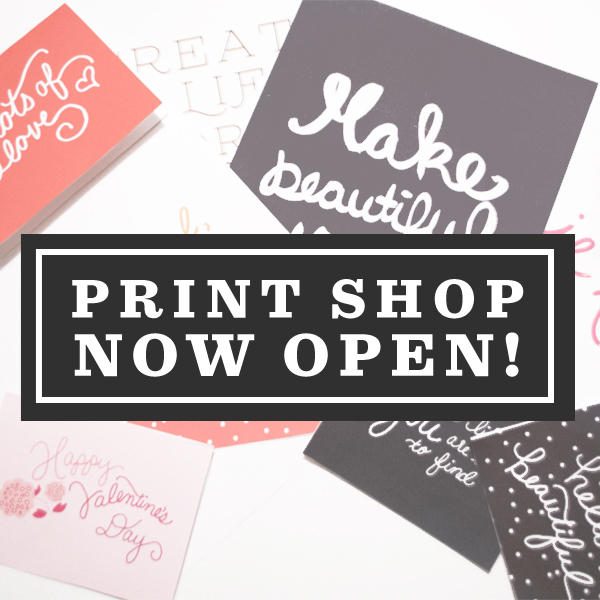 I could just leave this image here and run away but I figured I would share some words! Yesterday, I hit the publish button on my paper shop and with only eight products thus far, I'm terrified but glad it's done.  It's been a long process just to launch and I've learned a few  things along the way. I thought I would get together and write some things that I've learned about launching an online shop.
Talk To People In The Game
I knew long beforehand that I needed to talk to a few people who own online shops whether on Etsy, Square, or on their own domain. I've never sold anything online. I've never created physical products. I've only done marketing for people who have. After meeting two amazing Etsy shop owners and having quite a few blog friends who have launched Etsy shops in the past year, I felt pretty confident in knowing what to do versus what not to do.
No Comparisons Necessary
When you live in the same city as Anna Bond and Ashley Brooke (who I had the pleasure of meeting last weekend!), you sort of want to shy away from paper products in general. In fact, you just want to take all of your paper, throw it in a non-existent Floridian fireplace, and never come outside. At the end of the day, your journey is your own. Everyone has their own journey and when you hear "Why don't you sell prints or cards?" more than once a week, I've taken it as a sign that someone is interested. I love lots of paper companies. I'll still continue to share them here and buy their products.
Facing Reality
I know you probably shouldn't think this but I know that having a paper shop could fail. There are plenty of things I have to learn from this experience. I'm open to this project being a learning experience, especially after watching the These Are Things WMC talk. I still have big dreams and I still want amazing things to happen! I took a step forward and put myself out there. Life may have some hard lessons out there for me and I'm ok with that!
Support Independent Artists
This isn't really a lesson I've recently learned but I should always be said. After getting into design nine years ago, I learned the importance of supporting independent artists. I've educated a few people on helping the people like you or me even who sit up at 3 am taking photos of cards. There's just a lot of hard work that goes into creating products and I always want those people who are amazing to feel supported. Being said, here's a fun list of my favorite Etsy shop owners!
A Design Geek – Fun, minimalist geeky posters for the nerd in your life
Ampersand Shop – All things ampersand and bold type
An April Idea – Whimsical paper goods
Cocorrina – Beautiful, unique concrete jewelry
HejJuni – Hand-illustrated fun cards
Jelly Design Studio – Creative  pre-made Blogger & WordPress themes
laLa Grace Paper – Hand-illustrated eco-friendly cards
Knot & Bow – Shipping and crafting supplies
Milk & Crown – Minimalist, feminine handmade jewelry
Of Trees & Hues – Beautiful photography prints
Pencil Shavings Studio – Preppy stationery and goods
Pink + Lola – Minimalist pre-made Blogger & WordPress themes
The Wheatfield – Katie Daisy. I don't need to say more.
What are some of your favorite Etsy shops? Do you have an Etsy shop? Let me know!