A few months ago, we moved into our newest living space in the town we've always dreamed of living. We found the apartment listed on Craigslist and after drooling over the hardwood floors and high ceilings, we decided to call it home. We have been here for a few months and I have been on a mission to settle into my office space to get the ball rolling on all of my personal projects. While life has taken course, I did get to finish a project that started nearly two years ago. I'm starting to sound like a major procrastinator but it's not me! It's life, I promise. A co-worker offered to give me one of her two bookshelves that were sitting in her garage, unused. The bookshelf I selected was shorter (although now I wish, I nabbed both!) and completely unfinished. It was a blank wooden canvas begging to be adorned. I vowed to give the bookshelf a new home and a new look. Of course, it sat in our apartment for a year collecting books and unwanted scratches from our kitty.
About two months ago, I decided to take the time and give the bookshelf life. I knew I wanted to paint the bookshelf pink and wallpaper the back of it. Another fun project that I wanted to take on was painting wine bottles with chalkboard paint. I had no idea what to do with the fabric covered boards I worked on at the end of last year. With the help of an awesome friend and tons of inspiration, I can proudly say, I love my bookshelf!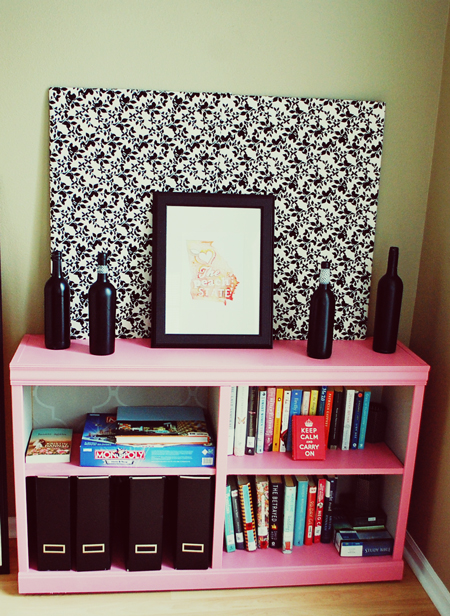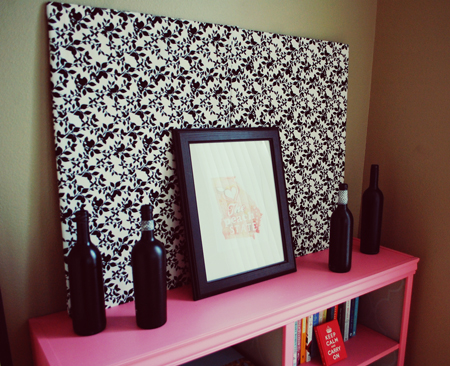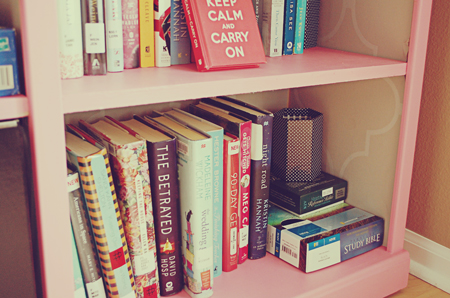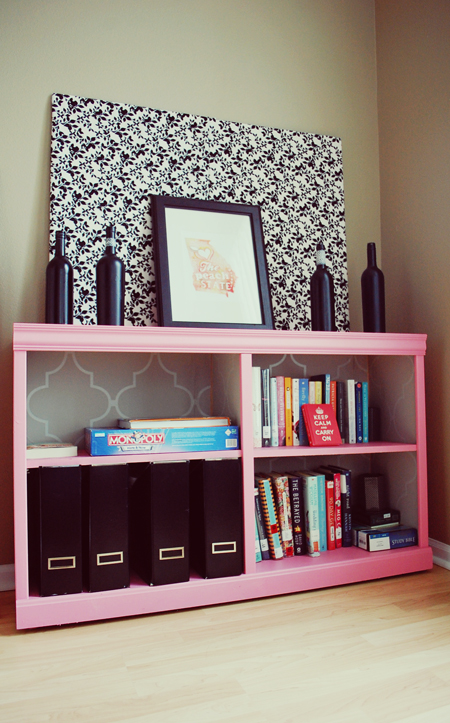 I think my bookshelf is my favorite part of the office thus far. I have a few other projects to share with you this month that I have been working on as well.
Details: Peach State Print by Katie Daisy | Allen + Roth Spanish Tile Wallpaper |