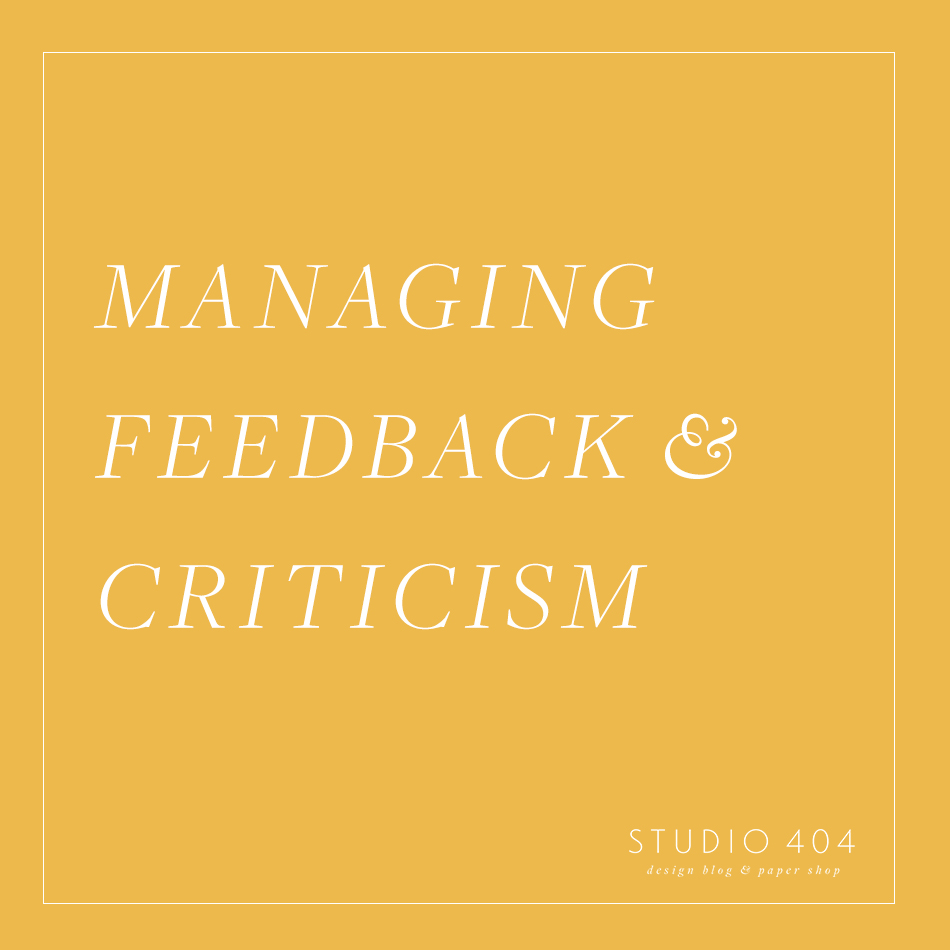 It's another day! I've had such a busy January and it's only the beginning of projects. We sat down yesterday and reviewed our goals and we're ahead in many ways which is incredible. I did have reservations of starting the year with us both being employees of Sevenality but it's going so well. I will be writing a post about the importance of partnerships next month. With the launch of Heart + Hustle Podcast and the projects we're working on, partnerships have been priceless.
Speaking of Heart + Hustle Podcast, I wanted to talk today about managing feedback and criticism. This has been on my list for quite some time and my dear friend Melissa did a great job of writing about negative feedback last week. With releasing a podcast, it's a much more public platform. I know of others who have started podcasts and the feedback they get can be brutal. I was afraid of being thrown into the lions' den and not being able to handle it. It's taken some time, but I am much better at receiving feedback than I was only a  few years ago. After a week of lots of (unwanted) feedback, I decided to share some tips on how to manage feedback and criticism about your business.
Have an Open Mind
We're always excited for the positive feedback. With the launch of Heart + Hustle Podcast, I was overwhelmed with all of the positive feedback we received. I will admit that I had completely opened myself to receive any feedback, whether good or bad and to take it as objectively. When you're not ready to receive negative feedback, it can really gut you. In the age of the Internet of all things, we must be aware that anything we put out into the world will be subjected to criticism. If you want to feel less of a punch when someone doesn't like something you've done, be prepared to already hear what they have to say.
Don't panic. If you are ready to receive feedback, don't panic when you receive negative feedback or even constructive criticism. Being in a state of panic is an easy way to overreact.
Find peace with feedback. You should practice accepting feedback where it is. You are never going to create something to please every single person. Be at peace that someone may not like something you've done. There is nothing you can do to change other people's preferences.
Know your limits. I know exactly when I am ok with feedback and when I have a gut reaction. Anything that is an unfair accusation or something that is not true puts me on edge. Knowing what type of feedback causes a negative reaction from me allows me to know when NOT to read something and take some time to come back to it.
Digest Slowly
I think we become so eager to hear what others think that we often read things immediately. I have learned to only read replies and comments when I'm in mental space to go through things slowly. When I take the time to read client feedback or comments from other designers, I have a better reaction than if I read things immediately. Two weeks ago, I received so much feedback and I was overwhelmed getting it all in at once. I know where I could have benefitted from taking some of these steps:
Never read feedback first thing in the morning. You're not in the right state of mind. It can really set the tone to your day. Go through your routine first before getting into responding.
Set time aside for processing. I like to read client feedback several times and take notes. When I'm able to create an action plan, it's a lot easier for me to reply. Being a creative, sometimes the feedback can be brutal. Take it as room for growth and not a personal attack on yourself. If it is a personal attack on yourself, it's usually best not to internalize.
Dealing with Negativity
I mentioned earlier that I really get upset when I'm accused of something that's untrue. When recently dealing with a print project, I was accused of purposefully ignoring client feedback which is never ok. I have a really detailed organization system when it comes to design projects and never send in anything with out approval. After thinking on it for a day, I finally responded with an email that claimed responsibility but also defended myself without being accusatory. How can you do that without losing your mind? Here are some things that I do:
Know the type of negative that garners a response. It takes time to know which things to respond to. If a client is accusing you of something that's not true, be sure to be prepared with facts. I am always firm but not accusing. It's important to stay level-headed, admit where improvements could be made, but never take the blame for something you didn't do. Do not apologize for a mistake you didn't make. Women are notorious over-apologists and we live to pacify. Don't allow anyone to make you take blame for something you didn't do. Sometimes people are being completely irrational and when it's trolling-level of negative, do not feed the troll.
Remove your feelings. This is not easy. I would always take every type of criticism personally. I felt as if they all were a personal attack on my character which is something that happens when you're a 12-year 4.0 GPA student. If you're a perfectionist or expect positive feedback, negative or any feedback for that matter can be jarring. Don't feel personally attacked, even if it is a personal attack. Sometimes people just have bad days and find it easier to criticize others harshly than to deal with their problems. Take it in stride and do something that makes you happy.
Learn from it. Everything is an opportunity to learn. Take your negative criticisms and really analyze what you can learn from them. There are things that I haven't always been ready to hear that I needed to hear. By being open-minded, it's easier to take things as learning experiences rather than catastrophes.
Get an Accountability Partner
It's important to always receive feedback on your work as a creative. There are no other ways to grow than to hear from someone who can be honest with you about what you're doing. I show almost every single thing I create to my husband. He's my business partner and I know he'll give me honest feedback. On things that he may not be the best voice of criticism, I find other creative friends. When seeking an accountability partner, be sure you are working with someone who can be honest and understanding. You want to know how to improve without being overwhelmed or feeling like someone loves everything you do. There is always room to grow and you should embrace that fact.
How do you handle feedback and criticism?