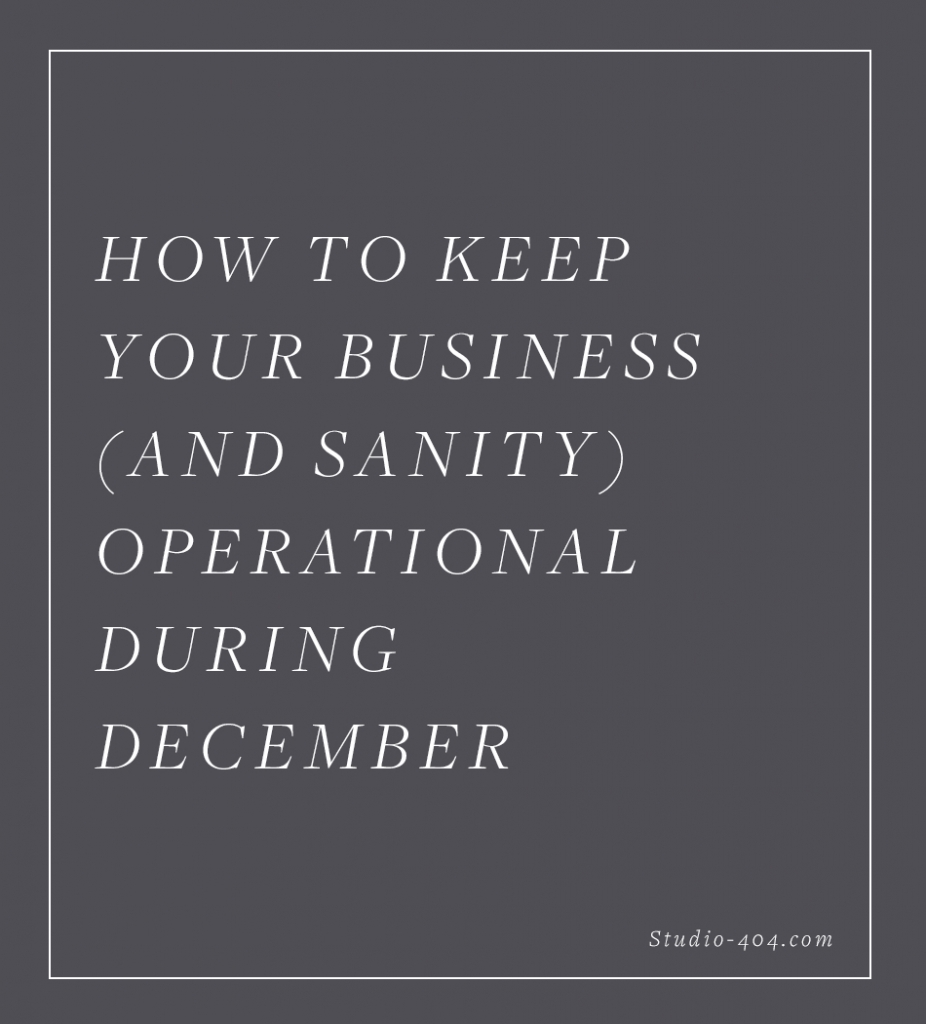 Happy December! It's hard to believe this year is only 30 days from being over. 2015 has been an insane year of just getting things done and while it's been great, heading into December can be tricky for most service-based businesses. I am a partner in a service-based business and we've learned quite a bit about how to keep things going at the end of the year without completely burning out. As I write this, I just spent minutes hours ago complaining to a friend about how much I wish I could just sit at home and watch Christmas movies. There is something about the holiday season, specifically post-Thanksgiving, that drains you. Whether you are pushing products or looking for clients, there is a lot that you can do for your business that keeps things moving even if things are slow.
Create a Strategy
If you haven't already, make a plan TODAY. Don't wait for the end of the month to come around for you to start planning for 2016, do it right now. There are several things you can do this month that will help you get ahead of Q1 2016.
Review your 2015 goals. You should spent the year revising and reviewing your business goals every quarter. Now that the year is almost complete, take some time today to look at what you have accomplished from last year's goal list. How reasonable were you when setting goals for yourself? Knowing what has or hasn't been done can allow you to follow up realistically for the upcoming year.
Write things down. Take out your planner, your Evernote notebook, or whatever you use to start writing everything down. From financial goals to personal goals, everything should be written down as they come to mind. This will allow you to visualize everything and be prepared to organize it into a calendar.
Find an accountability partner. You are only as good as the plans you follow through. Find someone who understands your business, is willing to push you, and respects you enough to believe in what you want to achieve. Once you find that person, take them out and ask them if they could be your accountability partner. You would be amazing at the difference you'll see in reaching your goals with someone by your side. Siobhan of the Be Free Project wrote an excellent post on how to choose an accountability partner and she has such great points on what to look out for.
Reach Out
The holidays are the best time to reach out to previous customers and let them know you're thinking of them. Using your mailing list is one way to get the word out but there are several things you could do that remind your customers why you are the provider they should choose in the new year.
Send out Christmas cards. One thing that we try to do every year is send out Christmas cards to our preferred clients for the year. Using custom-branded cards with a sincere message and customized greeting makes a big difference than ordering corporate cards that are not inline with your brand. Take the extra step in making things personal.
Check in via e-mail. Before things get too crazy, try to send out emails to let customers know what you're offering currently and to follow up on any needs they may have. As 2016 budgets are approved, more businesses are open to booking projects in December. Don't let these opportunities slip you by while waiting for January to come.
Stay Organized
One of the biggest flaws most small businesses have is allowing the end of the year madness to consume them. Whether you're on your own or in a small team, with time off and holiday parties, it's hard to run as tight of a ship as you would during any other time of the year. Think about keeping things consistent and organized to avoid having a total meltdown by the end of the month.
Don't stop organizing. The biggest fault is time is very limited at the end of the year. There are only so many work days before getting anything done becomes useless. Keep your spreadsheets updated, your bookkeeping together, and your project to-dos in order. Do not allow for the December madness to get you off your game.
Hold off implementing anything new. The end of the year may not be the best time to try out something new depending on your business. Allow for things to cool down and for your focus to be completely steady to try any new software, methodologies, or courses that may require more time. If December is a slower month for you, this is a perfect time to get into those things and working on making your business more efficient.
Take Care of Yourself
The best way to stay at your very best is to make sure you are in good shape. Don't allow holiday stress to overcome you and make you frazzled. You can get through December with a business like a boss if you allow yourself to have a great time.
Enjoy some time off. It is the holidays and it's ok to take a day or two to step away from your business. Don't become so over-indulged that the upcoming year starts to give you anxiety. Taking a step back from your business can allow you to really appreciate and find the passion for what you do.
Celebrate your achievements. Treat yourself for all of the things you've done right this year! You have made it through another year and your business is still going strong. Take some time to celebrate everything that has happened so you can prepare to do even bigger things in 2015.
How do you survive in December?
If you sign up today for the newsletter, you can receive the free printable Advent calendar below! 🙂