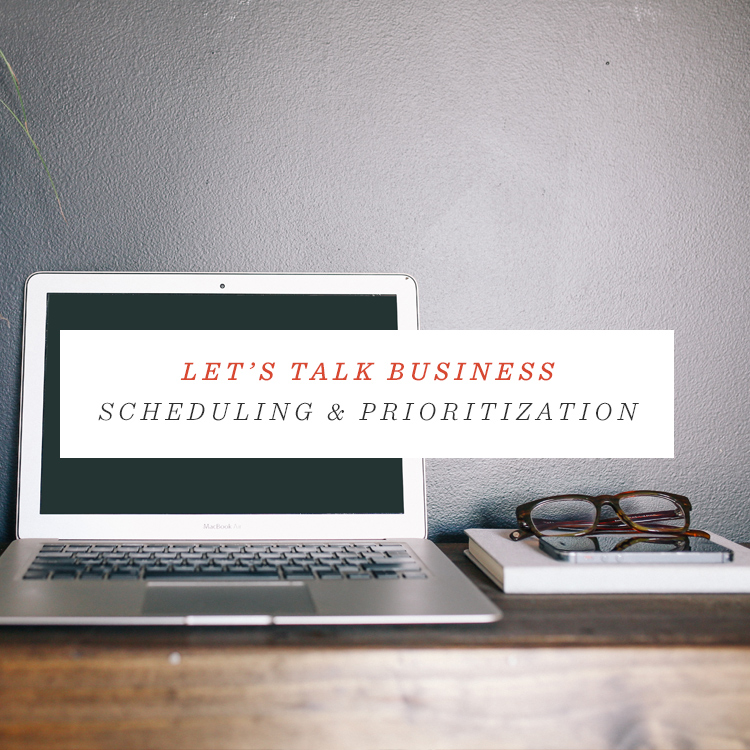 Earlier this year, I talked about knowing your limits which really has helped me with getting my butt in gear. I'm eight months pregnant. Unfortunately, I can't go around working eighteen hour days like I did when I started working from home full-time. If you're like me, third quarter means there's plenty to do! My clients have end-of-the-year events and I'm constantly adding things to my to-do list. I wanted to share some ways that I'm organizing my business and schedule to help accommodate my shrinking schedule.
Calendar Days vs Reality
One of the biggest things I've had to learn, especially about the last two months of the year, is that although the calendar says there are fifty days left, there are really like twenty or  so working days left for me. I'll betravelling to Atlanta, taking Thanksgiving week off to get my house baby-ready, attending WordCamp Orlando, and only time can tell when my little one will decide to make an appearance. I don't really have that many working hours left.
Taking time to block off your holidays and events makes the calendar appear for what it actually is. This helps you figure out what projects can actually take on. It's tempting to say you're able to take on plenty, especially with the end-of-year influx, but keeping your working days in mind is important. It's also good to schedule a couple of days off in December during the holidays. Regardless of if you work from home or not, you'll want to hang out with friends and family. Promising to launch a website by January 1st is usually always a bad idea.
Prioritize Your Limited Time
Once you have an idea of how much time you actually have left, it's important to prioritize that time. You are in control of the work you do. You have the power to pick and choose what you want to work on. I took on my last new client project last month so that I can focus on working with retainer clients. My end-of-year retainer projects are usually more involved and require a lot more focus. There's a lot of creative direction and collaboration involved so I like to be available for those projects.
While I'd love to work on some new sites and branding projects for new clients, it's just not feasible with my limited time. You may work best with short deadlines and new clients, so this is prime time for you to focus on acquiring new business. You have to put labels on what's important and also vocalize your availability to your clients. If your clients aren't educated on a project's schedule or your schedule, they will assume you have much more time than you actually have.
One thing we do in all of our new client projects is submit a very detailed deadline. This deadline usually includes an idea of  when deliverables and feedback is due. (See example below!) This helps keep down confusion and offers accountability to both parties on meeting deadlines. Clients are notorious for become less communicative at the end of the year, and not purposefully so. It's the holiday season, it's flu season, and everyone has demanding schedules. Just be sure you're clear about when action items are due.
Date – Logo Mockups Due
Date – Client Feedback Due
Date – Revised Logos Due
Date – Final Client Feedback/Approval Due
Date – Social Media Branding Due
Date – Brand Launch
Prepare Adequately
Things can happen! As I said, it's holiday season and flu season. You can unexpectedly get sick, have last minute holiday plans thrown at you, or unexpectedly deliver a baby. You never know what can happen. This traditionally applies to every day of the year but especially now in the last few days of the year. Be sure to allow for flexibility in your schedule. My weekends are usually my busiest days socially. I'm usually out and about all Friday afternoon through my Mondays, which are usually filled with meetings. I know I'm usually exhausted so on Tuesdays, I take it easy and work on small things. I usually spend that time blogging or working on the shop.
Just be sure you have flex time for the just in case. I work very intensely when I'm at home (whoops) and I forget to take breaks or step away, so just make time for that. Make time for coffee with your creative friends. Being prepared for some unregulated time off is a lot better than finding yourself in an intense deadline when you need to step away. I'm so lucky to have clients that understand my schedule and make me informed of theirs. Here are some takeaway tips that really help me get myself in order:
Write it down: Before agreeing to anything, be sure to write it down or save it in your calendar. I cannot tell you how awful it is to have something due and not remember agreeing to do it because it was said in passing or at the end of a meeting. Please be sure to know what you're promising at all times!
Be honest: Not painfully honest but honest enough! The past few weeks have really drained me and I'm sick in a gross way so I make sure everyone knows that my time is limited after a certain time. I generally don't work after 4 unless I absolutely feel inspired to do so. I wake up super early so I'm sure to make enough time to get things done.
Stay ahead: If you feel a deadline coming along too quickly, try to let your clients know that you may need an extra day to get it done. This is important, especially when working with print projects. I  do a lot of last-minute print work (sorry printers!) for my clients that need quick turnaround times. Luckily I have great vendors and clients who understand tight deadlines mean paying a bit more for services. However, if something goes wrong on my end, it's up to me to make sure my client is aware of a delay. We're only human and things happen. Just keep being honest and it usually works out in the end.
Saying no:  When you're writing your own paychecks, you're definitely aware of how much income is coming in. It's often so tempting to say yes to everything that comes in, especially if you're coming back from a dry spell. Learn to say no! You will quickly become overwhelmed and unprepared. Unless you're willing to hire extra help to keep all of the balls rolling, it's ok to turn down project requests. It's also a great opportunity to send work to a friend in your industry!
Relax: You've got this! Be sure to stay motivated!
What are you doing to stay on track right now?