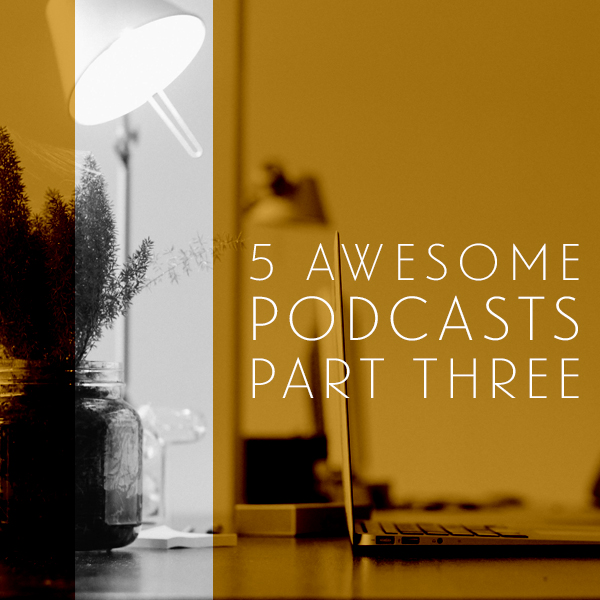 I haven't shared any of my favorite podcasts since March. Since we're moving into the weekend, I figured now would be a great time to get into some great new/old podcasts that get me through my work day. Again, most of these are design or business oriented but there is one podcast that I am obsessed with, as is most of America right now. Let's get into it!
You guys, I cannot say enough about Serial. This has absolutely nothing to do with design or business; however, it's a very new podcast presented by the creators of the ever-popular, This American Life. I'm actually not a *huge* fan of TAL so getting into Serial was very surprising to me. Every week, a different story is explored in the case of the murder of Hae Min Lee. The story focuses on the case of the convicted, Hae's ex-boyfriend, Adnan Syed. We go from being introduced to the case to being offered new details as to why Adnan is guilty or not-guilty. Think of this like a real-life exploration of Law & Order, only better.
Recommended Episode: Start at episode one and be prepared to be addicted.
I've actually been listening to Revision Path for months after learning about it. Revision Path is a podcast which features interviews with black graphic designers, web designers, and web developers. Host Maurice Cherry does a great job interviewing each host and talking about their backgrounds, current positions, and thoughts on diversity in the industry. Listening to the podcast, I've learned quite a bit about how corporate America has integrated design and development in-house as well as seeing how diversity and inclusion is presented and utilized in the industry.
Recommended Episode: #25: David Yarde (For obvious reasons)
In terms of new design podcasts, Pencil vs. Pixel has to be a favorite. Host Cesar Contreras covers broad topics with some industry favorites which helps us get an idea of how other designers think. I've been introduced to some great talent through this podcast as well as some processes that other designers utilize. It's a really fun podcast and it's great to have a design podcast that stays on-topic.
Recommended Episode: #51: Justin Mezzell
This bi-weekly podcast is full of information for design and business. You may have seen Sean McCabe's lettering all over the Internet. Sean has taken his lettering business and created an empire, including a podcast and an amazing lettering course. What's great about this podcast is that everything is put on the table. A lot of design/business podcasts sort of skirt around certain issues but this podcast gets real about everything. You had better come prepared to learn something!
Recommended Episode: #122: 10 Mistakes You're Making with Clients that Cost You
Design Matters with Debbie Millman is sort of an OG design podcast. I'm pretty sure mostly everyone has heard of it and I just forgot to add it onto some of my old lists. It's a great podcast in which Debbie Millman interviews various creatives and discusses their history in the design industry. I really enjoy the way Debbie interviews each guest. She seems to be very caught up on their career histories and saves a lot of time by just getting into how they got to where they are. There are many many episodes of this podcast so if you've never taken a listen, you have plenty to catch up on.
Recommended Episode: Jessica Walsh
Which podcasts are your favorites right now? List them below!