I'm very excited to feature a very good blog friend of mine, Kristyn of Milk & Crown, today. Kristyn is an amazing blogger who utilizes her blog to uplift and empower other bloggers. Just a few short months ago, Kristyn embarked on a new journey — becoming a jewelry designer. Although in the past, the Artist Showcase feature has been dedicated to other graphic designers and illustrators, I'm hoping to expand on the tag showcasing artists of different varieties. Kristyn is an extremely talented writer as well so her creativity is more than enough to inspire me.
What made you start Milk & Crown?
I have always wanted to do something with design but was never sure what. I saw bloggers posting about jewelry they liked and I thought to myself, "I can do that!" One day, I happened upon a photo of a milkcrown–basically the shape milk takes when it splashes. It was so fleeting and beautiful, and I found myself sketching a necklace design, the Caron, which is essentially a milkcrown in jewelry form. Everything continued from there.
Have you always been drawn to jewelry?
I haven't actually! The most I used to wear was a pair of earrings and a ring or two. It makes sense to me now–I wasn't drawn to jewelry because I couldn't find anything I liked. Either it was too trendy or gaudy, or too formal. Making my own collection has helped me develop a greater appreciation for jewelry.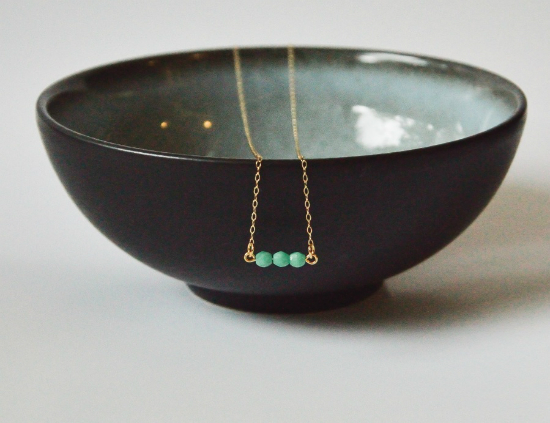 How has this new venture affected your blog life?
It's hard to not always talk about my jewelry on my blog, just because it's so much a part of my life now. It's also harder to blog as consistently, because I need to use my social media to help promote my business. I think it's all about finding a balance–using my blog as a creative outlet and a platform for my brand. I want people to recognize that designing jewelry is a part of me, that they can get to know me as an artist.
What message would you like for Milk & Crown to represent?
Milk + Crown is a collection of simple, delicate and modern jewelry. My hope is that my shop conveys a sense of handmade, heartfelt design that becomes a part of your life.
How is Milk & Crown different from other jewelry shops?
My jewelry designs are unique but still classically feminine. You won't find super trendy or bold statement pieces in my shop, but I think that's why it works. My collection is versatile, subtle and chic. I want women to feel as though putting on one of my pieces is natural and effortless–an extension of their daily style, something they can easily feel beautiful in. Buying handmade is an experience because you know the designer has invested so much heart and time into it. Milk + Crown is also a philanthropic endeavor; every time you buy a piece of jewelry, I donate a portion of the sales to a nonprofit organization, such as the Mocha Club–so that changes things too, because not only are you enjoying a beautiful gift, you are helping to give an even greater one to a person in need.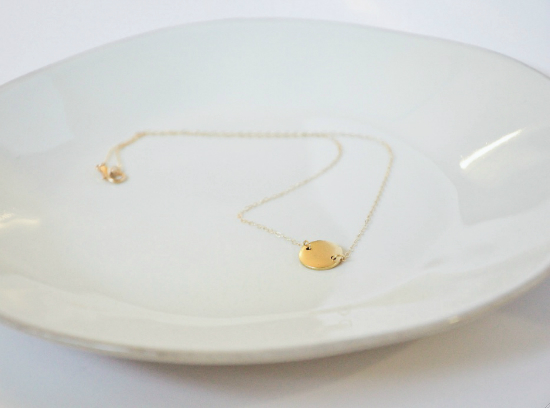 What has been your biggest inspiration as a creative?
I'm so inspired by the community on Etsy, truly. Seeing others with such passion and drive has really affected me, and shown me the value in being creative. I love talking with other business owners who are following their dreams whole-heartedly.
What advice would you give other creatives who are thinking about opening their own shop?
I say go for it! Don't wait until you have everything perfect, because that time will never come. You'll learn along the way, and making mistakes is all part of the process. I fully advocate pursuing the dreams you feel called to. Don't be afraid to give the world what you have and are now because you think you aren't good enough–having a shop is a journey that helps you grow as a creative and discover even more about yourself and your passion. People will love watching you evolve because they appreciate artists who are authentic and invested in what they do.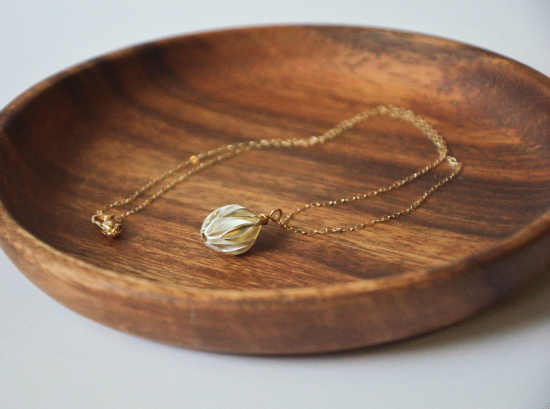 Many thanks to Kristyn for taking the time out of her busy final semester to chat with me about Milk & Crown. Be sure to connect with Kristyn via Twitter or Instagram.