I'm so thankful to have the lovely Kate Amunrud on the blog again! Kate is one of my favorite people in the universe. She's such a sweetheart and is always so supportive of other bloggers. Kate is taking on a new endeavor, Clear Creative Consulting, and she will be offering an e-course in June to help others find their Personal Branding Strategy. This post is so informative and helpful and many thanks for Kate for sharing her wisdom here!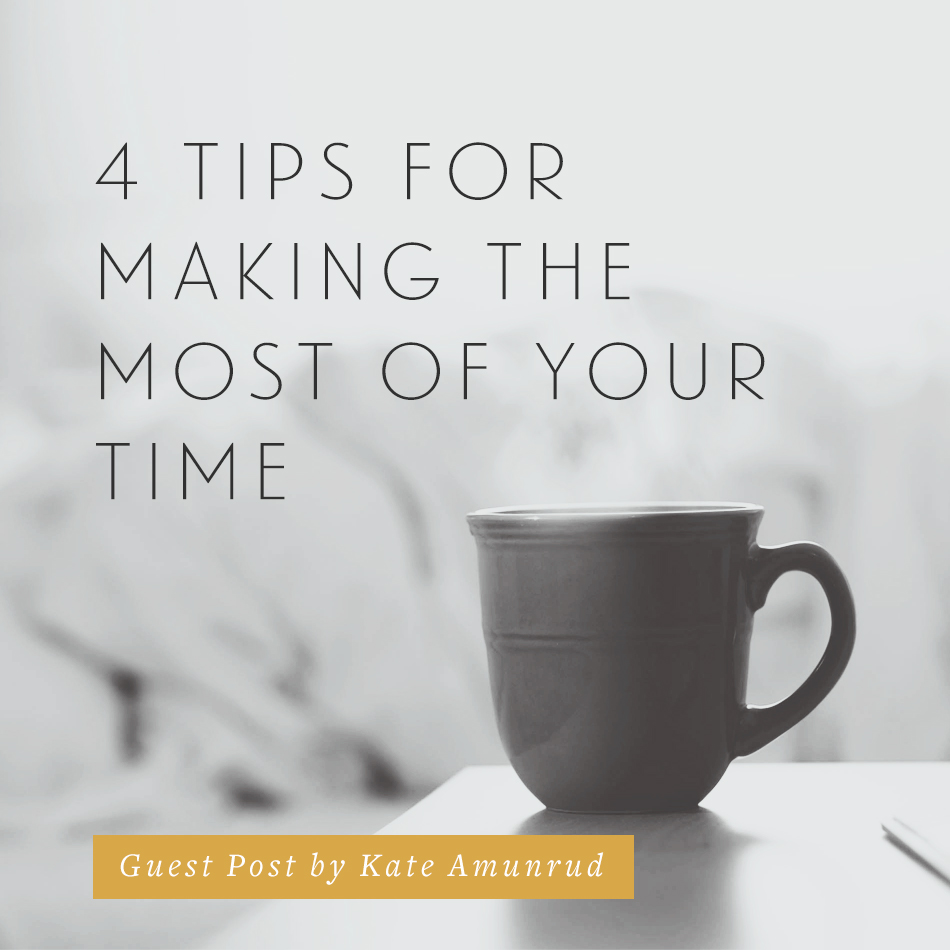 Hi there, I'm Kate and I'm a creative consultant at Clear Creative Consulting where I help bloggers develop the tools and confidence they need to blog with passion and ease.
The most common complaint I have heard during my time as a consultant is that bloggers feel they simply do not have the time they need to do all they want to do. While it is true that life's responsibilities can sometimes get in the way of your blogging endeavors, there are ways you can regain control of even your busiest week, simply by making the most of your time. By practicing the following tips, you can build new habits that help you use the time you have now to create more time for yourself later.
Set Realistic Priorities
Trying to do and have it all, at at once, is the quickest way to reach burnout. However, when you set realistic priorities and create do-able deadlines, you set yourself up for success. At the beginning of each day, I set three main tasks as my focus. There may be other things I need to get done, but I only choose the three most important ones to tackle first. With such a clear focus for my day, I am most often able to accomplish these tasks easily and move on to others. Prioritizing in this way encourages me to use my time more wisely, instead of endlessly shuffling from one task to another.
Find Your Productivity Window
Every person has a part of the day that I call the "productivity window." Your productivity window is the timeframe during the day when you think most clearly, feel most awake, and do your best work. I have found that my productivity window is in the morning and begins about an hour after I've woken up. If you don't know when you work best during the day, you may be working at off hours and this can really harm your ability to get things done as efficiently as possible. Take note throughout each day of how you feel and how well you focus in order to determine where your productivity window lies. Hopefully your life schedule allows you the luxury of taking care of your priorities during your most productive hours.
Take Time To Schedule
The work of keeping up with blogging and all its related responsibilities can feel like a burden when you aren't making the most of your time, but there are many things you can do to alleviate the burden and make it feel more fun. Batch scheduling (writing multiple posts to schedule ahead of time) and keeping post drafts on hand are both great things to do when you have time and are feeling productive. If you feel like you don't have time to write extra posts for your blog, consider taking a break from your current posting schedule in order to get ahead. Pausing one week to set up the next automatically puts you two weeks ahead of schedule.
Give Yourself A Break
Especially if you are the borderline-workaholic, entrepreneurial, go-getter type, you can sometimes find it really hard to take a proper break. (Insert hand-raised emoji here.) I am a gifted multi-tasker and this really comes to bat for me when I need to get work done efficiently, but it can really hinder my ability to relax. I often need to remind myself to put away my phone or shut off my laptop in order to truly take a break. Putting away the social media and email-checking while you unwind, helps your mind recharge more fully so you can get back to work later feeling more refreshed.
What are your best tips for making the most of your time?
First Photo: Unsplash