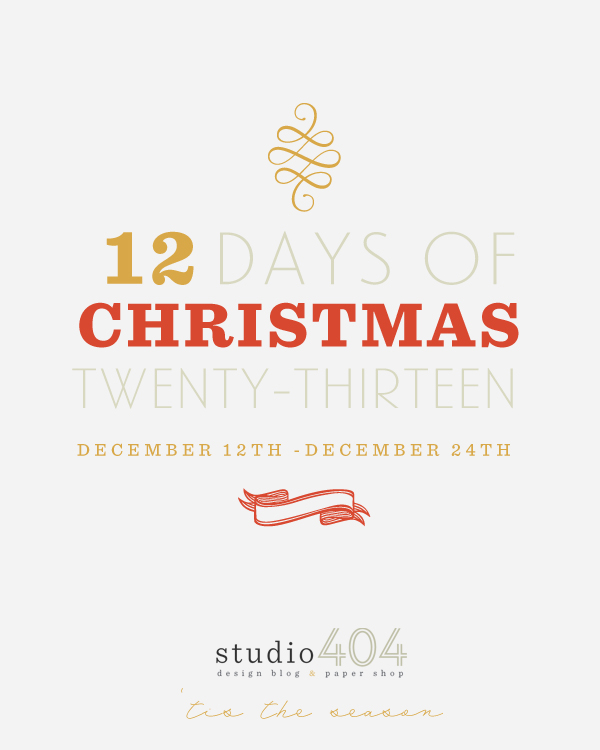 I kicked off yesterday's 12 Days of Christmas with a print giveaway and it's not too late to enter! I'm excited for today's Links I Love post because it's all holiday-related posts from my favorite bloggers. I've been trying to keep my holiday-themed posts to a minimum until now so I hope you don't mind the influx. Let's get started.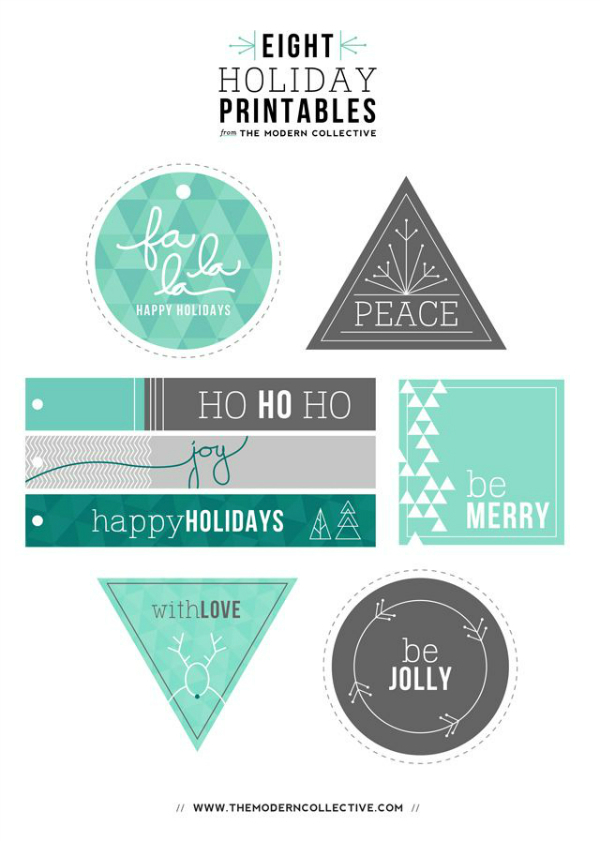 Adam & Amanda of The Modern Collective shared these eight lovely modern holiday printable gift tags. If you're not a fan of free gift tags, this post probably isn't the one for you (neither is this one). I love the colors used here as I don't often see green paired often with gray.
---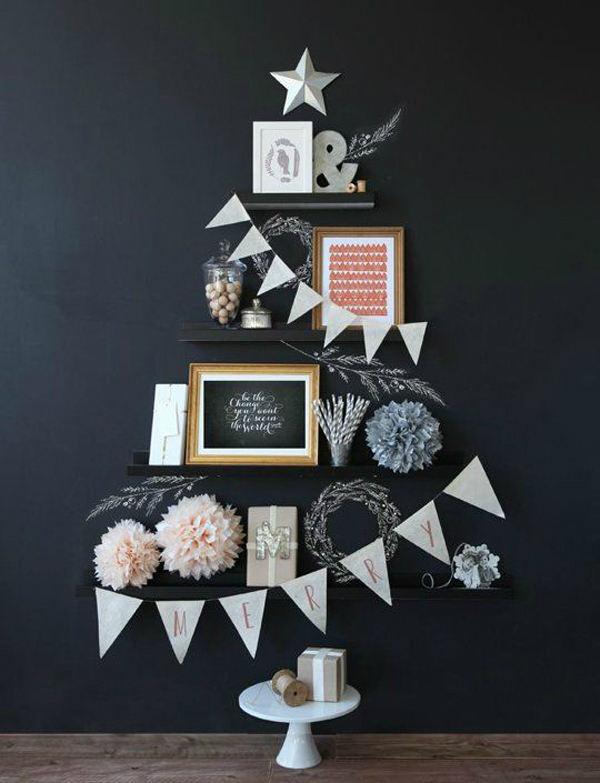 Living in a small space can be tough, especially when you are surrounded by 12-foot Christmas trees. Apartment Therapy put together a list of fun ways to create Christmas trees in your space. I can imagine the are a lot less pine needles to clean up.
---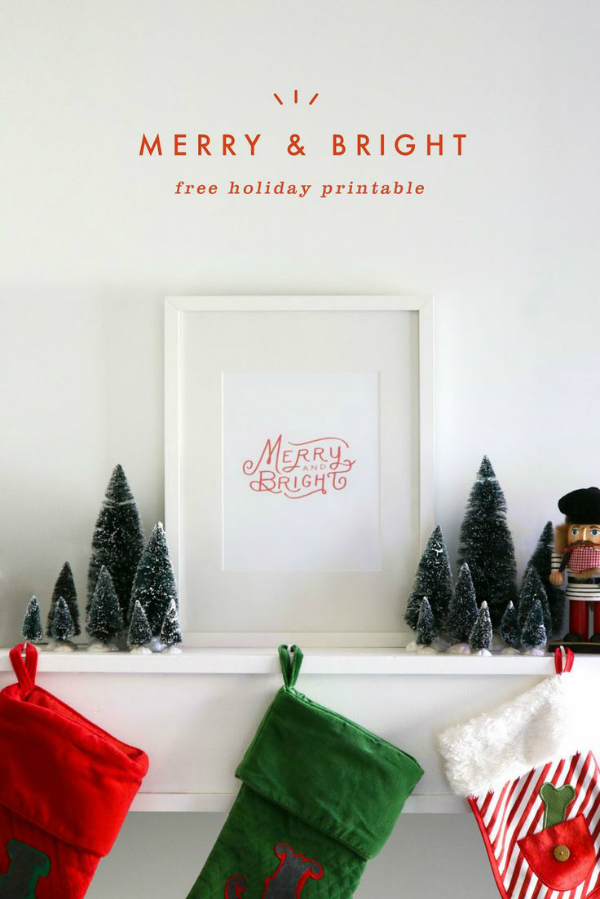 I always express my love for A Pair of Pears here on the blog. Today I am happy to share their latest free downloadable holiday print. It's a great way to add a little Christmas cheer to your work space or above your mantle.
---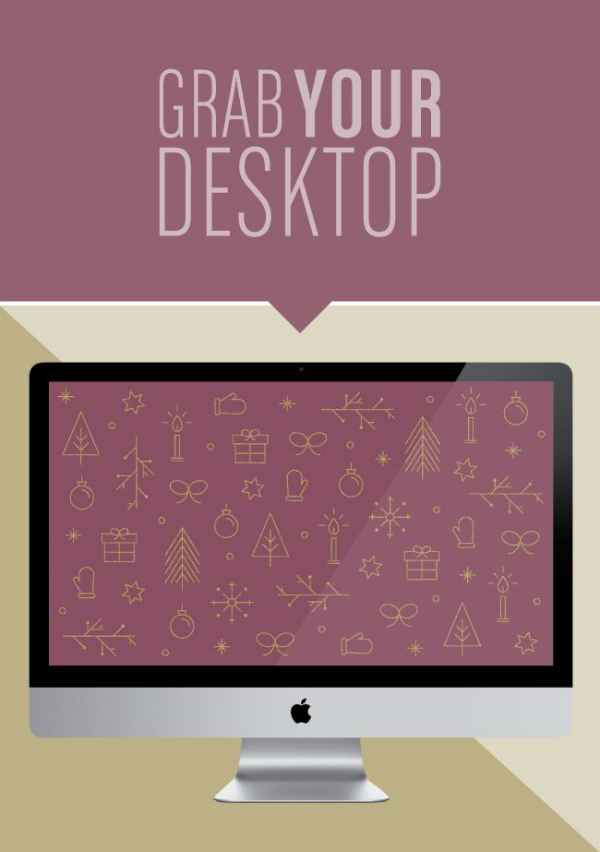 Yesterday, the lovely Breanna Rose, shared this gorgeous winter pattern wallpaper. Who doesn't want a desktop filled with gorgeous holiday/winter line art illustrations?
---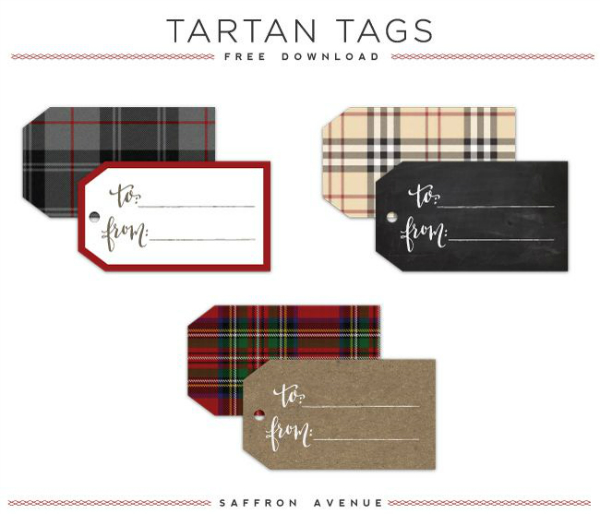 I'm allowed to share Angela's work here two weeks in a row. The lovely Angela of Saffron Avenue shared these wonderful tartan printable gift tags earlier this month. I really love seeing tartan during the holidays because it reminds me of my early-to-mid 90's Christmas décor as a child.
---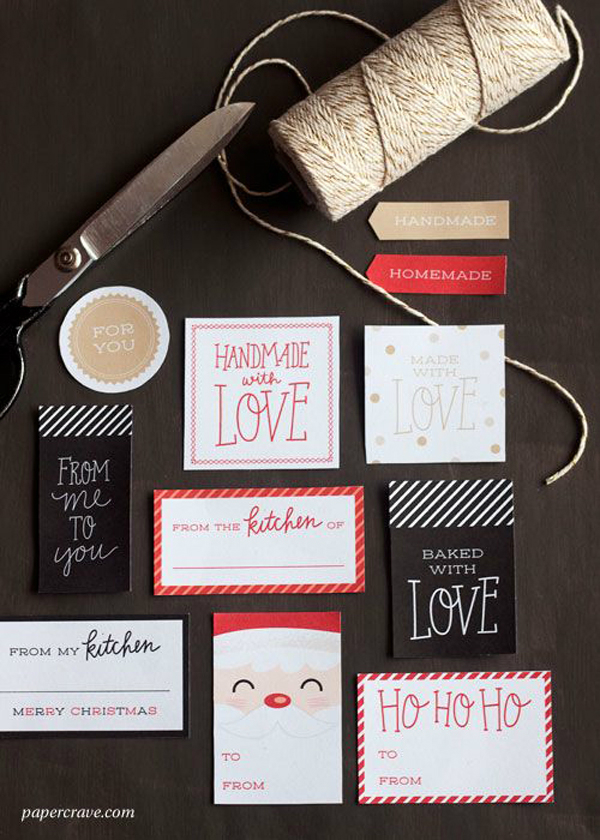 These cute printable holiday gift tags from Paper Crave are another gift tag option in case you're still not happy. Whether you're printing these on cardstock or stickers paper, I'm sure your loved ones will appreciate seeing an illustrated Santa on their gifts.
---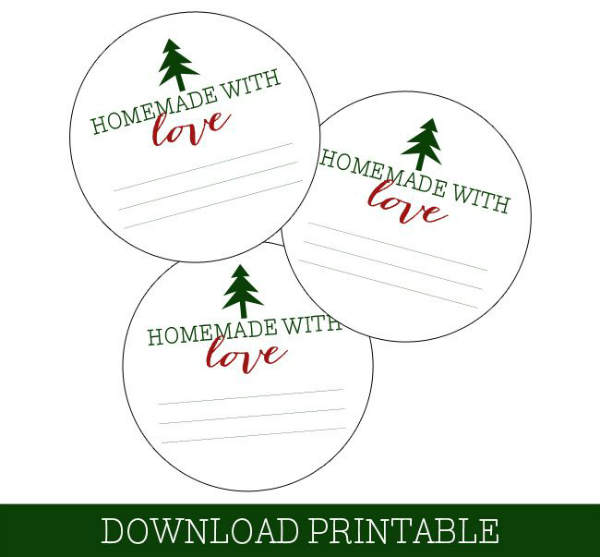 My good friend Melissa shared these awesome holiday mason jar labels for the blogger in your life. I know quite a few people who gift wonderful things in mason jars and these labels will make your life 100% easier.
---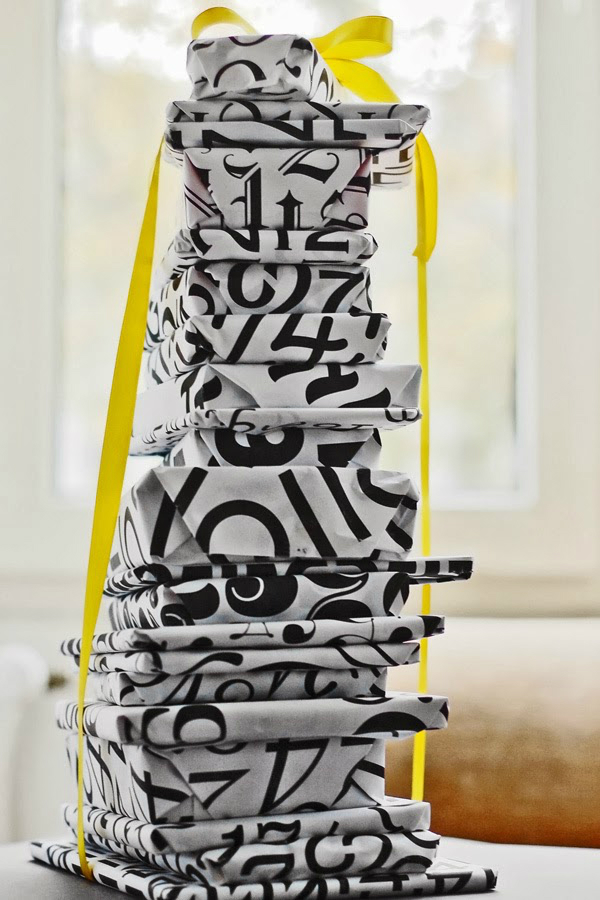 I was really inspired this gorgeous black and white typographic gift wrap designed by Angelo Stitz this month. I'm pretty sure I'd love to just see empty boxes under my tree wrapped in this gift wrap. Such a wonderful project.
---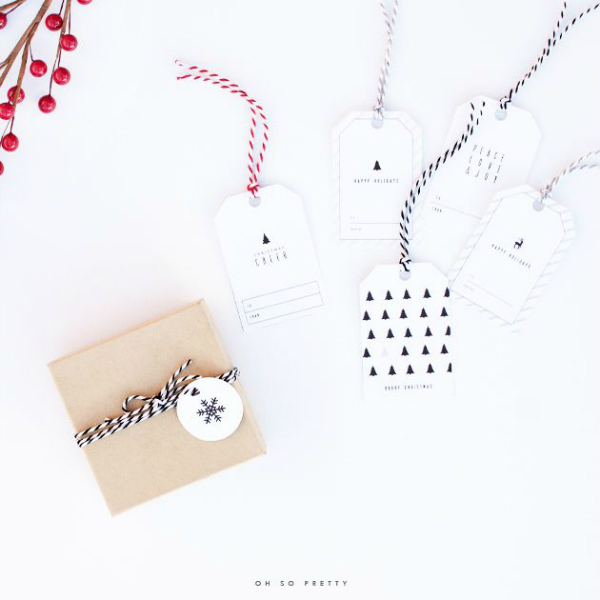 Victoria of Oh So Pretty shared very minimal, yet gorgeous, printable gift tags. These are perfect for the minimalist in your life. The round one with the snowflake is definitely one of my favorites.
---

I can't get enough of these holiday cards designed by The House That Lars Built. The first Happy Holidays card with holly is definitely my favorite. These illustrations are gorgeous and perfect for any much-needed last minute holiday inspiration.
---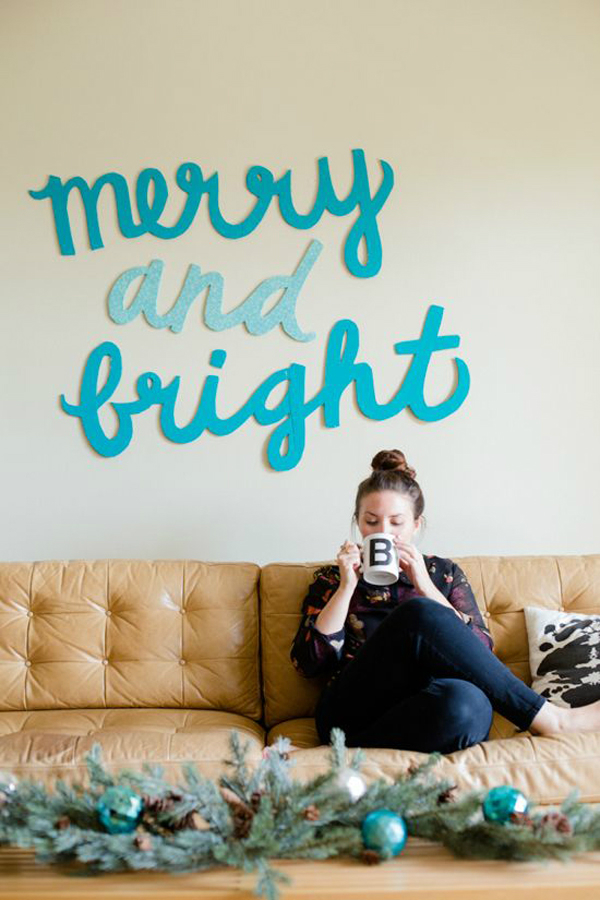 It's not the holidays without a holiday themed DIY. Brittni shared this gorgeous Merry & Bright wall art DIY. There is definitely foam core in my home that is in need of becoming a fun holiday saying. I'll let you know how it works out.
---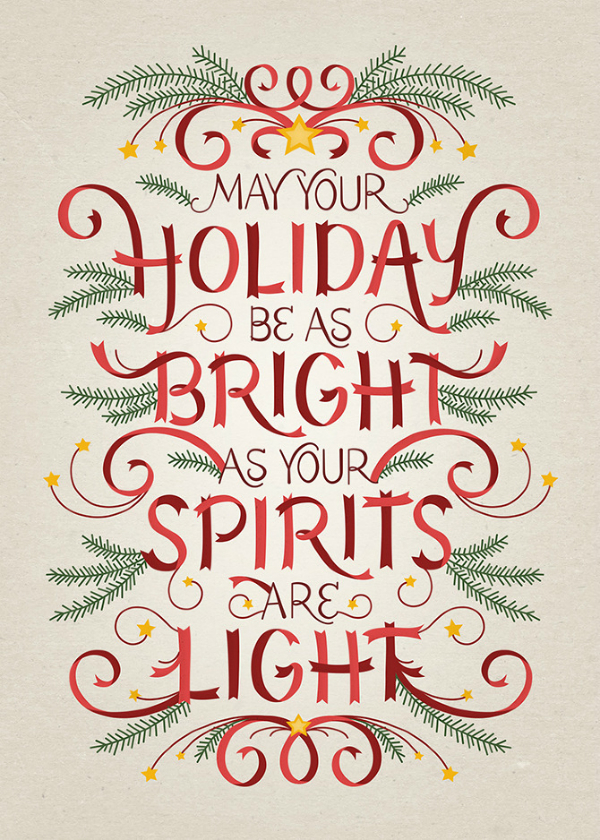 Letter and designer Becca Clason had a very amazing holiday card last year and it made its way onto my Pinterest account this year. There's nothing about this card I don't love. So inspiring to continue my lettering efforts into the next year and hopefully I'll have something lovely to share next year.
---

There were lots of holiday gift guides online this year. However, Chic Type had an amazing 5-volume holiday gift guide for the type lover. So great! Not only are gift guides inspiring to buy for the ones you love,  they usually introduce you to great independent artists.
---
In case you needed a round up of my holiday posts thus far, here are a few:
Are you done with your holiday shopping? Be sure to join me tomorrow for the third day of Christmas!