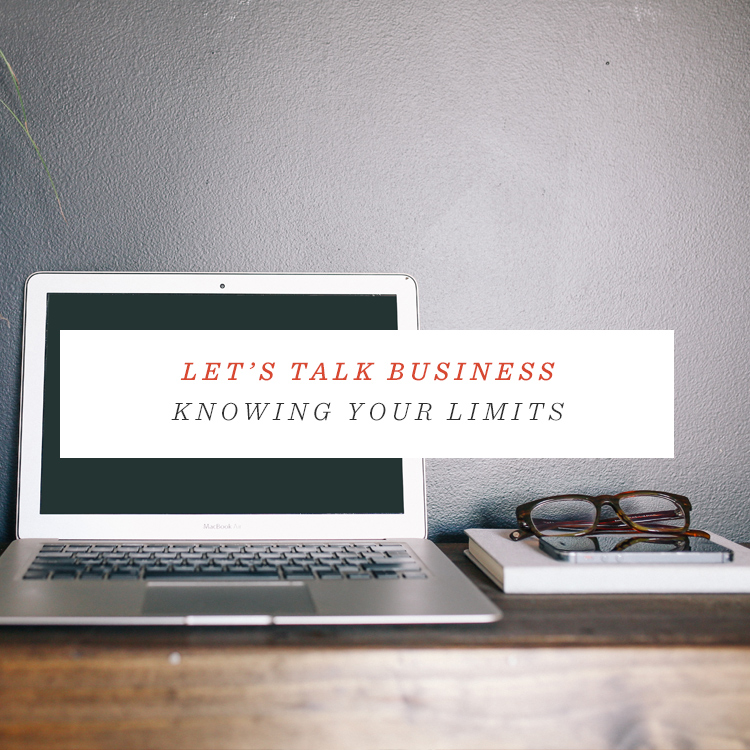 So it's been a crazy few months which is why I haven't written a Let's Talk Business article in a while. As I'm nearing the end of my second trimester (YIKES), I'm really putting in long hours with clients and getting planning going for 2015. However, with all of these commitments and projects, I have to put into perspective what I can and cannot do. I'm really learning my limits of being a full-time self-employed lady and how this effects my health. I'm going to share some things that I've learned about the importance of knowing limits in your business and some ways that might help you!
The Schedule Doesn't Lie
I'm often in denial about what I can and cannot do. In my mind, I'm superwoman and I think I can do everything. Often times, it's that drive and ambition that makes us entrepreneurs in the first place. However, halfway through this summer, I realized that my "rest days" were becoming filled with things and I was on seven days a week. If you want to often over-commit and find your hustle mentality is burning you out, let your schedule be your guide.

Put Everything on the Calendar
My husband has access to my calendars so he can see what is going on. While I love the idea of keeping a physical planner and I often do, I have to keep everything digitally available so he can have an idea while planning meetings. Since we've been putting everything digitally on the calendar, I often check my phone to see what's coming up. If I look at my week, and there are hardly any free spaces, I know I'm overdoing it. The schedule just doesn't lie. Here are some things to help you get organized with your calendar!
Schedule work times and free times.
Multiple calendars can work!

I have six different calendars but they're all visible on my phone. Thanks Google Calendar! I color-code my calendars so it's easy for me to understand what is where. Managing Sevenality tasks, this blog, and an Etsy shop are my three main focuses and it's important they stay separate.
If the thought of having one calendar, makes you break out into hives, try to color-code your events within the one calendar. You don't have to operate six calendars to be a #GIRLBOSS.

Don't forget travel time.

I learned this as while I worked at the House of Mouse. Scheduling travel time is pretty important when you live in a city as expansive as Orlando. Try to arrive 10 minutes early to your destination. Google Now has really helped me with travel times and directions on my phone to keep my on time.
Listen to Your Body
I've kept the baby and pregnancy talk to a minimum here but being pregnant has really made me evaluate my limits. Before I worked full-time at home, I'd spend anywhere from 10-15 hours in the gym a week. Developing an active lifestyle and practicing clean pescetarian eating for a few years, allowed me to become in sync with my body. Now my limits are a little different but I still get away with a lot of long hours and I often push my limits. One thing that lets me know when I've overdone it is my health.

Breaks are Necessary
Right now, I've been battling a draining cold which has me working shorter hours during the day. If I'd listened to my body three weeks ago when I started to feel a bit stuffy, I probably wouldn't be coughing all over the place today. Sometimes, you have to stop and take a break. I haven't taken a vacation this year and I can tell. Here are some ways to work breaks into your schedule.
Days off are awesome and allowed!

During my first trimester, I was battling insane morning sickness which brought the fatigue on completely. I was still keeping everything under-wraps so I scheduled meetings as I would before. During the week, I would take one day to just explore the city.  I would put in three hours downtown at Starbucks working and the rest of the day would be my own.

Take a vacation.

I need to take my own advice and get in a vacation before my due date. When my friends are beyond stressed, I am the first to tell them to take a trip and it usually helps them rest their minds. I need a vacation and I need to put it on the calendar!
Quit While You're Ahead
We're often told that quitting is a no-go. When you quit, you may be giving up an opportunity. Quitting is always seen as a negative which is why we often avoid it like the plague. When you're running a business, you wear a lot of different hats which is time consuming. Often you're presented with opportunities that seem like they will only come around once. It's important to know when to stop, say no, or decline an offer for your sanity. There's nothing worse than being overwhelmed by work.

Saying No
Just today, I had to quit with an opportunity I was sure I had time for. Unfortunately, what was presented to me was definitely a little bit different than what was actually needed. I didn't have the time that I thought I originally had. While I've been debating letting this project go, I should have quit when it first became overbearing. Don't be afraid to say no or to walk away from something when you can't do it.
Firing clients happens sometimes.

After nine years, David and I have a pretty good understanding of when a client is taking a turn for the worst. We have a pretty high tolerance for project mishaps because things happen sometimes. However, when things aren't working out and both parties are miserable, sometimes it's best to terminate a project. If the client just needs a different direction and they aren't awful, I always try to refer them to someone else to make the process a little less painful.

Not every opportunity is for you.

I really need to take this into consideration because I sometimes accept things that aren't worth my time at all. With my experience and schedule, smaller tasks aren't always best for me to be working on. In fact, I need to start delegating my small tasks just to get them done. Make sure you know where your time is best spent and work towards filling your day with those tasks.

Move along!

Don't spend too much time thinking about missed opportunities. Always be working on what you're doing and making it the best it can be. Quality always works over quantity. I'd rather be working with three great client projects than ten where I'm putting in less.
How do you know your limits? What helps you keep yourself grounded?