You all know how much I am a fan of a black and white closet. It's been such a long time since I've done a monochrome wish list and now that the seasons are changing, it's the perfect time to upgrade my closet. Today, I'm seven months pregnant and I figured I would have a closet full of maternity wear by now. I actually only own one pair of maternity jeans, two tops, and two dresses that I bought at the end of my first trimester. I rarely wear them and when I do, I still get slack for my not-so-big baby bump. So I've decided to ditch the maternity stores for now (except for leggings because you guys, it's leggings season) and get some tops and sweaters that I like that I can wear through the mild Florida winters.
This winter, I see myself in lots of large sweaters, blouses, long dresses  (find some great options here), leggings, scarves, and boots! It doesn't hurt that most of the things on my wish list/style guide are black and white. I've tried to incorporate color in my wardrobe for the past couple of years but I always see myself coming back to all things monochrome. #sorrynotsorry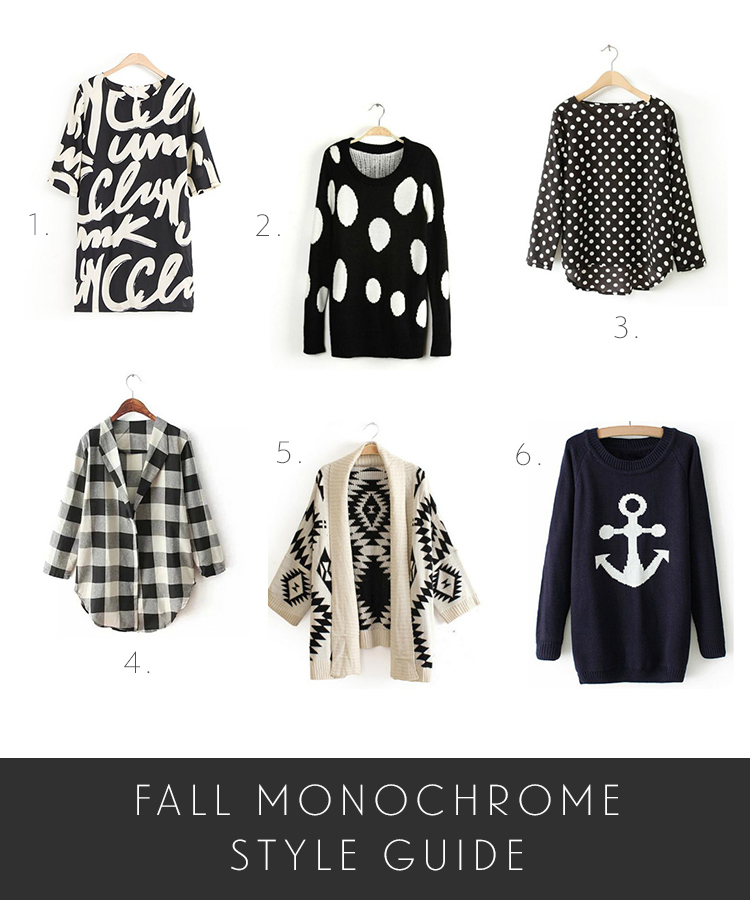 1. Letter Graffiti Dress – $21.99 | 2. Big Polka Dot Sweater – $23.22 | 3. Long-Sleeve Polka Dot Blouse – $20.17 | 4. Black and White Buffalo Pattern Top – $24.32 | 5. Geometric Pattern Cardigan – $27.37 | 6.  Anchor Sweater – $23.81
This is all pretty inexpensive right? Well the lovely people at Rosegal are offering an 8% coupon with the code joeyCgil to keep your closet full this fall.
What's on your fall wish list?
This blog has been compensated by Rosegal, all opinions are mine alone.