Thank you for all of the well wishes. My cold is officially gone. However, I feel bad. I'm somewhat sad that this month is over and on the other end, I'm happy to bring in a new theme. I'll bring back the theme I had in September as well in case people feel like theme-switching. I knew I said I wouldn't be doing that anymore but what can I say? I lied. I also said I wasn't hosting anymore but I already have a new hostee, Nigel. He's a sweetheart so go spam his site with love. I'm still accepting/rejecting applications so feel free to apply if you're willing to give it a try. I also have been uploading some random photography/crazy mess on my Flickr, in case you're the stalker type. I'll probably have the Flickr photostream plugged somewhere in the next theme.  I'm not really a huge fan of Halloween but at the same time I'm a naturally festive person. I really enjoy horror movies and it just so happens that Halloween puts most of my favorites on TV. There's also a ton of other fun Halloween movies that I like so I decided to come up with a list. Feel free to do the same (Long list so feel free to just read the titles and comment)
#10 – The Witches (1990)
The movie orginally was released when I was just eight months-old. However, it's still a timeless classic. This movie is about a young boy who goes to a hotel with his grandmother. However the hotel just happens to be the meeting place of an annual witch convention. He's nosey, gets caught with his chubby friend. They get turned into mice. They eventually figure out a way to rid of the witches by putting potion in their soup. The witches all turn to mice minus one good witch who eventually turns the boy back at then end of the movie.   
Why is this better than the original Child's Play? For the lulz-factor. It's way less serious and more hilarious. Chucky, the doll possessed by fictional serial killer Charles Lee Ray, decides to be a mega-stalker. He takes his stubby plastic legs and goes to find Andy, the child whose life he ruined in the first movie. Andy had been placed in a foster home with his new foster sister, Kyle (seen in pic). Everybody decides that Andy was just crazy and imagined that a doll killed everyone.  Chucky decides to take this as an opportunity and tries to kill Andy so he can get out of his doll body. Kyle, after her foster parents are killed, realizes Andy was right and eventually they kill Chucky again. So they think.
#8 – Don't Look Under The Bed (1999)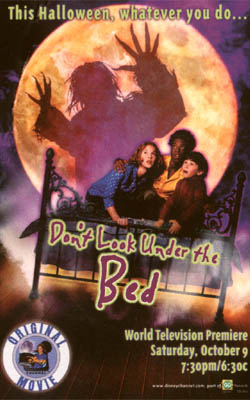 Before Disney began licking Zac Efron's ballsack, there were actually good made for TV movies. One of the funniest (and never played on Disney EVER) was Don't Look Under The Bed. The story is about a high school aged-girl named Frances who skipped a grade. (OH NOES, HER LIFE IS OVER. I skipped a grade and never acted so bitchy.) The fact that she's already an underaged, overachieving smart bitch is too much for her too handle and she starts slacking in school. During her "tough time", Frances begins to get framed for ridiculous pranks. One included putting jello in the school pool I think?  So instead of being realistic, everyone thinks Frances is acting out. Everyone but her brother's imaginary friend, Larry Houdini. Because, you know, if all fails, call on someone who doesn't exist. Larry and Frances go to the Boogeyworld and find out that Frances's old imaginary friend turned into a Boogeymanperson. The world goes back to normal and Frances apologizes for forgetting her old imaginary friends. Yes, imaginations do rule.
#7 – Nightmare on Elm Street (1984)

Halloween is not Halloween without Uncle Freddy. Okay, in the midst of the great era that was the 80s, Wes Craven took a big shit and it turned out tobe this awesome movie. In the quaint little town of Springwood, serial killer Freddy Krueger killed a bunch of kids with one glove that had blades attatched. He doesn't get convicted and the parents throw him in the boiler. Years later, the new kids of Springwood get visited and murdered by Freddy in their nightmares. Yes, this one good reason not to fall asleep if you're watching it for the first time. You'll be scared shitless thinking some man with blades is going to kill you. 
#6 – The Nightmare Before Christmas (1993)
Before Hot Topic was born, Tim Burton decided to play around with stop animation in a more gothic style. This brought us the lovely classic that's TNBC. TNBC is about the residents of Halloweentown and their prized citizen, Jack Skellington. Jack is tired of Halloween and wants to do something new. So he takes his nosey boney ass into Christmastown, sometime that has nothing to do with him.  He decides to steal Christmas, gets the town involved, and  almost gets Santa Claus killed. It all works out in the end. The kids get their real toys. Everyone realizes that they should stay in their place. Oh and Jack gets a fine piece of ass named Sally to keep him in his place.
#5 – Casper (1995)
A widower and his teenage daughter move into an insanely huge house so he can study paranormal activity. The house just happens to be home to three other ghosts and a friendly ghost, Casper. The three ghosts spend their time toying with the father meanwhile Casper puts his transparent moves on Kat. Kat obviously has no friends because she's just SO different (i.e. intelligent) and decides to host a Halloween party at her huge haunted house. Casper helps her out, blah blah, two evil people think there's money in the house, blah blah, they end up being wrong, blah blah, Casper turns human for like 5 seconds, kisses Kat at the party, then goes ghost and scares everybody. It's a cute movie, idk if anybody in the world has never seen Casper but I love it.
#4 – Addams Family Values (1993)
The sequel to the original Addams Family, this movie is hilarious. It also stars Anjelica Houston and Christina Ricci, who were both previously on this list. The Addams Family welcomes a new baby who is despised by Wednesday and Pugsley (two children). In the midst of the chaos in the house, Gomez Addams hires a nanny by the name of Debbie. Uncle Fester falls in love with Debbie and so does the family, minus Wednesday and Pugsley. Wednesday and Pugsley are sent off to some happy shiny summer camp while Debbie marries Fester for his money of course. She's exposed at the end for being a golddigger and a husband killer and all is well.
#3 – Hocus Pocus (1993)
The story of 3 witches, a virgin, the popular pretty chick, a cat, and a annoying little sister. However, it just so happens to be hilarious and the only role that Sarah Jessica Parker looked gorgeous in. Max is pretty much a loner who just moved to Salem. (Sounds familiar? Does anybody in Halloween movies fit in?) He gets picked on but falls head over heels for this chick Allison. So Allison, Max, and his sister Dani go over to the Sanderson sisters house and goes to light the candle that would bring them back. Thinking it's just a myth, Max (THE VIRGIN) does so. Of course, it's far from a myth. The Sanderson sisters parade around Salem snatching unguarded children to keep their imortality while the three idiots try to kill them. They do die at the end after the longest Halloween night ever. (WHY WAS DANI ALLOWED TO BE OUT SO LATE IN THE FIRST PLACE?) Yeah it's a great movie.
#2 – Rob Zombie's Halloween (2007)
 At the first trailer, I was in love with this movie. I love the classic Halloween series; but after seeing this in theaters last year, I fell in love. Not only did it have plenty of people jumping out of their seats, it's completely different than the original Halloween. It follows the life of young Michael Myers in his dysfunctional family. His anger builds up until he eventually starts to murder. He kills everyone but his mother and gets sent away to a mental hospital. After killing a nurse in the hospital, his mother commits suicide. Michael then becomes an angrier person and develops a mask-making habit. He only wears masks out until fifteeen years after the incident with the nurse, Michael breaks loose and goes psycho. He finds out his baby sister is still alive and goes to try to kill her. I guess I can only spoil a movie so much so I'll leave out the ending.
#1 – Ju-On (2000)
The first time I saw this movie was shortly after The Grudge was released on DVD over here. I was thinking oh okay, since I've seen The Grudge it won't be as scary. I was dead wrong. This movie scared the mess out of me. I don't think I went to sleep that night. I was thinking I was so bold. The story revolves around a cursed house and a spirit stalking, scaring, and killing those who enter. She and her son were killed by her jealous husband who found out that she was in love with another man. Just the fact that you never knew when she would pop out is the worst suspense ever. I mean, even reading subtitles scared me. I would recommend this movie to anybody who can handle it. It's my favorite horror movie and my favorite movie to watch this time of year. I think I may get some balls and watch it tonight.