Since today is the first day of fall, I have absolutely nothing to contribute other than saying "and?". It has been an extremely tiring day but I am surviving by embracing our age-old friend, the ampersand. What is so great about typographic culture becoming more popular is the ability for typography to be embraced thoroughly in retail. I can't tell you how many times I have walked into a home decor store and found ampersand accents or other decor items. Type is definitely influencing life a lot more during the digital age than ever. I have absolutely no complaints. I have put together a few of my favorite ampersand items in an ampersand wish list from eight inspiring independent artists. Hopefully you will find them as inspiring as I have.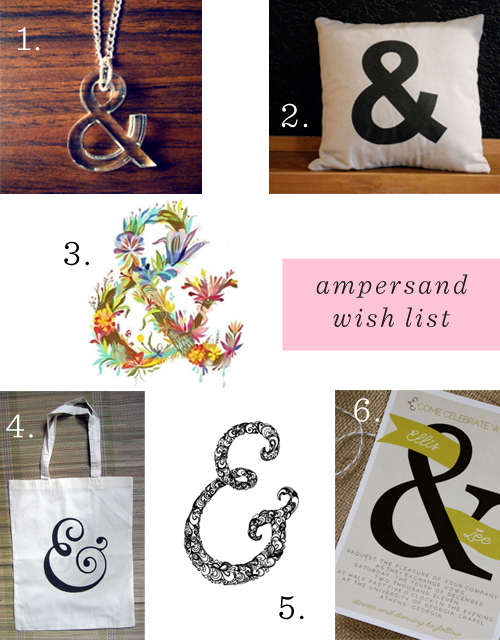 1. Ampersand Necklace by cafcaf | 2. Ampersand Pillow 14×14 inch by countercouturedesign | 3. Land of Ampersand print by thewheatfield | 4. Ampersand Tote by brightbeige | 5. Ampersand print by hayesdesigns | 6. Ampersand Wedding Invite by PuddleduckDesigns520

What's your favorite type character?